Andy Wightman says Scottish Greens trans policies 'not rooted in science'
Lothians MSP Andy Wightman, who resigned from the Scottish Greens last month, has given an emotional interview in which he claims he felt "ashamed" after being forced to vote against an amendment to a Bill that would give raped women the right to request an examiner of the same sex.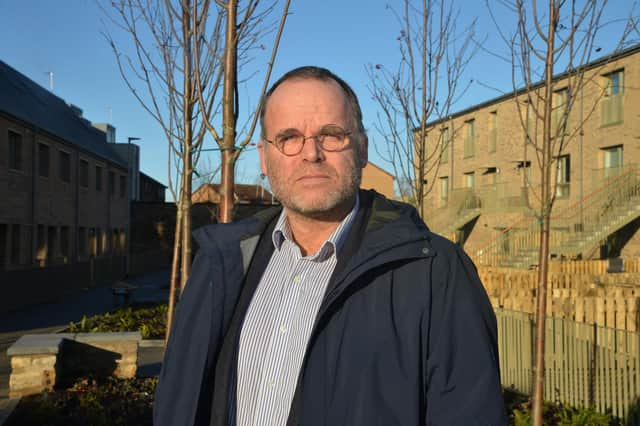 Speaking to Holyrood magazine, Mr Wightman made a veiled attack on party co-leaders Patrick Harvie and Lorna Slater, saying "key people in the party have got some ideas about gender and sex that are not rooted in science".
He also said the "censorious" nature of the party meant he could not ask questions about the conflict between women's right and transgender women's rights, without being decried as a "transphobe and bigot".
Mr Wightman resigned from the party after an internal party argument over an amendment to the Forensic Medical Services (Victims of Sexual Offences) (Scotland) Bill, which replaced the word "gender" with "sex" regarding a sexual assault victim's ability to choose who examines them.
The amendment passed by 113 votes to nine, with all Liberal Democrat and Scottish Green MSPs voting against it. In his resignation letter, Mr Wightman said he only did so due to a threat of "complaints and disciplinary action leading to possible suspension, deselection or expulsion".
In the interview, he admits to being "ashamed" he didn't vote for the amendment and that resigning had "been about restoring my sanity, my freedom to talk about anything I want to, and while I feel sad, I am liberated".
According to the MSP, people in his former party had "moved to a space where sex doesn't matter, and indeed, the minute you talk about it, you're accused of being a bigot and a transphobe, which is, obviously, ridiculous".
Mr Wightman added: "Words have been bent and twisted to mean things that I don't quite understand and there's been lots of strange things said. Sex not being binary, that's one, and I've privately asked what this is all about and if I don't understand this, whatever are voters meant to think about this, and I haven't got any answers.
"This matters because language matters. I mean, it matters not just in this bigger debate about gender and sex, but it matters in legislation. We've got three jobs as politicians, we represent our constituents, we hold the government to account, and we make laws, so words matter."
He continued: "This is a debate that is so censorious, that every word that comes out your mouth is examined for meaning. And frankly, I'm a product of the Enlightenment, I am a rational being, I like critical thinking … I like to work it through because I like to be confident of where I am, and on this debate, I just haven't been able to talk it through. I haven't been able to work out what this is all about because in my party, there is a very, very censorious attitude."
Mr Wightman said he took a week to resign after the vote to make sure he knew what the immediate outcome of such a move would be for his staff.
There have been calls for Mr Wightman to stand as an independent candidate on the Lothians list in the May Holyrood elections, which he is believed to be considering.
A message from the Editor:Thank you for reading this article. We're more reliant on your support than ever as the shift in consumer habits brought about by Coronavirus impacts our advertisers.
If you haven't already, please consider supporting our trusted, fact-checked journalism by taking out a digital subscription.
Comments
 0 comments
Want to join the conversation? Please or to comment on this article.