Andy Burnham: Manchester mayor role gave me new 'perspective' on case for Scottish independence
Andy Burnham has claimed challenges posed by a London-centric Westminster Government while serving as mayor of Greater Manchester has helped him better understand the case for Scottish independence.
The former health secretary called on the UK Labour party to offer a "much better alternative" than the promises of the Better Together campaign during the 2014 referendum.
This would include a senate of nations and regions replacing the House of Lords, proportional representation, and effective Home Rule for Scotland, alongside increased powers for local authorities.
Speaking at The Stand's 'In Conversation With' event on Tuesday, the former member of Gordon Brown's Cabinet also blamed SNP centralisation and cuts to councils for the ongoing bin strike in Edinburgh.
Interviewed by former Labour MSP Neil Findlay, Mr Burnham said his five years as a 'metro-mayor' in Manchester had given him a renewed perspective on the failings of Westminster.
"When you're on the outside negotiating with it and you see those London-centric prejudices and attitudes up front … that experience has made it clear now that this country, the UK, needs to be completely rewired," he said.
"There needs to be a redistribution of power out of that system. There needs to be a recasting of that Westminster system so all places are equal within it.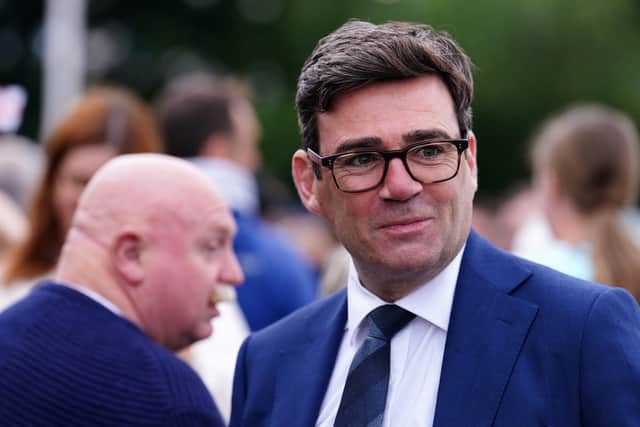 "I understand how for Scotland just saying 'OK, the status quo with a bit more devolution' is not an answer if there is to be another referendum.
"You have to have a much better alternative next time and that for me is a completely rewired Westminster."
Mr Burnham said he did not want to see a border between England and Scotland, claiming he had a glimpse of the possible future when swathes of Manchester and the surrounding area were added to a travel list ban by the Scottish Government during the pandemic.
He labelled this treatment of the North of England as the same "contempt" that is often levelled by SNP politicians towards Westminster.
The Labour politician also claimed Nicola Sturgeon snubbed a request for a meeting for when he is in Edinburgh.
However, the Scottish Government said this was "factually incorrect", stating the First Minister's office responded on the same day as the meeting request and that an agenda and potential dates had been agreed and identified respectively.
Mr Burnham's team later said this offer was only made after the event on Tuesday.
Asked what his thoughts on the bin strikes afflicting Edinburgh were, Mr Burnham said anyone fighting for their income during a cost-of-living crisis should be supported.
He said: "I observe what has happened here as similar to Westminster where councils have been cut to the bone.
"This is the consequence of it, these things have consequences.
"I'm all about local empowerment, getting power and resources into the hands of people at local levels to build communities and I see the opposite having happened here. Power has been hoovered up to the centre and out of cities."
Mr Burnham also did not rule out running to become Labour leader for the third time. He failed to beat Jeremy Corbyn in 2015 and also lost out to Ed Miliband in 2010.
The regional leader said abandoning his position as mayor to become an MP to run for the leadership would mean he had failed in building an alternative vision for the UK.
He said: "This English experiment with devolution I think is something that could provide something of a solution for the terrible state of politics across the UK."
The fifth episode of the brand new limited series podcast, How to be an independent country: Scotland's Choices, is out now.
Comments
 0 comments
Want to join the conversation? Please or to comment on this article.