Exclusive:

Anas Sarwar set to water down calls for immediate ceasefire in Gaza ahead of Holyrood vote

The Scottish Labour leader faces pressure to rebel against Keir Starmer ahead of a vote on the issue in the Scottish Parliament on Tuesday.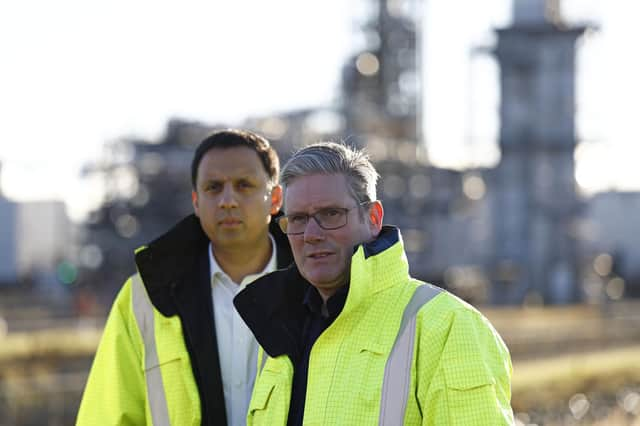 Anas Sarwar is set to water down his support for an immediate ceasefire in Gaza to avoid a direct confrontation with the UK Labour leader, Sir Keir Starmer.
The Scottish Labour leader could also face a major rebellion within his own ranks after almost half of his MSP group backed a Scottish Green motion last week demanding a ceasefire.
Ten frontbenchers quit Keir Starmer's top team to vote in favour of a ceasefire as he suffered a major rebellion, with 56 MPs voting with an SNP motion.
A Scottish Government motion on the issue, set to be debated on Tuesday, is understood to include demands for an immediate ceasefire in the region.
Scottish Labour are understood to be seeking to amend the motion, and policy notes seen by The Scotsman suggest the party is likely to water down the demand for an immediate ceasefire.
Such a shift would be a significant u-turn for Mr Sarwar who has previously said there should be a ceasefire in the region "right now".
Calls for an immediate ceasefire are not included in the Scottish Labour's official policy position sent to MSPs this week, with the party set to align more closely with the UK Labour position and say a ceasefire will only work if both sides are willing to comply.
It is likely to allow Mr Sarwar to back a "ceasefire", but not ruffle London feathers.
SNP sources said this was Scottish Labour effectively restating reality and not taking a position on the issue.
The policy note demands an end to rocket fire, the immediate release of hostages, allowance of humanitarian aid supplies, and a pathway to a peace process based on a two-state solution.
It adds: "In order for any ceasefire to work it requires both sides to be willing to comply. Sadly Benjamin Netanyahu has made clear he will not support a ceasefire and Hamas too have said they intend to continue rocket fire and would commit to repeat the 7th October attacks again and again.
"We have to use every form of diplomacy within the international partners to try and create the conditions on the ground to make it a reality."
It continues by stating the UK Labour position, and adds: "The reality is that neither the long-term security of Israel nor long-term justice for Palestine can be delivered by bombs and bullets but through a political settlement."
One Scottish Labour source said Mr Sarwar forcing MSPs to vote against an immediate ceasefire would be a "moral and political outrage".
They said: "The SNP and Greens' position, that there should be an immediate ceasefire, was also Anas's position three weeks ago.
"His new position, which just so happens to coincide with Keir Starmer's, only makes sense if things had improved in Gaza over those three weeks, but they've got much, much worse.
"He's going to either have to instruct Labour MSPs to vote against an immediate ceasefire, which would be a moral and political outrage, or perform his second U turn in the space of a week."
SNP MSP Kuakab Stewart, who put forward a pro-ceasefire motion last week, said her party would demand an "urgent ceasefire". She said: "Each day that passes, more innocent men, women, and children die.
"SNP MSPs, just like our colleagues in Westminster, will unequivocally vote with our conscience to demand an urgent ceasefire.
"The dismal absence of leadership from Sir Keir Starmer and Labour MPs this week was shameful. Anas Sarwar cannot water down his support for peace under pressure from his London bosses – he must join many of his own MSPs and back a ceasefire. Anas Sarwar must decide which side of history he wants to sit on."
The Scottish Green MSP, Ross Greer called on Mr Sarwar to "resist pressure" and vote for an immediate ceasefire. He said: "Earlier this week many of us commended the conviction of the rebel Labour MPs who stood against Keir Starmer and voted for a ceasefire.
"Anas Sarwar must now find that same conviction and resist pressure from party bosses in London to betray or water down a position we all know he holds. He knows the killing must stop.
"The people of Gaza don't have time for Labour's cynical games. They're dying now. They're running out of food and water now. They urgently need a lasting ceasefire and humanitarian aid corridors now. International pressure is critical to forcing that end to this slaughter."
Scottish Labour pointed to their leader's previous statements that he would vote in favour of a ceasefire but did not respond when asked if that would mean backing an immediate ceasefire.
The party's two MPs did not vote for the SNP motion in Westminster, while deputy leader Jackie Baillie accused the SNP of "game-playing".
Mr Sarwar told Bauer Radio on Wednesday: "I think the wider challenge is – for those of us who want a ceasefire – how do we create the conditions to make it a reality?
"The tragedy we have right now is Benjamin Netanyahu has made it clear he is not willing to countenance a ceasefire, Hamas have made clear they are not willing to countenance a ceasefire, so how do we work with international partners to create the conditions on the ground to be able to achieve a ceasefire?"
He added Labour's MSP group would vote "in line with the principles I have set out" adding "I want to see a ceasefire".
A spokesperson for Campaign For Socialism, a left-wing organisation within Labour which has endorsed four Scottish Labour MSPs, said: "The call for an immediate ceasefire in the Middle East is imperative. Every hour brings a new horror. Gaza is 'hell on earth', say the UN. In such grave times, history will judge how those in positions of power act.
"In stark contrast to the complicity of UK Labour's leadership, we're glad that Scottish Labour has joined 76 per cent of the British public in calling for an immediate ceasefire.
"However, earlier this week Scottish Labour MPs failed to support this position in Westminster.
"Not only do Michael Shanks and Ian Murray's actions risk undermining the autonomy of the Scottish Labour Party, they show cowardice in the face of war crimes and collective punishment.
"On Tuesday, Scottish Labour MSPs will vote for an end to the bombing of Gaza. It's high time they were joined by their Westminster colleagues in demanding an immediate ceasefire."
Comments
 0 comments
Want to join the conversation? Please or to comment on this article.