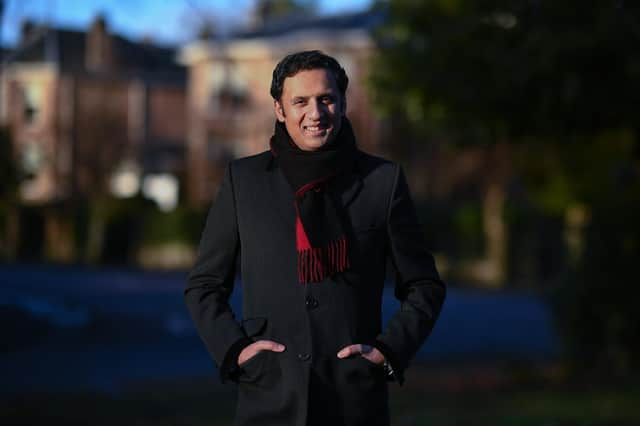 Scottish Labour MSP, Anas Sarwar, poses for a portrait in Glasgow, Scotland. Picture: Jeff J Mitchell/Getty Images
Mr Sarwar, who admitted his failure to become leader in 2017 was one of the "hardest experiences" of his political career, says he has changed in the intervening years, has embraced his Asian and Muslim background, and that "empathy, unity and hope" would be his watchwords if elected leader this time around.
The Glasgow MSP is running against Monica Lennon, Scottish Labour's health spokesperson, to be the tenth leader of his party since devolution and the creation of the Scottish Parliament, since the unexpected resignation of Richard Leonard.
Anas Sarwar is running to be leader of Scottish Labour for the second time.
He says he felt "liberated" after losing to Mr Leonard three years ago, as he felt it had made him able to shed the tag of being "the future or the rising star", which he now says had perhaps pressured him into the previous leadership race when "I was not the right candidate".
"The two hardest experiences of my political career have been my two defeats – the defeat in the 2015 general election [when he lost his Westminster seat], and the defeat in the leadership election in 2017," he says.
"But as difficult as they were, as personally painful as they were, they were also remarkably liberating. They were liberating in the sense of when, when you are expected by many people to do something or regarded as being, you know, 'one day Labour leader', that naturally adds pressure, and I was actually liberated of that ambition.
"There was also liberation from being a politician of an ethnic minority background who wants to be regarded as being mainstream, who wants to be accepted as a mainstream political figure.
Scottish Labour MSP, Anas Sarwar, poses for a portrait in Glasgow, Scotland. Picture: Jeff J Mitchell/Getty Images
"You don't want highlight your own difference, or talk about your own difference. You kind of perhaps dehumanise yourself in a way because you fear that you'll be described as, you know, 'the Muslim politician or the Asian politician', and you'll be pigeonholed, or regarded as only talking about one community or representing one community.
"So I didn't really embrace it and talk about it as much and as freely as as I have done the last few years. I was able to just be myself and learn and grow. You know, people forget, I'm only 37 and I think a 37-year-old is allowed to grow, is allowed to develop, is allowed to change."
Sarwar, whose father Mohammed was Britain's first Muslim MP, refutes a suggestion that he suffered from a degree of entitlement to the leadership of the party.
Anas Sarwar and Monica Lennon are the two candidates for the leadership of Scottish Labour
"I don't think that's right," he said. "I think undoubtedly you get talked up, as has happened with lots of young politicians, and there is an element of expectation.
"And that brings its own pressure. Last time looking back, I didn't have any hesitation in standing. I didn't think twice about it, but on reflection I don't think I was the right candidate three years ago.
"This time was different. There was definitely more reflection and more thinking about whether this was something I seriously wanted to do.
"And there was a period … I've said this before, so it's no secret ... there was a period in recent times where I thought about whether I wanted to be in frontline politics at all. Not because I don't care about public services or stopped caring about issues that I'm passionate about. It's just about deciding what we are most able to influence and how we can change the world. I still have this naive belief that we can change the world."
Anas Sarwar has announced his bid to become the next leader of Scottish Labour, following the resignation of Richard Leonard. Picture: Jeff J Mitchell/Getty Images
He admits the last campaign was not easy, with criticism about his family's business, financial affairs and where he sent his children to school. Already there are Labour members who have raised the same issues again.
Sarwar shrugs: "Look, I have grown up in a Labour family that's been the victim of lots of hard things over the over the last 20-plus years. So I was never naive about the rough and tumble of politics.
"But I think what was hard was the questioning whether I was truly Labour. I'll tell you why – because in my heart I have lived and breathed the Labour Party, every minute of my life pretty much ever since I was old enough to think about politics."
He recalls his first political memory as "opening up an envelope and seeing a picture mocked up and my mother with two guns pointed to her head saying 'bang, bang, that's all it takes', because my father had the temerity to consider himself worthy of standing for political office".
Both he and his brother were assaulted campaigning for their father, he says, and people would follow his family car, make prank phone calls, and even at one point "someone aiming a slingshot through the front window of our house and hitting my dad on the head .. and yet we were always Labour, so to be told I wasn't, to be de-legitimised, to not been seen as Labour, that was hard".
Sarwar said: "But if there's one thing I think we've learned in the last year in particular, and I think if you look at the election in the US in particular, you've got two choices. You can either let the politics of division and disunity take hold or you can try and have a politics of hope, empathy and unity."
He admits Labour is in "decline and urgent need of reform and repair", but won't be drawn on why Leonard failed to turn the party's fortunes around.
"We need to be kinder to each other, more gentle with each other," he said.
"I'm not going to talk about individual strengths or weaknesses. Richard is someone that has more than a 30-year history with the Labour Party and movement, and he's someone who still has a huge role to play in Parliament, in Labour, and in politics.
"But there is no point me standing in this contest, and pretending to people that you change the leader and automatically overnight Labour's fortunes turn again, and that we're back into, you know, a territory where people think we are on the verge of government. There's no point being naive about that.
"There's no point pretending that one person is going to be the silver bullet. It's going to take new people, new ideas, a fresh vision that looks to the future of Scotland.
"The election in a few months time is is a staging post, but we want to then build from that and into the next five years which follow.
"I think we can be a strong and effective opposition and we will use the five years to build from that, to be in a position where people can consider us to be a credible alternative government. And part of that is saying to the people of Scotland, the choice in this election is about what you want the next five years of the Parliament to be about.
"Whatever your view on independence, what you're voting for is the next five years and rebuilding our country, protecting and creating new jobs, making the education system a global beacon again, leading the international fight against the climate emergency, and building an NHS that never again has to choose between treating a virus and treating cancer."
The polls are clear the SNP will win, and will use that win as a mandate to call for a second independence referendum. Sarwar has been emphatic in his stance against a referendum, while Lennon has suggested she would be more open to one.
"I think the fundamental problem is there's this fatalism that has taken hold in the Scottish Labour Party," he says.
"Everyone assumes we're gonna get gubbed, everyone assumes the SNP is going to win a majority, and everyone assumes therefore that a referendum is inevitable, and that independence is inevitable.
"But we are not bystanders in this, we are participants. We don't just wait to see what happens in May, we get to influence what happens in May and I think we can stop an SNP majority.
"There shouldn't be inevitability or fatalism. Not a single vote has been cast and people still have a choice to make."
Asked about the culture of leaks within Scottish Labour – a culture Leonard pointed to as forcing him to quit – Sarwar says: "When you have a culture of honesty and a culture of respect, I think that can stop.
"We've got to recognise that we can't play The Hunger Games you know. That's what it feels like at times, people just wanting to keep going until there's only one person left.
"And that lets down our membership and the people across the country that rely on an effective Labour Party, so it's incumbent on all of us to pull together to steady the ship, and to recognise we are in survival mode."
Sarwar believes he's a "better human being, a better father, a better politician" for the setbacks he has suffered in politics.
He points to his work with the families affected by the Queen Elizabeth University Hospital scandal and campaigning around racism and Islamophobia, as a result of not being leader.
Sarwar has a healthy respect for his opponent, but says this time the leadership is "about the survival of the Labour Party", adding: "We've got to be able to save this institution that is needed now more than ever."
A message from the Editor:Thank you for reading this article. We're more reliant on your support than ever as the shift in consumer habits brought about by Coronavirus impacts our advertisers.
If you haven't already, please consider supporting our trusted, fact-checked journalism by taking out a digital subscription.