As it is, he's done neither, with many issues still on the table. Stop me if you think you've heard this one before.
This is, not for the first time, another crunch week in Brexit, but it was supposed to be the end.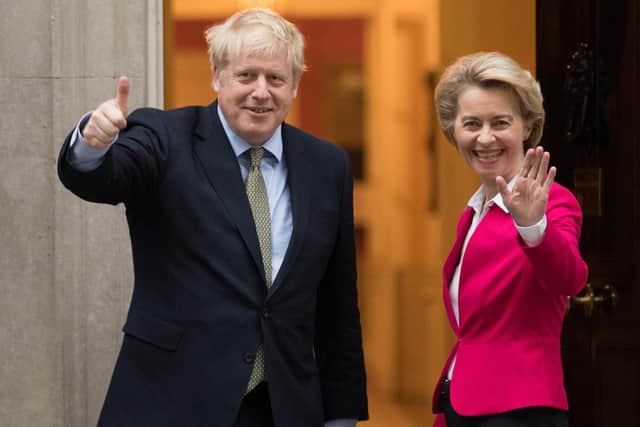 In the House of Commons today Lib Dem MP Christine Jardine asked why there had been no update. Ardent Brexiteer Jacob Rees-Mogg explained it was because "currently there is nothing to update".
Speaking ahead of the European Commission meeting today, the Prime Minister insisted there was the "desirability of a deal", but shared his "disappointment that more progress had been made over the past two weeks".
This complete non-update suggests two things - either a deal is close or it's way off. It's Schrödinger's Brexit deal, we won't know until we know.
Both sides are utterly exhausted. Five years ago Brexit negotiations weren't a concept and now it's in most of Europe's predictive text.
Both sides' teams have spent years trying to find a compromise in the face of bitter briefings.
This week the German EU affairs minister Michael Roth urged the UK to make compromises on state aid, fishing and governance, showing there are three clear areas of disagreement.
For Scotland, the main issue is, of course, fishing rights, with disputes over the level of access for EU fishing fleets in British waters.
This covers 200 miles west into the Atlantic and north of Shetland, dividing the North Sea, the English channel and the Irish Sea. The UK wants to have full control of the UK economic zone, and negotiate EU access to these waters as a sovereign state.
Brussels wants to continue to allow EU vessels access within 12 miles of the coast and keep the current share quota. This is plainly not "taking back control of our waters", and there has been little sign of compromise. Like most things, this is naturally annoying Emmanuel Macron, who is playing hardball.
In a rallying cry to member states, Mr Macron reminded them: "We didn't choose Brexit, it's the British people's choice."
Mr Macron insisted it was not just a concern for France, but all of Europe. He said: "I want to be clear - this deal will not be made at any price."
With French fishermen enjoying 84 per cent of the cod quota, he has his reasons.
Ultimately, it's a numbers game. Billions in trade and access hangs on fishing and a deal, with tariffs leaving the Scottish shellfish industry dead in the water.
Germany's Angela Merkel has urged a compromise, and there is talk of another transition merely on fishing. Both sides need to find an agreement on fish quotas and accept there are plenty more fish in the sea.
The other issue key to member states is securing level playing field provisions. The EU wants to ensure neither side can undercut standards or overly subsidise parts of the economy to give an unfair advantage.
The UK Government has already agreed across environmental, social and labour standards, but the EU wants more.
They are demanding the baseline is raised as standards do, which is a hard sell when it could tie Britain to EU law. Unlike fishing, this is an area there seems to be room for movement.
Britain is also concerned over state aid, which would directly affect Scotland. Mr Johnson is concerned that Brussels wants extensive rules and provisions, but does appear to be finding compromise.
The EU has demanded an independent regulator for state aid, which has not been ruled out.
Finally there is the issue of governance, how both sides will be made to keep their promises.
The EU wants to be able to suspend parts of the deal if the UK does not keep their word, a concern escalated by the Internal Market Bill, which they are now considering legal action over. The UK is happy to address these concerns, but not until everything else is sorted.
So will there be a deal? Yesterday Ursula von der Leyen insisted there was "still a lot of work ahead of us", which is not something you say if you've already decided to walk.
Ultimately what happens next does not just depend on what's offered, but also just how bored people get. Mr Johnson has said he will make a decision on Friday at the end of the two-day EU summit.
The threat of no deal looms in the background. The Irish taoiseach Micheál Martin has warned Europe cannot cope with the dual economic horrors of the coronavirus pandemic and a no-deal exit.
EU leaders seemed to be mindful of this, and had pledged to "intensify" trade talks in a leaked draft of conclusions. This was then dropped after the PM repeated his threat to walk away. Nothing stops a no-deal Brexit like theatre.
European Council president Charles Michel recently suggested Brexit was contributing to an "arc of instability" surrounding the EU.
As thrilling as Brexit discourse and policy is, it's been four years since the vote. Member states are all battling the coronavirus, and would love to focus on that and domestic issues, rather than still dealing with the difficult Brits.
Everyone is exhausted, but Brexit has not yet been done. No deal is a disaster and we don't yet know it's ruled out. There's no update until there's an update.