Analysis: What to watch in the year ahead for Westminster
Next year will see the UK Government face the aftermath of Brexit, rebuilding the economy after coronavirus and a battle to save the union.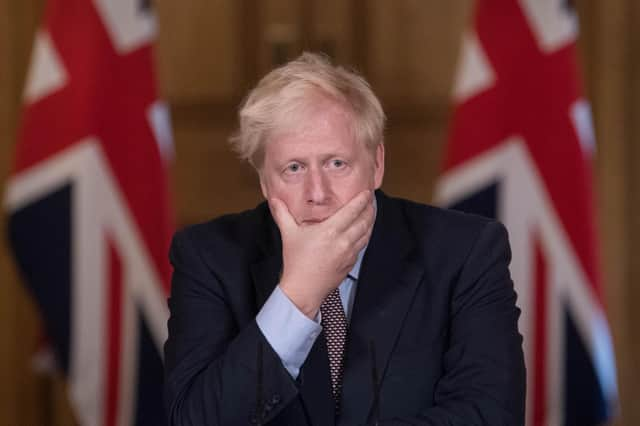 Prime Minister Boris Johnson faces a year where he must deal with the aftermath of Brexit, rebuild the economy after coronavirus, and battle to save the union
The number one issue in Westminster will be dealing with the aftermath of Brexit.
Boris Johnson has agreed a deal against the odds and must now prove this really is about forging a "global Britain".
Failure to agree a deal would have been a financial and social disaster, and one that would have dominated all spending for decades as a result.
Instead all eyes will be on how the UK adapts to the new arrangement, with Michael Gove already warning it will be "bumpy" for many businesses.
The senior Tory minister has also claimed being outside the EU will help tackle "injustices and inequalities", so how the UK Government sets out doing this will be key to staving off a resurgent Labour party.
Delivering a deal, however much worse it is than EU membership, has rallied Conservatives around the PM, at a time many are unhappy with him over the coronavirus restrictions.
It has also created a headache for a Labour party, with several frontbenchers and a lot more MPs unwilling to support it.
Sir Keir Starmer has told his MPs to vote for it, but the great divisions in his party over Brexit are not settled, with many refusing to move on, regardless of the optics.
How the SNP's refusal to support the deal received is also key.
The party has labelled the agreement "damaging" and will not be supporting it, despite the only alternative being no deal.
The Tories are now trying to frame this as the SNP backing no deal, a criticism they hope will cut through despite themselves using no deal as a tool throughout the negotiations.
Then there is the small matter of the Holyrood elections on May 6.
Mr Johnson's predecessor has already taken Britain out of one union, now he faces losing Scotland from another.
Politically toxic in Scotland, the PM faces an uphill battle to win over an electorate that dislikes him almost as much as it opposes Brexit. A Nationalist majority could make the case for indyref 2 undeniable, sparking yet another constitutional crisis.
The most recent poll, published by Savanta ComRes earlier this month in partnership with The Scotsman, had 58 per cent on Yes when don't knows were excluded. This is the 17th poll in a row to show a Yes lead.
How Westminster tries to ward off an SNP majority and second referendum will shape much of the early months of next year and beyond, with the PM well aware Scotland leaving would define his premiership.
November saw the Union Unit set up, tasked with battling the surging support for Scottish independence. The unit aims to utilise social media and traditional media platforms to spread its message to Scots that their future belongs with the UK.
So far ideas have included putting up more Union flags and even asking for them to be stamped on the coronavirus vaccine.
The ideas from this group will be crucial if unionism is to make any breakthrough among the electorate.
The election will be the first significant test of new Tory leader Douglas Ross, who has thus far sought to establish the Scottish Tories as a significantly different entity to the main brand.
Mr Ross has been an outspoken critic of his own party and also made clear his group will no longer vote on English-only matters.
Focusing instead on issues such as the care home crisis and vaccine roll-out, Scotland's main opposition party look unlikely to achieve the success of 2016, but know the real target now is doing enough to stop a SNP majority.
This has even seen Mr Ross hint his party could form a coalition with Labour, in a clear move to unite the unionism vote.
Sir Keir has proven popular in Scotland and will make visits north of the Border where he will stress a better offer under a Labour Government. Whether his approval translates to the embattled Richard Leonard remains to be seen.
For MPs across the house, the main concern will be the economy. Ravaged by the pandemic, how the UK Government tries to balance the books remains to be seen. A fiscal libertarian despite his spending, Chancellor Rishi Sunak is loath to raise taxes. Not doing so was in the Tory manifesto, but so was not cutting the Foreign Aid budget.
These decisions will need to come while the UK continues to keep the spending taps on.
The furlough scheme has been extended, as has the increase in Universal Credit. Opposition parties are demanding the latter becomes permanent, a big ask from a government that had to be pressured into paying for school meals.
Mr Johnson will also have to handle the jobs crisis. The UK unemployment rate is currently at 4.9 per cent, meaning 1.69 million people are unemployed. It is expected to reach 2.6 million next year, according to the government's economic watchdog, 7.5 per cent of the working age population.
The Chancellor has repeatedly warned he "cannot save every job" and with hospitality continuing to be hit by restrictions, more job losses are certain.
To address this, Mr Johnson promised a green job revolution, as part of his "levelling up agenda". Creating 250,000 jobs by 2030, this investment will come too late for many.
Finally there is transport.
Through the Union Connectivity Review, the UK Government next year wants to focus on improving air links, boosting road and rail for Scotland, cutting journey times to North Wales, and building a fixed link between Great Britain and Northern Ireland. How this will translate to actual improvements and spending remains to be seen.
If you haven't already, please consider supporting our trusted, fact-checked journalism by taking out a digital subscription.
Want to join the conversation? Please or to comment on this article.