That is the message of the first poll since the former of the two Hutchesons' Grammar boys became First Minister. It will not be the last survey of public opinion before the latter hopes to follow his schoolmate into Bute House after ushering him out in 2026.
Humza Yousaf, as the replacement for Nicola Sturgeon, has inherited a party on the decline, one suffering from a similar dip in support as it did in 2018.
Politics has a short memory, and it shouldn't be forgotten that this is not the first time the SNP have sampled the high thirties in the constituency ballot and low thirties in the regional list, nor the high thirties in a Westminster poll.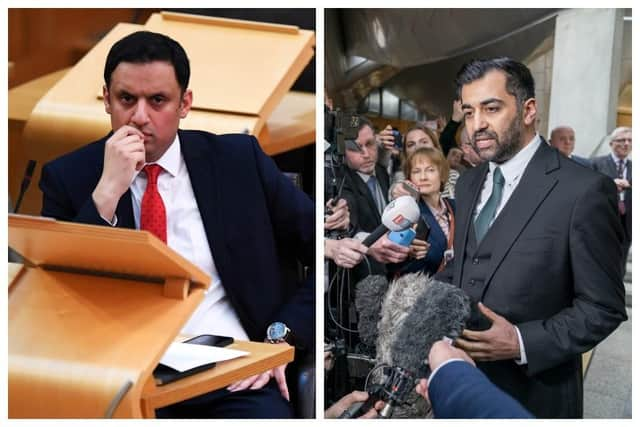 But then they were led by Nicola Sturgeon who could maintain SNP support through a rough record of delivery. Humza Yousaf, as he has admitted, is no Nicola Sturgeon.
There are other key differences between that situation five years ago.
Then, unlike now, there were two strong(ish) unionist parties in Scotland. The Scottish Conservatives reached what continues to feel like their peak support in Scotland of just under 30 per cent.
Scottish Labour, despite trails and tribulations in the years before and after, were at their strongest for years, testing out second in some polling as the Corbyn surge boomed.
Today, it is more of a one-on-one fight. Labour versus the SNP. Sarwar versus Yousaf.
This opens doors for the Labour leader, able to highlight the differences between the SNP and his party in Scotland to unionists and soft Yes voters fed up with struggling public services, while also urging existing SNP voters that booting out the Tories can only be done by voting Labour at the next general election.
But it also opens doors for Mr Yousaf who, by the same token, can recite the "Scottish votes don't matter to Westminster" mantra, emboldened by years of "mandate refusal", and reach out to soft unionists by blaming a common foe, Westminster.
Dulling the Labour sword on his own record, and that of his party's, is the toughest challenge however.
The victor of that duel will likely cast the other into the political history books.
Want to hear more from The Scotsman's politics team? Check out the latest episode of our political podcast, The Steamie.