Analysis: SNP leadership contest hangs over Holyrood as opposition lap it up
Douglas Ross may have been the one caught uttering "f*** sake", but by the end of First Minister's Questions there's a good chance he wasn't alone in nursing that sentiment.
The Scottish Conservative leader apologised after his microphone picked up his use of "industrial language" when climate protesters disrupted Holyrood's proceedings for the umpteenth time in recent weeks, shouting about oil and gas from the public gallery.
He had been accusing Nicola Sturgeon of ignoring Scottish businesses over the roll out of the "shambolic" deposit return scheme for single-use drinks containers. It has been a "complete disaster", he said. Ms Sturgeon insisted calls for a delay were "sheer opportunism" by the Tories.
Mr Ross, clearly enjoying himself, pointed out that all three candidates for the SNP leadership want to pause or change the scheme. Perhaps most painfully, Kate Forbes, the current finance secretary, warned it will cause "economic carnage" on its current timetable.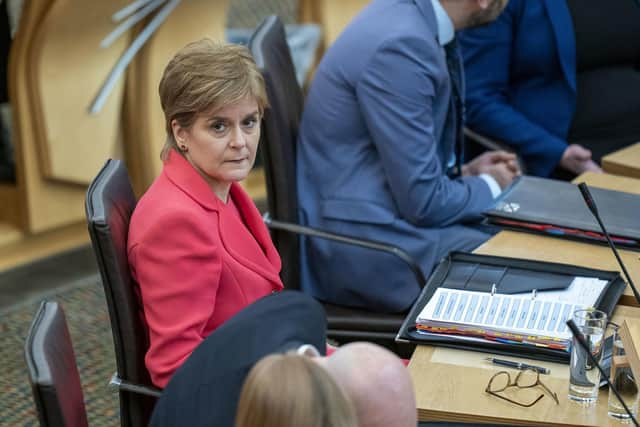 "That's actually one of the more tame things that Kate Forbes has said about the SNP's record," Mr Ross added.
Scottish Labour leader Anas Sarwar later joined in on the fun. The government is "divided and in chaos", he said. Ms Sturgeon hit back: "I've lost count of the number of leadership elections that have taken place in the Conservative and Labour parties in the years I've stood here as First Minister."
Mr Sarwar said the SNP leadership candidates were "trashing" the party's record in government. He said the choice facing SNP members was "woeful", adding: "Nicola Sturgeon gave all of these candidates their first step up in politics. So I wonder, First Minister, with the benefit of hindsight, which one do you regret appointing the most?"
To laughter from the opposition benches, Ms Sturgeon said she was proud of those who had served in her government. "I'm confident that whoever succeeds me will continue with that record of success," she added.
Scottish Liberal Democrat leader Alex Cole-Hamilton later raised Ms Forbes' "economic carnage" comments for a second time.
The SNP leadership election will continue to hang over Holyrood in the weeks to come. Opposition politicians will delight in any signs of division. For Ms Sturgeon, it might feel like a long, long wait until March 27, when her replacement is finally announced.
Comments
 0 comments
Want to join the conversation? Please or to comment on this article.