Analysis: SNP finds itself on the precipice of conspiracy theories as leadership race plummets into chaos
There is a point where a leadership contest ultimately becomes fatal for the party holding it, regardless of its electoral performance, and the SNP is flirting with this destination.
This week has seen the fight to become the next First Minister descend, with rapidity, towards the cliff-edge of conspiracy theory, fuelled by a large, determined, and ultimately destructive online opposition.
There are legitimate points being made, particularly around the number of members. It is helpful – not just for candidates but for observers – to know both the size and, if available, the composition of the membership.
It appears the only reason from SNP HQ not to release these figures – though this appears to be rapidly approaching a u-turn – would be to avoid a negative story about falling membership.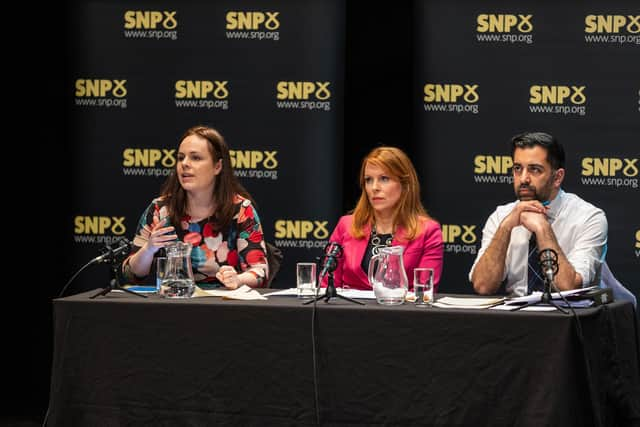 That is not a valid excuse.
Campaigners for Kate Forbes and Ash Regan, however, would argue there is no smoke without fire and that the lack of confirmed membership numbers is a dark, billowing column of the stuff.
Much of the theories on how the lack of information available to candidates somehow benefit Humza Yousaf as the establishment candidate require a significant amount of tinfoil-hattery.
The candidates do not have access to membership data, so cannot target. They have no access to ongoing election figures, and would require a nefarious actor on behalf of the voting system, MiVoice, for that information to be shared.
Maybe this is happening, but there is less than no evidence. Instead the 'concerns' being raised are done through innuendo and a wink-wink-nudge-nudge approach.
Press any campaign on how their concerns lead to a disadvantage and you usually receive an incoherent answer or none at all.
By failing to tackle them head-on by being transparent, the party undermines itself by creating a vacuum in which conspiracies thrive, amplified by those who have a vested interest in the party's downfall, be they from rival independence parties such as Alba or All4Unity type unionists on social media.
What is clear is SNP HQ has lost the trust of almost all involved. Years of secrecy has let mistrust fester. Reform of the party feels inevitable, whoever wins.
Whether the friendly fire results in a fatal loss of trust in the party from the public can only be tested at the ballot box.
Want to hear more from The Scotsman's politics team? Check out the latest episode of our political podcast, The Steamie.
Comments
 0 comments
Want to join the conversation? Please or to comment on this article.