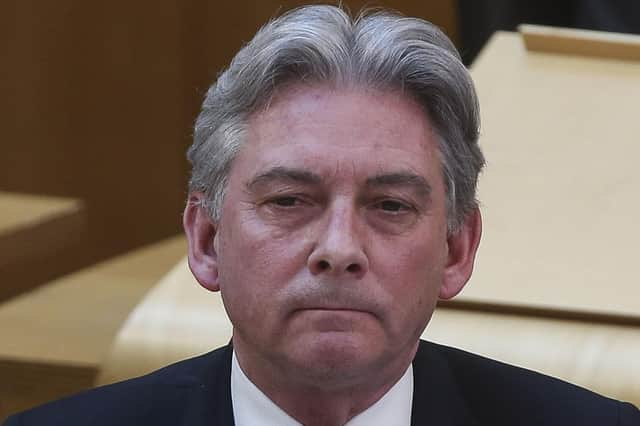 Richard Leonard has quit as Scottish Labour leader.
Leonard, who was the seventh person to take the reins since 2007, was elected at a moment when the party was on something of a high compared to previous years. Popular support had nearly doubled from 13 per cent in the winter of 2016 to 27 per cent at the 2017 General Election, gaining six MPs to add to the previously solitary one.
Firmly of the left of the party his victory was decisive, winning nearly 57 per cent of the overall vote compared to his leadership rival Anas Sarwar, taking 77 per cent of the union vote to Sarwar's 23 per cent and the membership vote by 52 per cent to 48 per cent.
With Corbyn and the Scottish membership at his back – and his predecessor Kezia Dugdale in the Australian jungle for a much-criticised appearance on I'm A Celebrity – it seemed that Scottish Labour would have some stability until the May 2021 Holyrood elections.
Leonard himself said his party would now "come together because we have no choice. We are in third place [in Holyrood]. We do not have the luxury of continuing splits and divisions".
Yet in the three years and three months since, he has failed to cut through with voters, and rather than making Scottish Labour a big tent party once again, he made it near-invisible.
Paranoia was in-built into his leadership. He and his closest colleagues believed from day one that those who supported Sarwar were "out to get" him, that every move taken – including a campaign against racism launched by Sarwar – was all about undermining his leadership. Indeed in the wake of his announcement resignation one of his key supporters, Neil Findlay MSP, said: "Looks like those who have led a 3 year campaign of briefings to journalists, leaks of private conversations and the constant feeding of stories to the media to bring down a decent and honest man have succeeded. These flinching cowards and sneering traitors make me sick."
There are many in Scottish Labour, however, who believed that Leonard was far more able to undermine himself single-handedly; political polling showed that many of Scots voters did not know who he was, even after three years in the job. They accepted that he was a decent person, but he just wasn't leading the party anywhere but down and the European election and General Election losses proved it.
So now, four months from the Holyrood elections, with the predictions that Labour could return as few as 17 MSPs, Leonard has thrown in the towel, claiming that continual speculation about his leadership was a "distraction" from the party's policies and up-coming campaign.
Speculation certainly has increased since Corbyn's defeat in the 2019 General Election and Sir Keir Starmer taking over as leader of the UK party. While he and Leonard have been at pains to show they can work together, it's been an open secret that Starmer's office was increasingly unhappy with Scottish opinion polls and the way the party was being managed in Scotland.
Last month senior staff members, key to the party's organising and campaigning for the Holyrood elections, quit. Scottish General Secretary Michael Sharpe announced he had resigned after a year in the job for family reasons, though party sources said he had "his collar felt" by the UK General Secretary David Evans, after being previously warned he needed to improve the party's performance.
He was then followed out the door by the Deputy General Secretary Anne McGinley, who was known to be close to Jeremy Corbyn's former adviser Karie Murphy. The party's director of communications at Holyrood, Lynn McMath, also resigned - the sixth communications specialist to leave the party in the past three years – although her decision to go is not believed to be politically motivated.
Perhaps then, the speculation was correct and Starmer was cleaning house in Scottish Labour, removing those with any connection or allegiance to his predecessor. Although at the time of writing, the noises from London are that Starmer has been taken by surprise that Leonard has chosen to go now, rather than after May.
Certainly the announcement at three minutes to 4pm, appears to have blind-sided many in Scottish Labour. There had been rumours that the left of the party had been lining up Baroness Katy Clark as a potential successor to Leonard post the elections, as she is running in the Cunninghame North constituency. As she currently holds no elected position it's unclear whether she would be qualified to enter the now up-coming leadership election.
Similarly Anas Sarwar has said privately he would have second thoughts about ever running again, although if a short, sharp contest – and possibly an uncontested one – was on the cards that could change. Certainly there are those who believe he has recognition with voters, and is more able to handle the cut and thrust of Scottish politics than Leonard ever was, and pressure will mount.
Sarwar supporter Jackie Baillie is now interim leader as she is deputy of the party, but has long made it clear she has no interest in the top job.
So who remains? Possibly Monica Lennon, whose star is rising as health spokesperson, might throw her hat in the ring. She backed Leonard for leader, and could potentially win round the left of the party as a result, although it's likely she would prefer to bide her time. Daniel Johnson, one of the failed coup leaders, could well stand if Sarwar doesn't, and would certainly have the support of Scottish Labour's sole MP Ian Murray, if he did. But could he cut through with voters any better than Leonard did?
Of course the more sensible course of action might have been to push an internal fight until after the Holyrood elections, but Scottish Labour's attitude is "bring it on". The party machine is well versed in running leadership elections and it could be as early as Monday that the whole shebang swings into gear once again.
As for Leonard he seems to have been allowed, despite no longer being leader, to keep his automatic place on top of the Central regional list for the parliament elections. Expect internal ructions over that decision.
It is Scottish Labour after all.
A message from the Editor:Thank you for reading this article. We're more reliant on your support than ever as the shift in consumer habits brought about by Coronavirus impacts our advertisers.
If you haven't already, please consider supporting our trusted, fact-checked journalism by taking out a digital subscription.