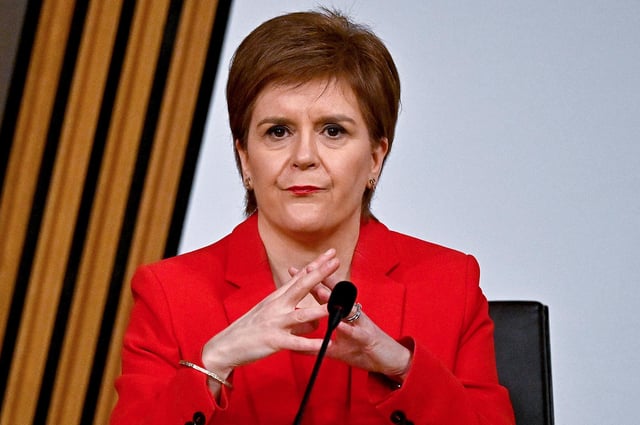 First Minister Nicola Sturgeon giving evidence to the Committee on the Scottish Government Handling of Harassment Complaints, at Holyrood in Edinburgh, examining the handling of harassment allegations against former first minister Alex Salmond.
Despite a marathon evidence session which swung from the lucid to the ridiculous, the First Minister's career still dangles by a thread, albeit reinforced when compared prior to Wednesday.
Comfortably batting away accusations of conspiracy which had always been backed – as it stands – by minimal published evidence, she was composed, at times emotional, and regularly irritated by the aspersions cast on her by opposition MSPs.
Her regular response of not recalling, however, does not help her case.
The issues without clear or convincing answers are those that may cause Sturgeon the most damage to her reputation and see her face the judgement of having misled parliament.
The First Minister's explanation of why she did not inform the civil service timeously of her meeting with Salmond on April 2 due to wanting to preserve the process' independence and confidentiality speaks more to how she views transparency than anything else.
It is, however, fully in keeping with her cautious approach to politics.
Her argument that she had erred in letting her predecessor down "gently" during the meeting, allowing Salmond to form the view she would intervene, is even less convincing.
Though it was a masterclass in her finest skill – the use of empathetic language.
The meetings between a senior official and Geoff Aberdein and the details of the March 29 meeting were also left disappointingly opaque.
Rejecting the characterisation of a meeting alleged to have led to the leak of a complainant's name she may have done, but failing to corroborate her account against several witnesses backing Mr Salmond is flimsy.
It is the closest her opponents are likely to get to a clear breach of the ministerial code.
Sturgeon does not have the benefit of being publicly able to call on corroborating witnesses for her account of the March 29 meeting and of the alleged leak of the name of a complainant to Mr Aberdein for legal reasons.
This, inevitably, does not help her case, but also highlights the Canutish nature of demanding a parliamentary inquiry into matters subject to a strict court order take place fully in the public eye.
That is hardly the First Minister's fault – it was proposed by the Scottish Conservatives – and serious questions must be asked of Scotland's politicians as to why this method of inquiry was deemed preferable to a judge-led public inquiry.
It is why Mr Hamilton's investigation, conducted in private with all witnesses available to him, is likely to produce the most accurate judgement.
Arguably more concerning is the "catastrophic" failure of the Scottish Government's internal processes which led to the collapse of the judicial review.
While it may not have been malicious, it does speak to an organisation whose information handling is flawed at best and deliberately obstructive at worst.
How it took so long for the issue of significant prior contact to arise was left unexplored and unanswered, but the error speaks to clear institutional failings more than the conduct of the First Minister.
At some point, someone must take responsibility. That person may well have to be Nicola Sturgeon
A message from the Editor:
Thank you for reading this article. We're more reliant on your support than ever as the shift in consumer habits brought about by coronavirus impacts our advertisers.
If you haven't already, please consider supporting our trusted, fact-checked journalism by taking out a digital subscription.