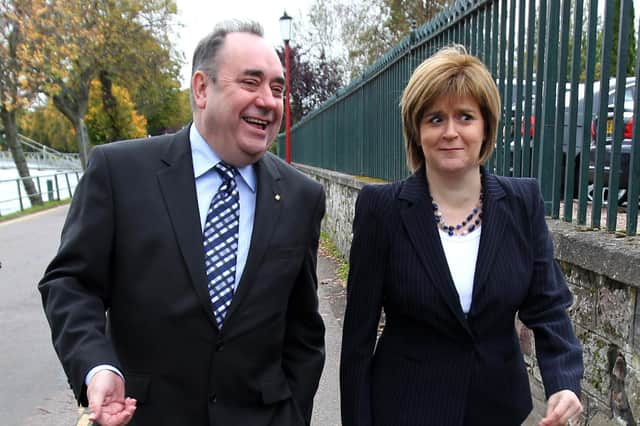 The poll is a stark warning of the tightrope being walked by Alex Salmond's Alba party in terms of its impact on the overall result.
It is also a reminder, not that the SNP needed it, that the former first minister's electoral hopes pose an existential threat to their independence strategy.
Should the votes on May 6 be the same as this poll, not only will the SNP miss out on an overall majority, but the voices hoping to push the merits and strength of an ill-defined 'supermajority' in a pro-independence Holyrood will also be excluded.
It is only one poll and therefore caution should be applied, but given three polls have put Alba's support at three per cent, it is likely the party's ceiling of support – as it stands – is around five per cent, but there are many weeks of the campaign still to go.
For both Mr Salmond and Ms Sturgeon, a result leaving him out of Holyrood and her reliant on the Scottish Greens is the worst case scenario.
It would be a test of Mr Salmond's belief in his own definition of a pro-independence 'supermajority' in one which simply did not involve him.
The standard definition, of two-thirds of Holyrood or 86 MSPs, is what will be seized upon by any unionist should Alba MSPs be elected but the overall pro-independence majority fall short of that number.
The likelihood of Alba electing more than a couple of MSPs seems, at this stage, to be in the realm of fantasy.
Of course, should simply an overwhelming majority of independence backing MSPs be Mr Salmond's sole goal at this election, he would not have hesitated to have backed the Scottish Greens rather than set up a fresh party.
But the former SNP leader's return to frontline politics is about much more than that and any definition of supermajority put forward during this election campaign has always been predicated on the inclusion of some Alba MSPs and has been vague on details.
Should the result be along the lines of Savanta ComRes' poll, Mr Salmond will be challenged on whether it meets his definition of a supermajority, thus challenging the rationale for Alba's existence.
He would also be asked whether he would back an SNP/Green policy on independence, a move which would likely prove difficult for him to swallow.
Such a result would also see the SNP lose all moral high ground in its attempts to claim a mandate for indyref2 amid negotiations with Boris Johnson.
The SNP have built their campaign on earning a majority, with Alba building theirs on a supermajority.
If neither come to pass, it is hard to see why the UK Government would acquiesce to any request for a second referendum.
For Ms Sturgeon it would inevitably lead to further internal pressure with the number of those demanding she acts in a way proposed by Alba rising as would the chances of a internal challenger.
Alongside a potential stalemate on the constitution, it would not just be a worst-case scenario but a full-blown nightmare.
A message from the Editor:
Thank you for reading this article. We're more reliant on your support than ever as the shift in consumer habits brought about by coronavirus impacts our advertisers.
If you haven't already, please consider supporting our trusted, fact-checked journalism by taking out a digital subscription.