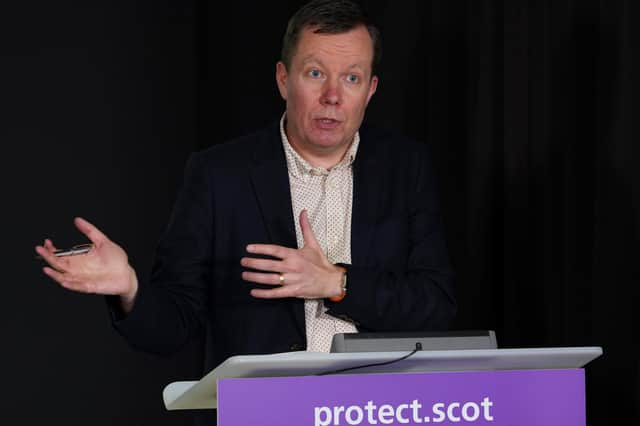 Jason Leitch is causing Nicola Sturgeon a problem
As one of the most authoritative figures thanks to his voiceovers and appearances on adverts and broadcast appearances, the national clinical director is a trusted voice of reason and scientific consensus for the public.
This means what he says matters and when he speaks, people listen.
That works in the Scottish government's favour for putting across crucial public health messages.
Those that dislike or ignore the First Minister because of who she is and what she stands for politically are more likely to listen to a clinical expert – there is a reason why one is stood next to her every day at the daily briefing.
However, Prof Leitch is alone in his ability to create political problems for Ms Sturgeon in a way no other clinical expert manages.
Pre-lockdown, his publicised message was for the Old Firm game on March 13 to go ahead. It was cancelled hours later.
He also held pro-herd immunity and anti-mask stances, and stated closing schools "doesn't work" and vulnerable people would not be asked to shield – all said in the week preceding lockdown.
During lockdown he was forced to apologise after denouncing reports an English company had refused to sell PPE to England "rubbish", later saying he "overspoke" and acknowledged the truth of the story.
Since the Scottish government entered phase three of the lockdown route map (the country is still technically in that phase), his gaffes as restrictions become more complicated and nuanced have undermined Ms Sturgeon's communications approach.
In the past two months alone, Prof Leitch has suggested pubs could open past 10pm if Scotland's football team faced penalties against Israel; that he "couldn't keep up" with all of the guidance issued by the Scottish government; and said the Covid-19 test was "a bit rubbish".
Public health in a global pandemic, particularly at the start as lessons about the virus are learned, is an almost impossible job, but reliable, repeated and authoritative messaging is key in highlighting the necessary behaviours required to stop the pathogen spreading.
The clinical director's tendency, therefore, to create policy on a whim and speak less guardedly when compared to the First Minister has not helped the overall message the Scottish government is trying to convey.
For Ms Sturgeon, it will have come to no surprise following Prof Leitch's "digital Christmas" comments that they dominated her briefing, but on the eve of her publishing her most important Covid-19 proposals since the route map in April, she was visibly exasperated.
Bombarded with questions on the comment, a clearly irritated First Minister implored journalists to "get away" from the terminology during her briefing.
While jokes – and the inevitable The Sun photoshop – about Prof Leitch's new role as the Grinch are amusing, there must be underlying frustration at his inability to follow the party line to never speculate.
Doing so creates an open goal for opposition to point at "tone deaf" statements, and on issues like Christmas, these things tend to stick.
Therefore, Prof Leitch poses Ms Sturgeon a dilemma.
She can stick with a trusted if gaffe-prone adviser, or rely on the more politically reliable, but less well-known figures such as Gregor Smith and Fiona McQueen.
In a global pandemic, it's a dilemma she would rather not exist.
A message from the Editor:
Thank you for reading this article. We're more reliant on your support than ever as the shift in consumer habits brought about by coronavirus impacts our advertisers.
If you haven't already, please consider supporting our trusted, fact-checked journalism by taking out a digital subscription.