Analysis: Ministerial misbehaviour once again gets in the way for Rishi Sunak
Rishi Sunak is at the G7, so obviously having to talk about his colleague's driving.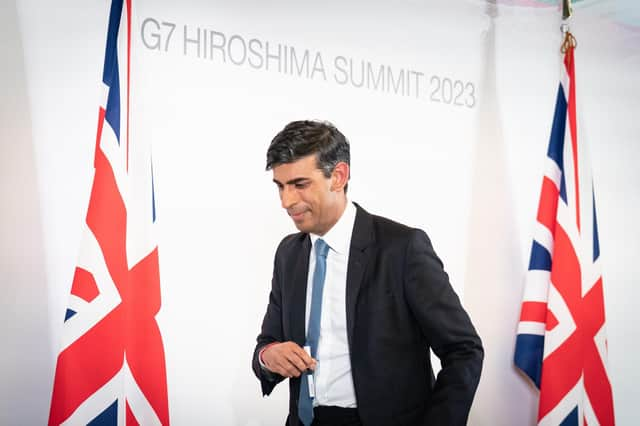 In what has become somewhat of a theme for Rishi Sunak, he is once again being distracted from his work by the behaviour of his colleagues.
As Chancellor, Mr Sunak would be asked questions about partygate, Boris Johnson, or his own fixed penalty notice.
As Prime Minister, he's been asked about Nadhim Zahawi avoiding tax, Gavin Williamson being a bully, Dominic Raab being a bully, and then his second fixed penalty notice.
Then there is Suella Braverman, a Home Secretary previously ousted for breaching the ministerial code, having shown confidential documents to a pal so she could get their take on it.Not content with getting into trouble once, the Home Secretary has now been caught asking civil servants to help her avoid incurring points on her licence for speeding.
She is understood to have wanted to avoid being seen in public at a driving course, so instead has taken the much more sensible route of being caught in public.Given her remit is to be in charge of the law, it's a particularly curious decision, and one that once again sees the conduct of his MPs undermining Mr Sunak.
His leadership campaign was built on being a clean act and restoring trust in his party, but time and time again the Prime Minister has been forced to justify keeping people in place who see the rules as things to be ignored, whether it's speed limits or international obligations towards migrants.
It is unclear if this breaches the ministerial code, despite the suggestion from opposition parties, but it does breach common sense of not being seen to think it's one rule for them, and another for the rest of us.Speaking in Japan, when confronted about the scandal, Mr Sunak asked journalists "did you have any questions about the summit?". It speaks to a wider problem within his party.
The Prime Minister is trying to get on with the job and talk about his successes, but once again his colleagues are getting in the way.
Comments
 0 comments
Want to join the conversation? Please or to comment on this article.