Amid the bluster, all Boris Johnson's strategy to block indyref2 boiled down to was a repeat of 'now is not the time' and the promise of a post-Brexit briefcase of cash for Scotland, just with a Union flag attached rather than that dastardly nationalist saltire.
The attack on the SNP's priorities is a well-trodden path for the Scottish Conservatives and one with its merits as there is little public appetite for a referendum this year.
But it is built on weak foundations given his own government's last-gasp dash to a Brexit deal following a year of unnecessary uncertainty and delay during a global pandemic.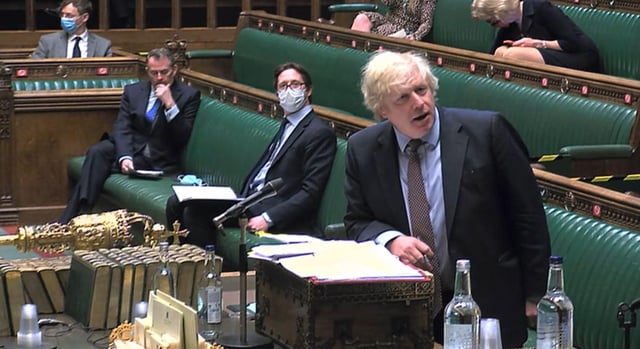 Prime Minister Boris Johnson spoke at the Scottish Conservative party conference
More telling was an implicit admission from the Prime Minister that a majority would provide the basis for a mandate for a second referendum.
You cannot say 'now is not the time' in one breath and 'stopping a majority will stop indyref2' in the other unless a majority would provide the mandate the SNP seek.
For the former to stand up to scrutiny, an imminent indyref2 must be a genuine threat and if the second statement is also true, then it follows a majority in this election is all that is needed.
Stopping indyref2 may well be the headline target for Scottish party leader Douglas Ross and Mr Johnson, but it is clear the real target for this election is to relegate Scottish Labour to also-rans in Holyrood.
For Mr Johnson to focus on the failings of Keir Starmer and Jeremy Corbyn rather than those of Nicola Sturgeon, who didn't get a single mention in the speech, shows the Scottish Conservatives know the argument is lost with many SNP voters.
There is an acceptance the party is not going to win over soft Indy voters, so targeting Labour unionists is viewed as the best way to keep Labour out of power nationally.
It is a strategy built on the fact Sir Keir must win in Scotland to win again in Westminster.
Succeeding would also see the constitutional debate continue to be dominated and framed by polarised extremes, rather than by those in Labour calling for further devolution of power, allowing any constitutional change to be stonewalled.
Ultimately it is self-preservation above all else.
A message from the Editor:
Thank you for reading this article. We're more reliant on your support than ever as the shift in consumer habits brought about by coronavirus impacts our advertisers.
If you haven't already, please consider supporting our trusted, fact-checked journalism by taking out a digital subscription.