Analysis: Labour attack ads upset own MPs and misplace blame for failures of justice
Labour are under fire for a controversial attack advert which suggests Rishi Sunak does not support jailing child abusers.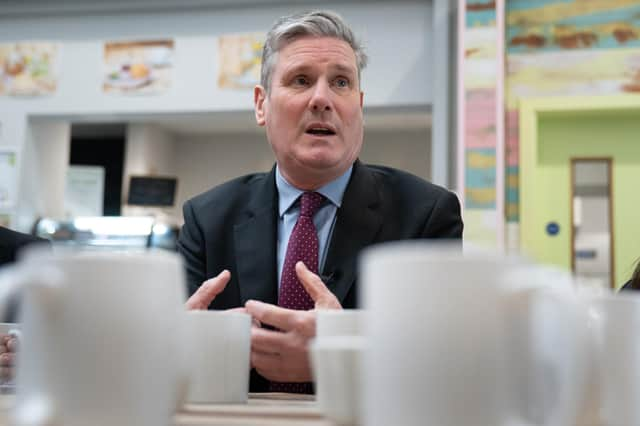 Sir Keir Starmer's party believe the shock tactic will help the message cut through, highlighting soft sentences and low conviction rates, creating an image that it is Labour who are the party of law and order.
The backlash was immediate, with Tories, Labour MSPs, Labour MPs and seemingly everyone with a Twitter account demanding privately or publicly that the advert be dropped and an apology issued. Sir Keir responded with a firm no, instead writing in the Daily Mail that he backs "every single word" of the advert, adding he'd "make absolutely zero apologies for being blunt".
Labour have now been accused of "dog-whistle politics", with the left of the party suggesting racist undertones following the home secretary's recent claim that "almost all" grooming gangs were British-Pakistani men.
It's all a bit ugly, a bit uncomfortable, and created a debate about an issue, rather than a debate on the issue itself. It's now how Labour would make the streets safer, or what Tory policies have made them worse.
The frustrating thing is for the left is that there are clear arguments Labour could be making on justice without resorting to "Rishi Sunak doesn't think child abusers should go to prison".
Concerned about justice for local communities? Point to 51 per cent of the Magistrates Courts being closed by the UK Government since 2010, seeing bigger backlogs and victims forced to travel further for justice.
Think criminals should be prosecuted quicker and victims are waiting too long? Point to a justice budget that's fallen 40 per cent in real terms, which the Lords Select Committee said was "undermining the rule of law, access to justice and risks damaging public confidence".
Despite all of these backlogs, 28 per cent of courts in England and Wales were empty on Wednesday as trial dates of late 2024 are given.
These are fundamental problems that make Britain less safe, and fail to deliver the basic functions of a working justice system.
Labour MPs don't want to attack Mr Sunak, they want to offer a positive vision of what Sir Kier can deliver.
Fixing the justice system requires funding, which perhaps explains why they've resorted to attack ads rather than policy.
Comments
 0 comments
Want to join the conversation? Please or to comment on this article.