Analysis: Inside the Tory civil war as Boris Johnson sparks chaos but strengthens Rishi Sunak's hand
Boris Johnson's misdemeanours have highlighted the divide in the Tory party, but that may help the Prime Minister.
There was a period before Rishi Sunak became Prime Minister when Boris Johnson believed there was an opening for him to return to Downing Street, just months after being forced out by his own party.
His allies were organised and vocal, tweeting "Bring back Boris" or variations upon it, and ringing around other MPs to canvass for support. Mr Johnson along with Mr Sunak was the favourite for the job, with talk of a deal needing to be agreed between the two.
While only brief, there was a moment, just a moment, where MPs and some in Westminster thought it might actually happen. Ultimately the Uxbridge and South Ruislip MP dropped out, despite claiming to have 102 MPs supporting him.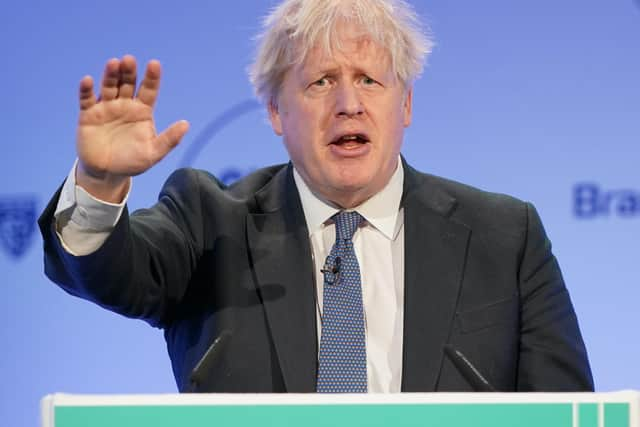 Now he is once again in the headlines, after Government lawyers given his diaries for the Covid inquiry felt they were duty bound to refer incidents they believed to be rule-breaking to Cabinet Office, who then did the same with the police.
All hell broke loose, with Mr Johnson crying foul play, claiming that the whole affair is a plot, with Mr Sunak either involved or failing to act to stop it.
Mr Johnson, who believes he is the victim of such a conspiracy, has meanwhile ditched the Government-appointed lawyers representing him in the Covid public inquiry after he was referred to police.
Some of his allies spoke of mobilising against the Prime Minister, handing in letters of no confidence, anonymously briefing against Mr Sunak, and even threatening to quit to force by-elections, as if losing dissidents would somehow be damaging to Number 10.
There has been some suggesting this is a huge problem for Mr Sunak, his former colleagues a perennial thorn in his side, stealing the limelight from Government policy once again, and while that's true to a certain extent, it's not that simple.
In reality, this affair has shown the strength of Downing Street, in both Mr Johnson's actions, and the lack of MPs publicly supporting him. That 102 is much lower now, if it was even that high in the first place.
First, there are the cabinet ministers, past and present, who were loyal to Mr Johnson. Priti Patel, saved from her breaches by the former Prime Minister, has said nothing. Nadine Dorries, no friend of Mr Sunak, has suggested it's a witch hunt, but her criticism has been directed away from the Government. Others such as Alister Jack, the Scotland Secretary remain in post, so aren't going to make the mistake of undermining their employer.
One MP told The Scotsman Mr Johnson had a series of loyalists, those who couldn't see his faults, those who thought others were wrong, or those who thought only the membership should decide his future. But, with many of these standing down or at risk of losing their seats, their voices are now quieter.
Another dismissed the infighting entirely, saying any anger would pass quickly with an election coming next year. They said: "It's amazing how this happens in the Tory party, as soon as an election is on the horizon, people start to rally behind the leader. In terms of backbenchers, there is very little appetite for any more of the drama we've all experienced."
Those, such as Andrea Jenkyns, continue to go to bat for Mr Johnson, as do culture warriors like Miriam Cates, but his list of allies willing to go public has grown thin.
There is also a school of thought among MPs, including Mr Johnson's allies, that the latest revelations show exactly why they got rid of him in the first place.
One described him to this paper as "charismatic and someone who obviously connects with people", but pointed out that's not helpful with "all the rubbish that comes with it".
MPs might be annoyed over leaks and suspicious of the civil service, but the right of the party always has been. If anything, these events have reinforced the view of some MPs that Mr Johnson had simply outlived his usefulness. He gets you in, but then gets you out.
Since standing down as leader, Mr Johnson has faced a Privileges Committee inquiry into whether he misled parliament over partygate, the scandal around loan dealings involving the former BBC chairman he appointed. Now, the news that he was inviting friends and family to Chequers during the pandemic.
Not having to defend the above on the broadcast media is a relief to MPs and, while they might not love Mr Sunak, many believe he is the antidote to what came before. It is also worth remembering, he had more MPs supporting his leadership bid than Liz Truss or any other, despite losing the first time.
Ultimately these spats are about the long-term, with Tories believing Mr Johnson to fancy his chances of becoming leader, if, as expected, Labour win the next election.
As one former minister put it to me, "it's much more suited to him as he can just say things without having to enact policy". Come the next election, there could be yet another squabble for the soul and leadership of the Tory party.
Suella Braverman has been loudly setting out her stall, arguing against her own policy and racing to court figures on the party's right. There is an expectation this may be what Mr Johnson is doing, enforcing a narrative that everyone is against him and that things will be different if he just gets one more go.
Comments
 0 comments
Want to join the conversation? Please or to comment on this article.