The Prime Minister quickly succeeded in bringing back calm to the financial markets, but the bar was at an all-time low after the disastrous premiership of Liz Truss that thanked the pound and saw inflation soar.He arrived into the job facing serious challenges across the cost-of-living, the public purse, and polls predicting a Tory wipeout at the next general election.
This has been followed by the latest constitutional spat with the Scottish Government over the Gender Recognition Reform act, and then a series of scandals, including his own, having been issues a fixed penalty notice for not wearing a seatbelt.
Mr Sunak has acted quickly on some issues and slower on others, all the while struggling to hold together a group of Tory MPs brimming with rebels desperate for an excuse to get rid of him.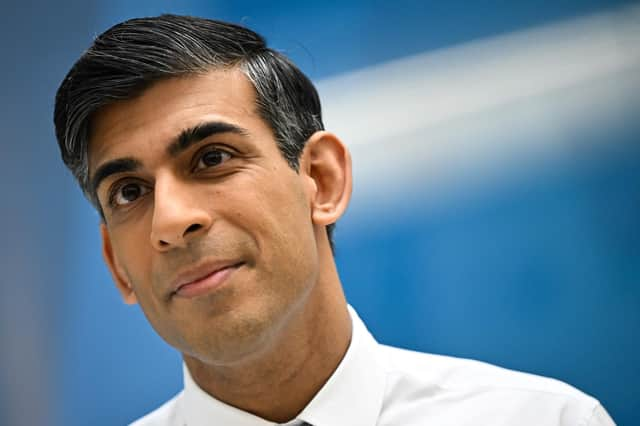 The most immediate and pressing issue for the Prime Minister was the economy, with Ms Truss managing to wipe £30 billion from it in less than three months.
Mr Sunak was a realist during the leadership campaign he lost to his predecessor, with members unhappy hearing about tough decisions as opposed to loving Britain and tax cuts.
Proved right, the Prime Minister has broadly maintained this realism, boosted by the Chancellor he inherited, Jeremy Hunt, who appears to agree with him on most areas.
Both have stressed tackling inflation as the most important issue, and it is already coming down. However, it is still higher than it should be, and shows no signs of coming back soon to normal levels.It is clear that while things have improved, there is no clear plan to fix growth, with the Government refusing to set targets, and instead setting out vague goals without deadlines.
In a speech last week, the Chancellor admitted things were "policy light", but stressed there were frameworks to increase growth and get public finances back on a sustainable path.However, it is of note that both men refuse to recognise forecasts showing just how severe Britain's finances are in, despite the IMF saying Britain is the only major economy expected to shrink this year.
The country is in a recession, and Downing Street needs to address the severity of the situation, rather than dismissing forecasts as "declinist attitudes".
One area the Prime Minister has failed to deliver on is cleaning up the UK Government operation, despite extensive promises to do so.
Mr Sunak stood down under Boris Johnson because of economic differences, only to later say it was about integrity.
Promising to bring that back to Government, he has instead appointed a Home Secretary after she was caught breaking the ministerial code, in Suella Braverman.
He has also been forced to sack his party chair, Nadhim Zahawi over his tax affairs, in a scenario where the right decision was made all too late.
Mr Sunak has been vague over what he knew and stressed the importance of due process, but his hesitance to act has only helped Labour's allegations of sleaze.
Another key ally, Sir Gavin Williamson, was forced to quit the Cabinet Office over a series of abusive messages to the chief whip.
Then there is his Justice Secretary, Dominic Raab, currently being investigated for bullying, and the latest scandal involving Mr Johnson's loan being secured by the chair of the BBC.
This, along with his fine for not wearing a seat belt, are distractions away from the areas the Government is actually working on.
His premiership has not seen an end to questions over appointments and sleaze, just the issues all come at once.
Mr Sunak needed to bring his party together after the ousting of two Prime Ministers, and when he first ran, seemed the best candidate to do it.
He enjoyed more support among MPs than any other candidate, and with a 70 seat majority, seemed well placed to turn the ship around.
Instead, allies of Mr Johnson are desperate to undermine the new Prime Minister, jumping on every mishap behind the scenes to see if there is an appetite for a return.
Not commanding total support, the Prime Minister has now U-turned on on housing targets, onshore wind farms and custodial sentences, bowing to pressure from his MPs.However, with policies such as the anti-strike legislation, and strong rhetoric around boats, albeit no real chance of stopping then, these dissidents have in public remained quite.
Aside from calls for tax cuts, the party seems broadly united, with even those who are unhappy keeping quiet.
One ally told me: "We are starting from such a low point after the last two, it will take time to rebuild and I think the party understands that".
An MP who did not support him told the Scotsman they didn't trust him, but were willing to wait til after the next election to replace him.
The most important aspect for politicians is not policy, but whether they are popular with the electorate.
Mr Sunak has better approval ratings than the last two leaders and is more trusted on the economy than Labour.
However, his party has enjoyed no new leader boost, with the polls still showing nothing less than a Labour victory at the next general election.
Support is not just surging for the Labour party, but also for the unions his party has legislated against.
With the most recent projections leaving the Conservatives on less than 30 per cent, the Prime Minister must do more with his budget, and end the scandals that have plagued his premiership thus far if he is to turn it around, and ensure he does not become leader of the opposition.