Analysis: Anas Sarwar hopes change is in the air as SNP 'turns inwards'
The theme of the Scottish Labour conference is not hard to identify: change. The word was mentioned 57 times in Anas Sarwar's speech alone.
The party leader hammered his point home again and again. Labour, he insisted, can offer the change Scotland needs.
Change to eliminate poverty, to tackle the climate crisis, to grow the economy, to provide better healthcare to patients, to bring power closer to the people. You name it, really.
There is a sense of optimism surrounding Mr Sarwar and his party. After the doldrums of recent years, polls make for fairly cheerful reading. UK leader Keir Starmer is widely seen as a prime minister in waiting.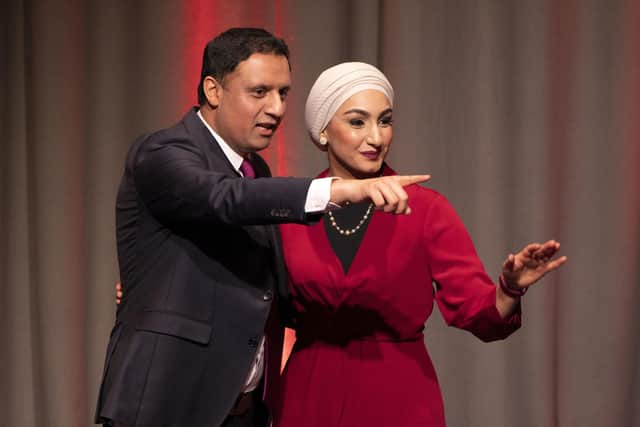 Meanwhile, it only took a matter of minutes for the resignation of Nicola Sturgeon to be mentioned from the conference stage at Edinburgh's Assembly Rooms. The First Minister was the unofficial star of the show. Her decision to step down has thrown everything up in the air, and Labour hopes to benefit.
"She was a household name," one activist said. "There is no one else in the SNP that compares."
Mr Sarwar made a direct appeal to SNP voters in his speech. "We understand your desire for change," he said. "We share it. We recognise your desire to get rid of the Tories. We share it. We know you dream of a brighter future. It's a dream we share. Because this isn't as good as it gets. You deserve better. Scotland deserves better. Change is possible."
In the weeks ahead, he said, the SNP "will only be talking to themselves, about themselves". And while it "turns inwards", Labour will "reach out to the country".
"We've still got a lot of work to do to regain the trust of the people," Mr Sarwar said. "But I'm proud that we are once again a party ready for government."
By the time of the next Holyrood election, Labour will have spent almost two decades out of power in Scotland. In truth, the possibility of a Labour first minister still feels distant.
But change is certainly in the air. It remains to be seen whether it favours Mr Sarwar.
Comments
 0 comments
Want to join the conversation? Please or to comment on this article.