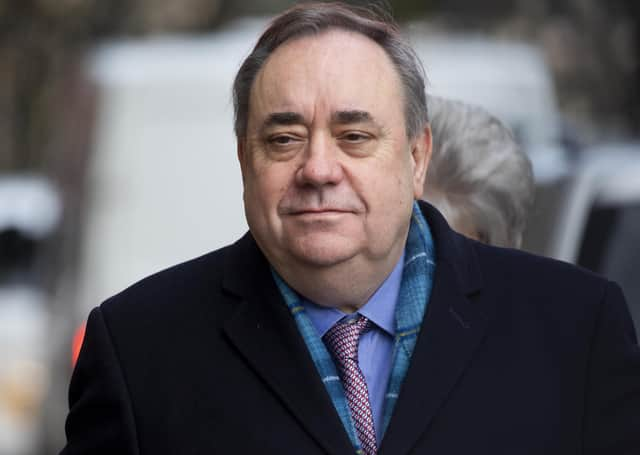 Former First Minister Alex Salmond arrives at Edinburgh High Court on 13 March. Picture: SWNS
The civil servant, known as Woman B, told the High Court in Edinburgh that she feared the incident would have been "swept under the carpet" if she had complained formally about Salmond.
She said she was left "shocked" and "alarmed" by the episode which she says happened in late 2010.Salmond is accused of various charges of sexual assault including one of attempted rape, involving nine women. One charge against him involving a tenth woman was dropped today, as the prosecution case against the former First Minister came to and end.Salmond denies all changes against him.
Vettriano portraitWoman B said the alleged sexual assault happened in the drawing room of the First Minister's official Bute House residence one evening in late 2010 while she was alone with Mr Salmond.The portrait by Fife artist Vettriano was originally proposed to have been on the First Minister's official Christmas card that year, but was dropped amid concerns that it was inappropriate. It depicted an older man in glasses alongside a younger woman who were leaning in to kiss each other and had been under discussion that evening.Woman B said she was talking to the ex-First Minister as a meeting broke up."He immediately said `Come here, let's recreate the pose on the Christmas card.'"He grabbed my wrists and pulled me towards him. I was just shocked."She added: "It felt like every time I managed to get him off, another hand would appear."He was very persistent."I felt like I was wrestling with an octopus. It felt as if there was always another hand coming to my wrist."The woman said the duration of the incident "felt like forever" but in reality was probably a matter of seconds or minutes."I didn't speak - It felt like my voice had gone," she added."He was coming in to kiss me and I didn't want that to happen.""He was leaning towards me and trying to pull me into him. Because he was trying to recreate the pose on the Christmas card, I knew it was a sexual approach."Salmond finally gave up when someone else came into the room, she added.The woman said she was "quite alarmed" by the incident because it happened in the First Minister's official Bute House residence and she wanted it to stop.She also got rid of a charity wristband that she had been wearing when the alleged incident took place."It felt contaminated," she told the court.
Unanswered phone callThe civil servant spoke to her manager about the incident, but added: "I didn't feel like there was an option to take things further in the Scottish Government because of relationships in the civil service between the First Minister."If I had complained formally I would have been moved. I felt like it was another element of his behaviour I had to deal with."She added: "If I had complained, it would have been swept under the carpet and I would have suffered in my career as a result."I would've been moved because I never saw anyone in a senior position in the Scottish Government tackle the First Minister about his behaviour."The court then heard that seven years later, in November 2017, three years after Salmond had left office, Woman B received an unanswered phone call from the ex-first Minister. There was also a text sent from him which read "Hi (Woman B) , hope you are well, Alex here. Can you kindly give me a call tomorrow morning please." He also provided a number for her to call.The woman rejected a suggestion from defence QC Shelagh McCall QC that Mr Salmond was in "playful mood" that evening."No, with Mr Salmond, even if he's in a light-hearted mood about ad issue, there was always an underlying tone that you were never relaxed in his company."Asked if the incident could be seen as "high jinks", Woman B added; "I certainly didn't take it that way."I think restraining someone's wrists and trying to kiss them is not appropriate."She added that she had told two colleagues about the incident, but added: "I don't remember any of them being particularly shocked or surprised by his behaviour."