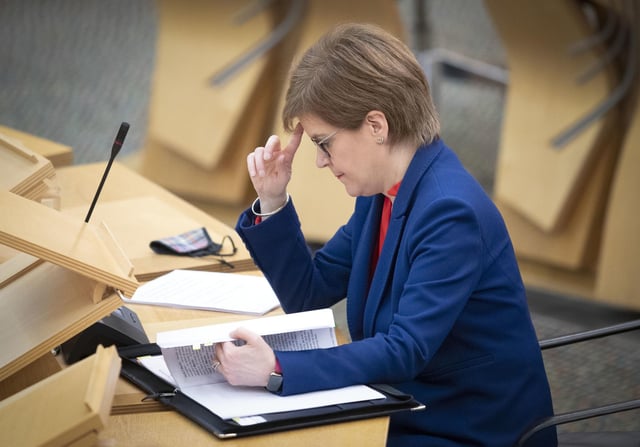 Nicola Sturgeon is due to appear in front of the sexual harassment committee tomorrow.
Which is why it is always struck a peculiar note that she "forgot" a meeting with Alex Salmond's former chief of staff Geoff Aberdein in her parliamentary office on March 29, 2018, at which it is claimed the allegations of sexual misconduct against Mr Salmond were discussed.
Time and again she has told Parliament that she was only made aware of the situation, and the government investigation, during a meeting at her home on April 2, four days later, and from the mouth of Mr Salmond himself.
She has also rejected his claims that she offered to intervene on his behalf, to press for mediation as he threatened going to court.
On Wednesday she is due in front of the Holyrood committee inquiry into how the Scottish Government managed to botch its investigation so badly that a judicial review saw Mr Salmond win more than £500,000.
Without doubt she will have prepared to within an inch of her life, every question anticipated, every answer rehearsed. She has, she's said, been relishing the moment.
This evening that preparation may well have been for nought.
New letters just published appear to have undermined her defence before she has even uttered a word.
Kevin Pringle, a former head of SNP press, and Duncan Hamilton, a former SNP MSP and Mr Salmond's counsel, have both corroborated his claims the March 29 meeting was not fleeting, but pre-arranged, that there had been a leak of one of the complainant's names to Mr Aberdein even before that date by a senior government official, and that Ms Sturgeon did offer to help Mr Salmond at the April 2 meeting at her home.
No longer then is this a he-said-she said scenario. There were witnesses to events.
Mr Pringle says he was told by Mr Aberdein that a complainant's name was shared with him, and Mr Aberdein had been "clear about the purpose" of the meeting with Ms Sturgeon on March 29, 2018, which was "to discuss the two complaints made against Mr Salmond".
Perhaps most damning is Mr Hamilton's evidence. He states on arrival at Ms Sturgeon's home "everyone in the room knew exactly why we were there – no introduction to the subject was needed and no-one was in any doubt what we were there to discuss".
And he adds: "I can confirm that the First Minister did offer to assist. We discussed mediation. My clear recollection is that her words were 'if it comes to it, I will intervene'."
Those eight words will perhaps now come to haunt Ms Sturgeon.
Last week she said that given the claims and conspiracy theories circulating, the reputations of Scotland's institutions should not be "sacrificed on the alter of the ego of one man".
It is entirely possible that Ms Sturgeon's whole political career could be the ultimate sacrifice.
Without doubt, the stakes for her have never been higher.
A message from the Editor:Thank you for reading this article. We're more reliant on your support than ever as the shift in consumer habits brought about by Coronavirus impacts our advertisers.
If you haven't already, please consider supporting our trusted, fact-checked journalism by taking out a digital subscription.