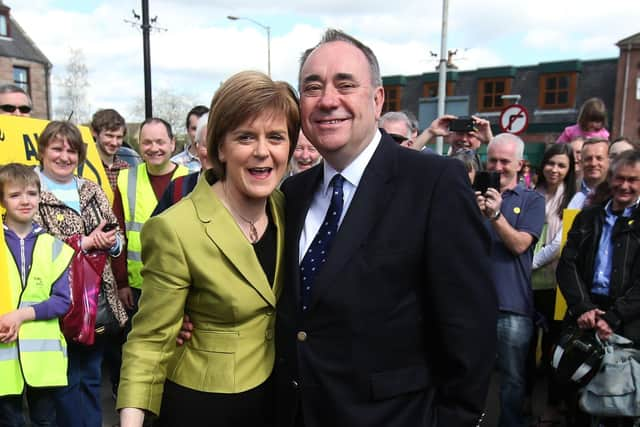 First Minister Nicola Sturgeon with Alex Salmond while on the General Election campaign trail in Inverurie in the Gordon constituency.
More than half of Scots (54 per cent) said they believe Nicola Sturgeon's account compared with just a quarter (26 per cent) believing Alex Salmond's, the poll shows.
The poll, conducted by Savanta ComRes, interviewed 1,015 Scots between March 4 and 5.
The same snap poll also suggested Scotland would vote No if a second referendum was held tomorrow.
The survey showed that half of Scots also believe that the First Minister should resign if she is found to have breached the ministerial code.
Alongside the ongoing Salmond Inquiry, Ms Sturgeon is also being investigated by one of the independent advisers to the Scottish Government on the ministerial code, James Hamilton QC.
His investigation and the report from the Holyrood committee on the handling of harassment complaints are both likely to issue a verdict as to whether the First Minister breached the ministerial code.
Mr Salmond has accused Ms Sturgeon of doing so on multiple occasions including misleading parliament on when she first new of complaints against him, and for continuing with the defence of his judicial review action despite advice from external counsel stating the case would likely be lost.
The ministerial code states that if a minister is found to have misled parliament, they are expected to offer their resignation.
Asked whether Ms Sturgeon should resign if she is found to have breached the ministerial code, almost half of Scots said she should step down.
In total, 48 per cent of Scots believe she should resign, with 39 per cent saying she should continue in office. A further 13 per cent said they did not know.
Previous Scottish Conservative voters are the most likely to say Ms Sturgeon should resign (86 per cent), with Scottish Labour voters next (65 per cent) and Scottish Liberal Democrat voters third (51 per cent).
Of SNP voters in 2016, two thirds (64 per cent) believe Ms Sturgeon should not resign, with a quarter (25 per cent) saying she should step down.
Potential concerns within the SNP around that Scots would not believe the First Minister's account following her evidence session seem to be unfounded.
Asked whose account connected to the Salmond inquiry they believed more, Mr Salmond or Ms Sturgeon, Scots overwhelmingly said they believed the First Minister.
Of those who responded to the poll, more than half (54 per cent) said they believed Ms Sturgeon, with more than a quarter (26 per cent) saying they believed Mr Salmond. A further 20 per cent responded 'don't know'.
Broken down by party support, 60 per cent of Scottish Conservatives believe Mr Salmond, with 49 per cent of Labour voters, 49 per cent of Liberal Democrat voters, and 78 per cent of SNP voters believing the First Minister.
Associate director for Savanta ComRes, Chris Hopkins said the full impact of the inquiry is likely to be further down the line due to the proportion of Scots who believe Ms Sturgeon should resign if she has broken the ministerial code.
He said: "With half of the public more inclined to believe Nicola Sturgeon's version of events, including a majority of Labour voters, and only a fifth of 2014 No voters less likely to support Independence because of the saga, it's impact on the First Minister doesn't look to be catastrophic – for now.
"Almost half, including a quarter of SNP voters and a third of 2014 Yes voters say Sturgeon should resign if found to have broken the ministerial code, so if that ends up being the conclusion of the inquiry, it could end up having a greater impact on the SNP electorally than it appears to at the moment."
The Salmond inquiry is examining the botched handling of harassment complaints against Mr Salmond by the Scottish Government, which led to a £500,000 legal bill after the Government conceded a judicial review challenge on grounds the process was "tainted by apparent bias".
Mr Salmond was also acquitted of sexual offence charges in a trial last year.
The same poll indicated support for Scottish Independence could be on the way down with numbers suggesting a lead for No for the first time since mid-2020.
The survey showed a general preference for a No vote in any second referendum with a total of 46 per cent support for No, 43 per cent support for Yes, and 10 per cent for don't know.
With don't knows excluded, it suggests a 52 per cent lead for No, with 48 per cent for Yes, however these figures are not weighted for voter turnout, with further polling expected this week to show a clearer impact of the inquiry on Scottish Independence voting intention.
These figures on Scottish Independence are not directly comparable with previous polls on the subject, due to this and the nature of the snap poll.
The survey also showed the scandal is cutting through with voters and is driving mistrust in the SNP and Ms Sturgeon, with almost half saying they trust the First Minister less due to the inquiry.
It also showed voters are being driven away from supporting Scottish independence by the Salmond inquiry, with 35 per cent stating it was making them "less likely" to vote Yes.
More than one in seven (16 per cent) said the inquiry was making them more likely to vote Yes, with 41 per cent saying it had made no difference in their likelihood to support Scottish independence and 8 per cent stating they did not know.
A message from the Editor:
Thank you for reading this article. We're more reliant on your support than ever as the shift in consumer habits brought about by coronavirus impacts our advertisers.
If you haven't already, please consider supporting our trusted, fact-checked journalism by taking out a digital subscription.