Follow this live blog to stay up-to-date with the latest developments.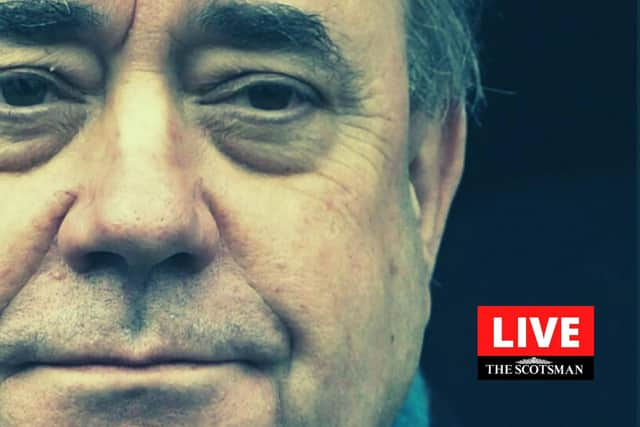 Alex Salmond RECAP: Former First Minister gives evidence to Scottish Parliament
Show new updates
Opinion: Former First Minister's command of detail puts the pressure on Nicola Sturgeon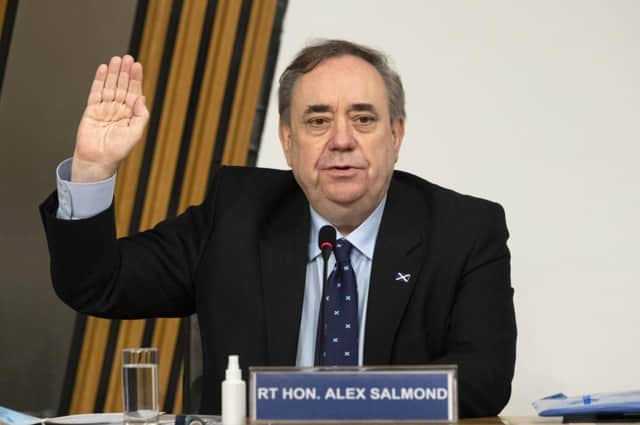 "Scotland hasn't failed. Its leadership has failed." These words resonated from Alex Salmond's appearance before a Holyrood committee.
Salmond 'would have gone to the Permanent Secretary'
Alex Salmond was asked if, as a former first minister, he would have notified the civil service if he had been approached by a political colleague as he had done with Nicola Sturgeon on April 2 in 2018.
"In the circumstances that were there, I would have gone to the Permanent Secretary," he replied.
"And that is obviously what I was urging, or asking, Nicola to do, or seriously consider. I was obviously disappointed that she couldn't see that was the way forward.
"I wouldn't have asked her to do it if I didn't believe it was totally legitimate. You can see from the WhatsApp messages that I tried to argue this was the legitimate thing to do."
Salmond: No evidence that Surgeon was part of efforts to damage his reputation
Alex Salmond has said he has no evidence that Nicola Sturgeon has been part of efforts to damage his reputation.
The former first minister told the committee: "Everything I've said in the evidence that I've submitted to you can be backed up by documentary evidence.
"Therefore since I don't have documentary evidence which suggests that the First Minister has text messages or any other piece of information which involve the First Minister then I haven't made that accusation.
"That's because I decided, quite properly I think, only to make statements which could be backed up by documentary evidence."
Sturgeon was not 'surprised or astounded' at purpose of April 2018 meeting, says Salmond
Former first minister Alex Salmond said that there was no suggestion Nicola Sturgeon was "surprised or astounded" at the purpose for the meeting on April 2 in 2018.
Asked if this was the first time the First Minister had heard about the investigation, Mr Salmond told the committee: "There was no suggestion that she was surprised and astounded at what the meeting was for.
"But the meeting was for that purpose. We went through that, I was looking for the options that we had.
"The one that we had centred on as being proper, and a reasonable thing to suggest, and incidentally proper for the First Minister, was a mediation policy, which was absent from the policy we'd seen, for no apparent reason."
Speaking about the meeting on April 2 in 2018, Alex Salmond said that Nicola Sturgeon had given him "every indication" that she would assist if "proper" to do so.
"She gave me every indication, as I would have expected from somebody I've known over that period of time, that if it was proper to assist, that she would do so," the former first minister told the inquiry.
"And I felt the mediation proposal was a proper thing to ask for two reasons.
"One, because it should have been in the policy and it wasn't. And secondly, as I've explained in my submission, over and above any other duties, a First Minister has an obligation to make sure that Government is acting lawfully."
Salmond claims Sturgeon knew about complaints before meeting with him
Alex Salmond has claimed Nicola Sturgeon knew about a complaints procedure launched against him before meeting with her in her home.
He said: "Whether she had any prior knowledge of it I cannot say, but I know that she knew on March 29.
"The meeting on March 29 was not impromptu, was not accidental, was not popping your head around the door.
"It was a meeting arranged for that purpose and the meeting on April 2 was not popping into Nicola and Peter's home, it was a meeting arranged for that purpose."
Salmond 'cannot be certain' that Sturgeon broke the ministerial code
Alex Salmond has said it cannot be certain that Nicola Sturgeon has broken the ministerial code of conduct until her legal advice is made public.
Jackie Baillie said at the committee: "As a former first minister, would carrying on legal action in the Court of Session knowing that you had acted unlawfully be a breach of the ministerial code?"
Mr Salmond said: "Yes. (In this instance) we cannot be sure because I – like you – haven't seen the external legal advice of October 2018.
"Clearly it was a highly significant moment when it was realised by counsel that there had been prior contact.
"Everything about it – even how it's being described in terms of the balance of probability – shows or indicated that the Government was about to lose.
"If that is the case, and the legal advice says that, and the case continues in the knowledge of the First Minister against that advice then that would be a breach of ministerial code. If we could just see the document then we would all be better informed."
Salmond hoped criminal case would 'ride to the rescue'
Former first minister Alex Salmond was invited to give more details on his claim that a witness was allegedly told by a special adviser that they would "get him" in a criminal case.
"We have got the statement and I would have to consult the person concerned," Mr Salmond told the inquiry.
"The reason for it being there is it demonstrates that in November of 2018, the hope was, on the part of that special advisor and others, that the judicial review would be overtaken by the criminal case.
"And what substantive evidence beyond that statement we have for that lies in the whole question of sisting.
"The idea that if the criminal case had been advanced, then the civil case wouldn't have gone ahead pending the outcome of the criminal case.
"And many people seemed to invest a great deal of hope that the criminal case would ride to the rescue and let the cavalry over the hill, and somehow the civil case would never be heard."
Salmond questioned on reasons for judicial review
Independent MSP Andy Wightman asked former first minister Alex Salmond what grounds for judicial review he was advised would have the highest chance of success.
Mr Salmond said "procedural unfairness" was among them, adding: "One of the strongest arguments, and I'm not competent to judge the strongest argument, but certainly as put to me one of the strongest arguments was the nature of the investigating officer.
"I'm not talking here about the prior involvement that was subsequently discovered, but the nature of how the investigating officer conducts his or her activities.
"It means that in this procedure – totally different from fairness at work and totally different from elsewhere – the investigating officer basically presents the case for the prosecution before the defendant is even informed about the procedure.
"And then the person who is being complained about, instead of being able to present their own case, has to give that case to the same person, to the investigating officer, to present on his or her behalf.
"And that, my legal team told me, is not something that the courts take kindly to."
Salmond says Sturgeon 'presumably' behind decision not to settle legal action
Mr Salmond said later he thought that the Permanent Secretary and "presumably" the current First Minister had been behind the decision not to settle the case he brought against the Scottish Government earlier.
"This is people's lives we're talking about here, the complainants, myself, other people involved," he said.
"And of course there is the cost to the public purse, because all that delay certainly from October, and I believe from before that, the decision not to accept arbitration when they must have known how weak the case was.
"The decision not to follow external counsel advice in October, when they knew probably on the balance of probability they were going to lose, the decision to continue on, all that runs up the clock, these extraordinary bills are run up.
"That cannot be just the Lord Advocate, because if that had been a legal matter surely he would have said 'time to settle'.
"That has to be a decision of the Permanent Secretary and presumably a decision of the First Minister."
Mr Salmond criticised Ms Evans, the Permanent Secretary and Scotland's most senior civil servant, for her role in what happened.
He told the committee: "People make mistakes, in terms of the civil service, just like anybody else, government ministers, politicians. It happens all the time. But in terms of the Richter scale of mistakes, this is right up there, this is a very big one."
He added that "you would have hoped, believed, that someone would have accepted responsibility" for this.
Mr Salmond continued: "When I walked out of the Court of Session in January 8 2018, I didn't say 'Leslie Evans should now resign', I did the normal language that perhaps the Permanent Secretary should now consider her position.
"I did that because I knew she had claimed ownership over this policy, she said in a letter to my lawyers 'it was a policy established by me'. That was her words.
"I thought therefore she had responsibility for the policy, for not conceding timeously in the judicial review and for a range of other things that could have been done. But somebody has to accept responsibility for a calamitous occurrence and defeat."
Alex Salmond says police should launch investigation into newspaper leak