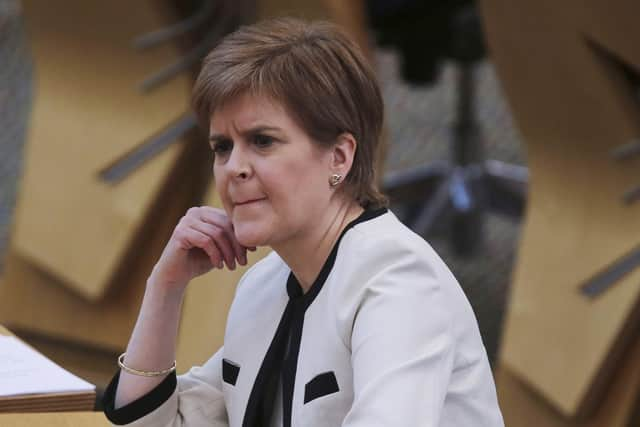 Ms Sturgeon addressed at her daily Covid briefing on Wednesday a series of questions about the actions of her government over the Scottish Parliament inquiry into the handling of harassment complaints against Mr Salmond.
She suggested Mr Salmond would prefer not to back up his claims with evidence and subject it to the scrutiny of the committee.
The First Minister also dismissed claims the actions of the Crown Office to have the Parliament redact some of Mr Salmond's written evidence were politically motivated or proof of a "corrupt state", claiming these allegations were "wild and baseless".
Asked if, as Scottish Conservative leader Douglas Ross had said, the "tools of the state had been used to protect your reputation?", Ms Sturgeon said: "Absolutely, emphatically not and there's not a shred of evidence to suggest that's the case.
"I know why Douglas Ross is making these claims. He's the opposition and it's a few weeks before an election, but I think even the opposition has a duty to have some evidence of claims they're making.
"As for Alex Salmond ... well maybe creating an alternative reality where the organs of the state – me, the SNP, the civil service, Crown Office, police and the women who came forward were all part of some wild conspiracy against him for reasons I can't explain ... maybe that's easier to accept than at the root of all this might just be issues in his own behaviour. But that's for him to explain if he ever decides to pitch up and sit in front of the committee.
"I've always said I want to speak to the committee on the detail of this first, which shows respect to the committee. I am accountable to Parliament and through Parliament to the public. I'm getting very frustrated at the length of time it's taken for me to get my opportunity in front of the committee."
Ms Sturgeon again encouraged Mr Salmond, who pulled out of attending the committee on Wednesday as a result of his written submission being redacted, to attend.
"Don't dodge the committee – sit in front of the committee just as I will do, say what you want to say, but crucially bring the evidence to back it up," she said.
"That's the missing thing here, the evidence that backs any of this up. If you're not doing it today, do it Friday and I'll do it next week and let people decide."
Ms Sturgeon was pressed on Mr Salmond's claim the Crown Office was blocking him from producing evidence and asked if anyone in her office had asked for that to happen.
"Decisions about what the Scottish Parliament publishes and how it publishes whatever it publishes in compliance with the law are matters for the Parliament's corporate body, I'm not party to these discussions," she said.
"And decisions the Crown Office takes in relation to enforcing or upholding the law are taken independently of government and any suggestion at all that these decisions are in any way politically influenced are downright wrong.
"I would go further and suggest that they start to buy into what is a false and quite dangerous conspiracy theory with no basis in fact. There's no shred of evidence for the claims that have been made.
"Alex Salmond had the opportunity today to be in front of the committee and try and substantiate those allegations and if he's declined that opportunity, for I don't think for any good reason, I hope he comes to the committee in due course to say what he wants, put forward any claims he wants and bring forward the evidence.
"In terms of the submission the Parliament redacted yesterday, that relates to one part of the committee inquiry and I don't think it inhibits questioning of me.
"The allegations in relation to that part of the inquiry that Alex Salmond has been making of me have been widely reported in the media and the public domain. I will be fully questioned by the committee on these issues, when I appear a week today. There's no reason why I shouldn't be.
"There was no conspiracy and I sometimes think the preference perhaps of Alex Salmond is to continue to make those claims without ever subjecting them to the proper scrutiny of the inquiry and I hope he proves me wrong in that by getting himself in front of the committee."
Ms Sturgeon said she looked forward to attending the committee to "answer every and all questions people have of me and to rebut head on and very directly some of the wild, untrue false and baseless claims" made against her.
Asked if there was a worry the Holyrood inquiry was losing credibility and as a result might put women off speaking out in future, Ms Sturgeon said: "I do worry. The women in this case, voices have been silenced, motives have been maligned and they've been accused of being conspiracists, and that is wrong – they came forward with complaints.
"The behaviour complained of was found by a jury not to constitute criminal conduct and Alex Salmond is innocent of criminality, but that doesn't mean the behaviour claimed didn't happen and I think it's important we don't lose sight of that.
"I'm not hiding behind the women, or anybody. I'm standing up for the right of women to come forward and for the claims of women to be taken seriously. I cannot speak for the conduct or credibility of a parliamentary committee. All I know is I've been waiting for months to appear before it."
A message from the Editor:Thank you for reading this article. We're more reliant on your support than ever as the shift in consumer habits brought about by Coronavirus impacts our advertisers.
If you haven't already, please consider supporting our trusted, fact-checked journalism by taking out a digital subscription.