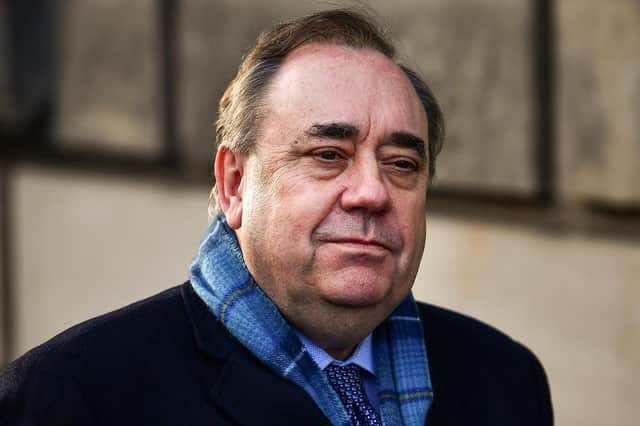 Former Scottish first minister Alex Salmond
Former HR director Barbara Allison had told the committee she had not been sent the message that stated "battle maybe lost, but not the war", sent by the permanent secretary Leslie Evans.
When asked about the text message by Scottish Labour MSP and member of the harassment complaints committee Jackie Baillie, Ms Allison said she did not receive it, with Ms Baillie stating "that is interesting".
Barbara Allison, director for communications, at the Scottish Government. Picture: Jane Barlow/PA Wire
Ms Allison later backpedalled after her session, stating she may have been mistaken and that she had been on holiday around the time the text had been sent.
The text itself is considered by some supporters of Alex Salmond as evidence of a conspiracy against the former first minister from civil servants of Nicola Sturgeon's government.
In a fresh letter ahead of her evidence session to the committee today, Ms Allison said following her own search for the message she could still not find evidence she had received it.
However, after asked the Crown Office to provide her with a copy of material they retrieved from her mobile phone for the purposes of the criminal trial involving Mr Salmond where he was acquitted of all charges of sexual misconduct, the text was included.
Complaints against Alex Salmond and their handling are the centre of a government inquiry
In the letter, Ms Allison includes a transcript of the text sent on January 8, 2019, including her response on the same day.
The text from Leslie Evans reads: "Thanks Barbara – battle maybe lost, but not the war. Hope you are having lovely & well deserved break. L"
Ms Allison then replies: "Thanks Leslie. It is lovely here. My mind and thoughts are with you all there tho. Best wishes. Bx"#
Ms Evans, during her evidence session with the committee, denied she was at war with the former first minister. She also denied the text referred to "any individual".
Ms Evans claimed it was instead about changing the culture of the civil service.
The permanent secretary said: "I think that [message] has been misinterpreted as having some kind of conspiratorial element to it.
"That is not the case. I was not referring to any individual when I sent that text."
A message from the Editor:
Thank you for reading this article. We're more reliant on your support than ever as the shift in consumer habits brought about by coronavirus impacts our advertisers.
If you haven't already, please consider supporting our trusted, fact-checked journalism by taking out a digital subscription.