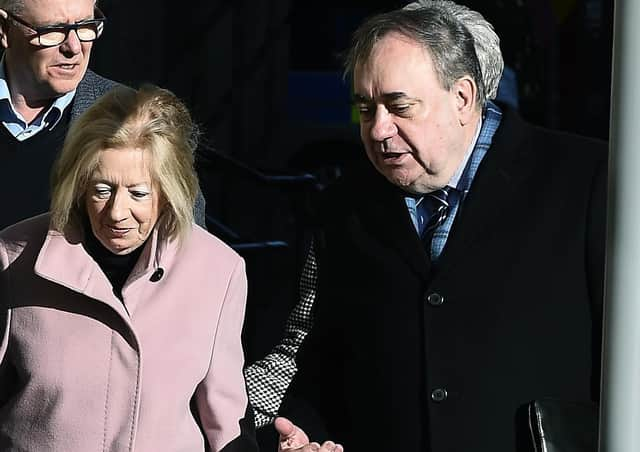 Former First Minister Alex Salmond arrives with his wife Moira outside the High Court in Edinburgh, where he was cleared of all charges
Parliamentary Inquiry: A Holyrood probe by a specially convened committee of MSPs into the handling of the complaints made by civil servants about Mr Salmond's behaviour has been suspended while the criminal case got under way. It was established after the Scottish Government lost a judicial review brought by Mr Salmond when it emerged the civil servant heading up the investigation into his conduct had previous contact with two of the women about their complaints. It is being chaired by the Nationalist MSP Linda Fabiani and there have already been terse exchanges with the Scottish Government about the need to hold onto potential evidence
Civil Service inquiry: The Scottish Government is also likely to restart its own internal inquiry into the problems with its procedures in the way it dealt with complaints against the ex-first minister. It is not clear how this would clash with the Holyrood inquiry. There had even been a suggestion that it could start afresh on the complaints raised by the women, although that now seems unlikely
Ministerial code inquiry: Nicola Sturgeon referred herself to a standards panel to look into claims by opponents that she breached the ministerial code during the civil service investigation into Alex Salmond. Ms Sturgeon made phone calls and took meetings with Mr Salmond while claims of sexual harassment, which he denies, were being investigated.
Ms Sturgeon has insisted that she "acted appropriately and in good faith throughout" and in compliance with the ministerial code at all times
Information Commissioner's Office inquiry: Alex Salmond himself reported the Scottish Government to a data protection body after details of sexual harassment allegations against him appeared in the media. The Information Commissioner's Office (ICO) said it was looking into concerns raised by the former first minister. The Scottish Government said at the time that it had no evidence of any data breach.
Independent inquiry into the SNP: Edinburgh South West MP Joanna Cherry yesterday issued a call for an independent inquiry to be established into how the party handled complaints against Mr Salmond. Ms Cherry insisted that many members of the party have expressed "significant dissatisfaction" over the way it was handled and a probe could help develop a "proper system for the management of complaints".