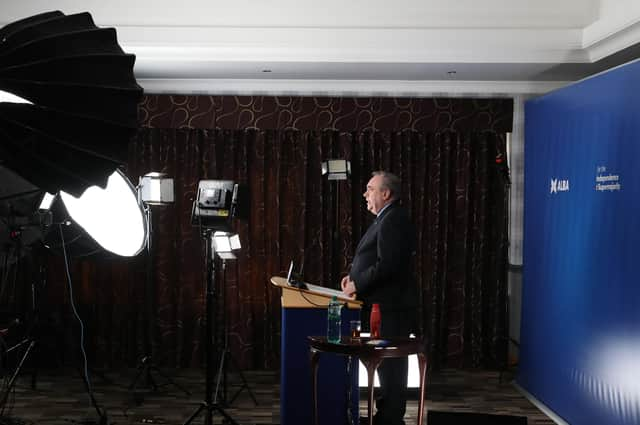 Alex Salmond, sets out his "Route to Independence" at the launch of Alba's national campaign at the Buchan Hotel in Ellon, Aberdeenshire.
The former SNP first minister, who is now leading the Alba Party in the Holyrood elections, was asked if two thirds, or 86 MSPs, would equal a supermajority as set out in the Scotland Act 2016.
However he said that was "not the definition of supermajority we are using" and also avoided defining what he meant by a "plebsicite" which he has suggested could be used, instead of the same process as the 2014 referendum which has been hailed as the "gold standard".
At the launch of his party's national campaign, at the Buchan Hotel in Ellon, Aberdeenshire – where Mr Salmond is standing on the regional list – he said he believed as many as 90 pro-independence MSPs could be returned to Holyrood.
He also said he would expect a Scottish Parliament with just a majority of independence supporting politicians to immediately begin "negotiations" with the UK government on ending the 300-year-old union.
The SNP had 61 MSPs in the last Parliamentary term with Nicola Sturgeon's minority government relying on the Scottish Greens to ensure a majority of 65 to pass some votes, including the budget.
"If there were 70 MSPs supporting independence that would be a majority and I would expect to see that majority move forward with an independence platform," he said.
"If there were 80 MSPs supporting independence as the polls at the weekend indicated we would be well on the way to a supermajority. If there were 90, which I think is well within our reach, for independence supporting parties that would be an even bigger supermajority."
He added: "The stronger the supermajority of MSPs supporting independence in the Scottish Parliament, the more the balance of power will be tilted in Scotland's favour.
"It will transform an argument which has taken place party to party, Prime Minister to First Minister, and show it to be an argument (between) Boris Johnson, a Tory Prime Minister taking on a Parliament and a nation, which would be a fundamentally weaker position for Boris Johnson and a fundamentally stronger position for Scotland."
Asked why he believed that Scots wanted a referendum any time soon, as a recent survey showed 70 per cent of people want a second independence campaign shelved until the Covid pandemic and recovery from a year of lockdowns is over, he said a referendum was not the only "tactic" which could be employed.
"We've argued for the Parliament in week one to instruct the Scottish Government to begin negotiations with the Westminster government," he said.
"As part of these there could be a referendum or a plebiscite, or a range of other initiatives we would argue you would bring forward if the Westminster government is not prepared to engage – I don't think we should pigeonhole ourselves to a Section 30 Order for the obvious reason that Boris Johnson has said he'll turn that down if put forward by a party.
"We have to give the Scottish Government a mandate to enter negotiations with a range of tactics. The aim of the national movement is not to secure a referendum, the aim of the national movement of Scotland is to secure independence for our country, of which a referendum of one kind or another could be one of the democratic tests to enable us to do so.
"The mandate we're seeking is to begin negotiations, it won't be the conclusion of the negotiations, but the beginning of them."
Pressed on other tactics and what he meant by a "plebiscite", Mr Salmond outlined domestic and international legal action, diplomatic pressure, "mobilising world opinion" and "popular and peaceful demonstrations and protests".
He said his political opponents, including former Scottish Secretary David Mundell were "in a desperate flap" about the launch of Alba, which he described as the 2014 Yes campaign "reborn as a political campaign".
Mr Salmond said he had messages from "senior SNP members" on a daily basis and he was convinced Nicola Sturgeon would work with him as it was time to "leave the personal behind for the national interest".
Pointing to the SNP's 11 point plan to build support for independence, he said point five "talks about building an independence majority potentially with other independence parties in the parliament" and they had "acknowledged that working with other independence parties was going to be important."
He added: "We're at a stage where we have to leave the personal behind and I'm going to stress the national interest and that is electing as many as possible, independence supporting MSPs to strengthen Scotland's hands to deliver independence.
"I expect all politicians, Nicola included, to accept the verdict of the people and work with the Parliament that people give us and independence supporters and voters, comprising that supermajority is the key touchstone of our ability to deliver. I know Nicola will be able to put the national above personal."
A UK government spokesperson said: "Now more than ever, people in Scotland want to see the UK Government and the devolved administrations working together to protect lives and livelihoods.
"The United Kingdom is the most successful political and economic union the world has ever seen, and this pandemic and our collective response, from the furlough scheme to vaccine procurement and the backing of our military personnel, has shown that we are at our strongest when we work together towards a common goal.
"The push for a divisive referendum is simply irresponsible. It is a distraction, when we need to focus on continuing to tackle the pandemic and rebuilding our economy."
An SNP spokesperson said: "This so-called 'plan' is not in any way credible. Arguing on the one hand that Westminster will not agree to a referendum even if there is a pro-Independence majority in the Scottish Parliament, but on the other hand that it will agree to negotiate independence without a referendum, doesn't pass even the most basic credibility test.
"This kind of nonsense will only make winning independence harder. This election is a choice between those who offer serious leadership capable of delivering and those who want to indulge in deceptively simple answers to difficult challenges. Scotland needs serious leadership - to get us through crisis, drive recovery and, after Covid, deliver independence."
A message from the Editor:Thank you for reading this article. We're more reliant on your support than ever as the shift in consumer habits brought about by Coronavirus impacts our advertisers.
If you haven't already, please consider supporting our trusted, fact-checked journalism by taking out a digital subscription.