Alex Salmond's new party will today hold its first policy conference, just days after a Survation poll put Alba trailing behind all five of Scotland's major parties, with just a 3 per cent share of the list vote.
Speaking to The Scotsman, the party's first MP defector Kenny MacAskill insisted it was "early days" and that party leaders were "relaxed" about recent polling.
The former Scottish justice secretary claimed things would turn around after Alba unveiled more domestic policies.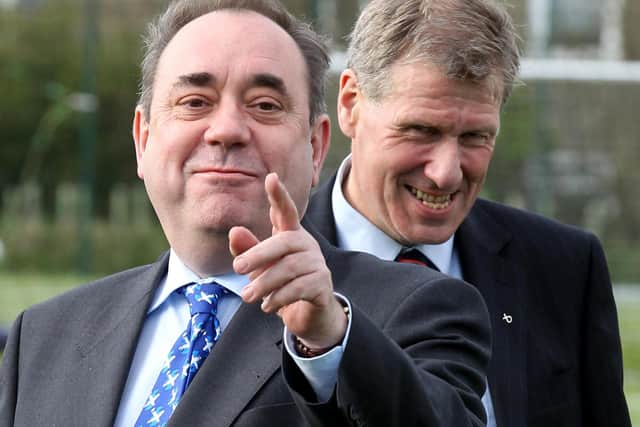 He stressed his party would not just be differentiating itself from the SNP on domestic policy, but also Holyrood itself, adding: "We are working in tandem with other parties such the SNP, who are all on the same side of independence.
"We'll be laying out some policies and we have a bit to differentiate ourselves.
"There is a meeting for candidates [on Saturday] laying out our position on education and women's rights.
"They are both currently issues with the SNP. We've seen both with the women's and the women's equality officers of the SNP have both come to Alba.
"I think you'll be seeing some clear blue water, not just between us, but the Scottish Parliament, not just on women's rights and supporting education.
"It's everything from unisex toilets in schools to men self identifying as women in the prison estate.
"There are risks and dangers and issues with dignity and respect and privacy."
The policy platform on women's rights will be outlined just 48 hours after party leader Alex Salmond was forced to defend his behaviour towards women in a BBC Radio 4 interview, saying he had been "tested" more than anyone.
Last year Mr Salmond was been cleared of criminal behaviour in court after 13 allegations by nine women which ranged from serious sexual assault to what some would consider more minor sexual harassment.
They were found not to reach the criminal threshold and he was found not guilty in all but one, where the jury ruled not proven.
Mr Salmond had to apologise to one woman over his inappropriate behaviour and his own QC said he should have been a "better man".
The SNP's women's convener, Caroline McAllister, joined the Alba Party last week, as did Lynne Anderson, the SNP's national equalities convener.
The East Lothian MP also claimed the polling was too early and that Alba was in "fine fettle".
He said: "We're on 3 per cent after three days. We're relaxed about it, our votes headed in the right direction.
"Our membership ... will be on the tail of the Greens and the Tories.
"It's rising by the hour and I'd add support is also being given by people who don't want to make the jump, but want to support the concept of an independent super-majority.
"We are in fine fettle and looking forward to a campaign."
This week's Survation poll conducted across March 29 and 30 saw Mr Salmond's former party followed by Labour on 19 per cent, the Conservatives on 18 per cent, the Greens on 11 per cent and the Lib Dems on 9 per cent.
A similar result on May 6 could see Alba struggle to claim a single regional seat at Holyrood.
However, councillor Chris McIleny, who resigned from the SNP just hours before he was revealed to be standing for the Alba Party, claimed the new body would present a vision of a "socially just Scotland".
He said: "It was 3 per cent within three days of the poll launching.
"Once we've had our policy conference when Alex Salmond sets out our vision and independence strategy, SNP supporters will see it makes sense to elect a super-majority for independence.
"As we move onto the campaign, we start to set out our policies and people get to know who the Alba party are and what a super-majority stands for.
"People need to realise we are within one or 2 per cent of any region in Scotland.
"Obviously like most people who want independence it's about creating a socially just country. After our policy conference we will be in a position to make policies that will fundamentally tackle deprivation, improve education and the life outcomes of the people of Scotland.
"Or MSPs are not going to be government, but will advocate policies that will be to the betterment of the Scottish people."
Mr McEleny, who is a regular contributor to a controversial pro-independence blog, had previously criticised Nicola Sturgeon for failing to have a Plan B on delivering a second independence referendum and for the party's attempt to reform the Gender Recognition Act.
He is now running for the Alba Party on the west of Scotland regional list in May's Holyrood elections.
Responding to the comment, an SNP spokesperson said: "Anyone who wants to see majority support at Holyrood for an independence referendum should give both votes to the SNP. Anything else risks letting Boris Johnson decide Scotland's future."
If you haven't already, please consider supporting our trusted, fact-checked journalism by taking out a digital subscription.