Aidan Smith on the TV election debate: 'Admit it: who wasn't glad of that ad break for toilet freshener?'
One podium pronouncement from last week's election debate was stuck in my head as I sat down with my macaroon bar to watch last night: "We can't just keep on emitting … "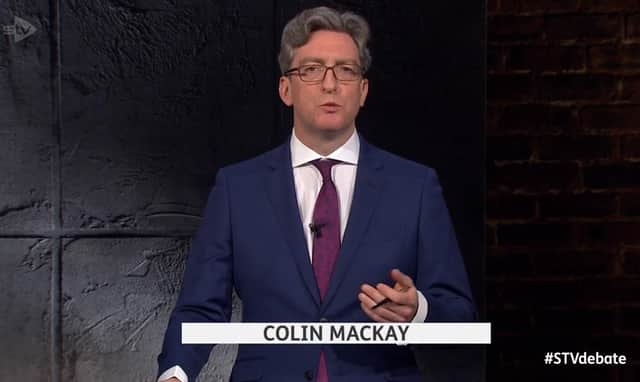 Colin Mackay's position as quizmaster is safe
Oh yes they can. And they must. Oil and gas emissions - the issue under discussion seven days previously - are obviously bad. Hot air belching from the mouths of our dear party leaders, however, is a necessary evil right now.
But please this time could we not have to wait until the closing minutes for the first jibe? Could we have some humour and the occasional elegant phrase? And could we have a groovier studio set than the one flung together by Beeb Scotland?
That was a surrealist floor design in the style of Joan Miro, possibly painted by his distant Scottish cousin Shuggie. On it had been dumped three big TVs of the type that used to be called "drug-dealer tellys" but we've all got them now, haven't we?
STV went with a sex dungeon. Well, that was my wholly uninformed impression. You may know definitively. Political Editor Colin Mackay got the memo about jokes, introducing the leaders as all modelling lockdown-relaxed haircuts. Apart from Patrick Harvie, of course.
Anas Sarwar was hoping to build on an impressive first debate, while those who enjoy when politics gets ya, boo and not forgetting sucks, would have been hoping he'd build on the swipe at Douglas Ross when he told the Conservatives' man: "Grow up."
And what of the baby-faced Tory? He'd accused the SNP, regarding independence, of being monomaniacs, but had himself been monomaniacal about this. Would Ross change the stuck record? Not really. He was at it again in his opening remarks, which brought another rebuke from Sarwar about "the old arguments", this applying to Nicola Sturgeon, too.
Sadly, the audience was still virtual, so no jeering, groaning, ironic guffawing or cutaways to folk picking their nose or falling asleep or carefully aiming an egg. STV, though, had an innovation: mutual cross-examination with each leader facing two-and-a-half minutes of interrogation from the other four. But, initially at least, the discourse got random and flabby. Mackay's job as quizmaster is safe. And go on, admit it: who wasn't glad of the first ad break and that commercial for a "sensational" toilet freshener?
Then it was Sturgeon's turn for the thumbscrews, which come as standard in most sex dungeons (apparently), and she must have been glad of the next message from the sponsors. Sarwar - good again, calm and human - questioned her on infections at the Queen Elizabeth University Hospital, Willie Rennie on attainment gap struggles ("Nicola, Nicola, you're not in Parliament now … ") and Ross bludgeoned her on everything from drugs deaths to ferries.
This was a nigglier, narkier debate. Maybe no one sweated before the cameras like Tricky Dicky Nixon, but in STV's balsa wood den of iniquity, Sturgeon - and Ross, speared by Sarwar - came closest.
A message from the Editor:Thank you for reading this article. We're more reliant on your support than ever as the shift in consumer habits brought about by coronavirus impacts our advertisers. If you haven't already, please consider supporting our trusted, fact-checked journalism by taking out a digital subscription.
Want to join the conversation? Please or to comment on this article.