Passengers report fire on Delta Edinburgh-New York flight as aircraft diverted to Prestwick with engine problem
Passengers reported seeing a fire as their Edinburgh-New York flight was diverted to Prestwick minutes after taking off on Friday.
Pictures sent to The Scotsman show the Delta Air Lines aircraft surrounded by fire engines at the South Ayrshire airport as firefighters examine its underside.
Delta said its flight 209 to New York JFK with 211 passengers and ten crew aboard landed safely and no emergency was declared on landing. It said there had been a "mechanical fault" with an engine.
Prestwick Airport said the aircraft had made an emergency landing shortly after 11.30am.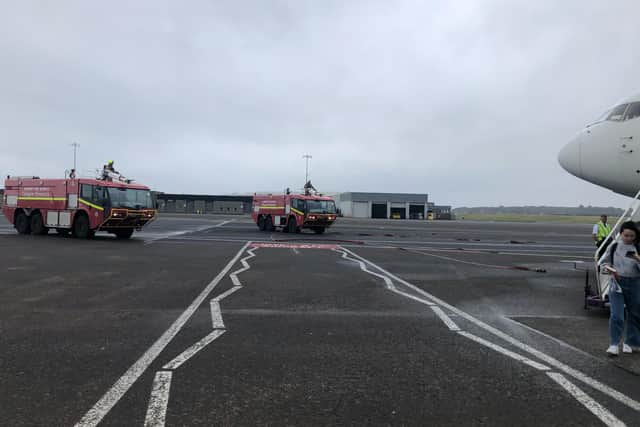 Passenger Euan O'Donnell told The Scotsman: "We were hearing a loud, eerie noise which was not stopping. I saw the captain walk down the aisle where the noise was and then walked back up.
"We got an announcement which was barely [audible] because of the noise, saying along the lines that we have to make an emergency landing at Prestwick and that we had buckle our seatbelts.
"From back right of where i was I heard a young girl shout "there is a fire", then I got footage of the fire from the person next to me whose daughter recorded it.
"A lot of people were crying and the noise would go on and off. And the lights were going on and off. All the the screens were shut off.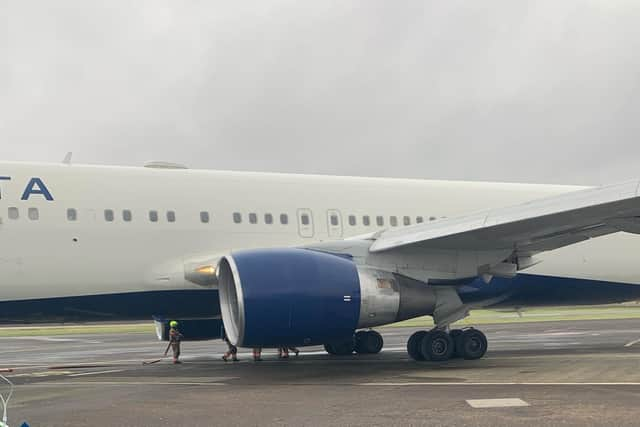 "When we landed in Prestwick, there was applause for the captain and everyone left the plane leaving everything behind.
"Firefighters surrounded the plane and other firefighters were checking under the plane."
O'Donnell said he had heard talk of a fuel leak and lack of cabin pressure, which another passenger had said was being discussed by cabin crew at the back of the aircraft who said they "sounded like they were worried".
A Delta spokesperson said: "Delta flight 209 from Edinburgh to New York-JFK safely diverted to Prestwick Airport after a mechanical issue with one of the aircraft's two engines.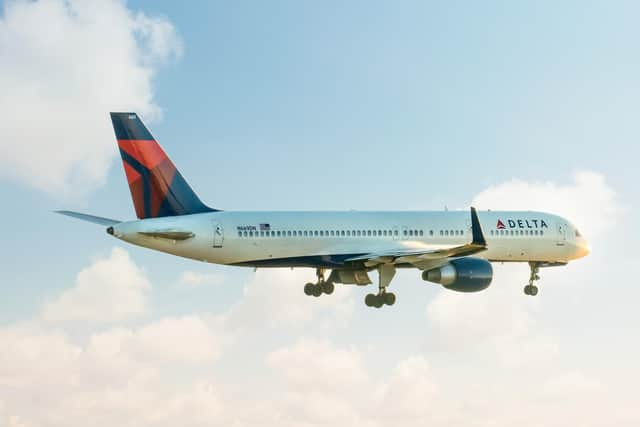 "We apologise to our customers for this inconvenience and are working to get them to their final destinations via Edinburgh."
The spokesperson told The Scotsman that passengers may have seen flames coming from the rear of one of its two engines, but they were "built for that sort of situation".
They were unable to say whether the aircraft had landed on one engine but said it could safely have done that.
They said: "The engines performed what they were supposed to do for the aircraft to safely land".
A Scottish Fire and Rescue Service spokesperson said it had mobilised four appliances at 11:23am to support those from the airport.
A Prestwick spokesperson said: "A Delta aircraft made an emergency landing. It landed safely at approximately 11:31am and passengers disembarked."
Comments
 0 comments
Want to join the conversation? Please or to comment on this article.