You'd be forgiven for not knowing this, after all the Tories have been in Government since 2010, but I, my friends in the media, and comrades in the woke blob civil service are the ones truly in power.
Whether it's undermining Government announcements by asking questions about them, or organising road trips to test eyesight, our job in the (deep) fourth estate is to constrain the Tory party, something we've done brilliantly as they've won election after election.
It is for this reason Britain does not have trade deals yet equivalent to those we had with the European Union, why there is a housing crisis, and why not a single person has been deported under the £140 million Rwanda scheme.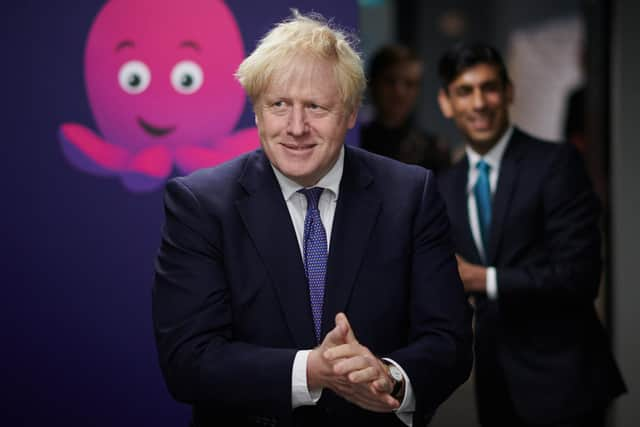 This is not a failure of Government or the rise of rhetoric over delivery, it is obfuscation and delay forced by dozens of us simply talking about them.
Whether it is civil servants following the rules or journalists writing about breaking them, we have made it our continuing mission to control Britain's institutions.
This week saw the news that one in five of the 40 new hospitals promised by Boris Johnson won't be ready until 2030, another success for the blob. Not sure how we did it, but again that was our fault.
It began with just talking Britain down, a timeless tactic of those who hate this country. Calling for more education about Sir Winston Churchill's actions in India was a particularly savvy move, damaging the next generation by informing them.
But things have escalated of late, with a stunning array of feats only made possible by the vice-like grip of our woke tofu-covered hands on our institutions.
It started with Dominic Raab, the former deputy prime minister, brought down by numerous complaints of bullying from within the civil service. All the complaints upheld were, of course, from Remainers, who hate this country, and the fact his behaviour was an open secret in Westminster is totally irrelevant.
Then there was home secretary Suella Braverman, a woman we hate for wanting to bring immigration down, something the Tory party promises and fails to do every year.
She isn't at fault for speeding, nor is she to blame for asking civil servants and her political advisers to get out of it. The real issue here, of course, is the civil servants leaking it.
Then there's Johnson, who I'd love to tell you we've brought down. But in reality, he's obviously already one of us. He put £350 million on the side of a bus, got IT lessons from Jennifer Arcuri, spent £43m of public money on the Garden Bridge, held leaving drinks during a pandemic, may or may not have said "let the bodies pile high", and handed over a diary of bad behaviour to lawyers duty bound to report it. He's one of us and always has been, obviously.
It also extends to Scotland, where the MSM took the money missing from the SNP's accounts, and then used the campervan as a timeshare.
It seems unbelievable, almost absurd, but that's how we like it. The conspiracy theorists are right. Sorry about the rental market, NHS waiting times and train delays – it's all entirely our fault.