Why Scotland can end brain drain to benefit from home working – Gregor Irwin
The Scottish economy faces an immediate threat from pandemic disruption and a growing challenge to jobs from artificial intelligence and automation. But there are also opportunities from how the pandemic and technology are changing the way that business is done.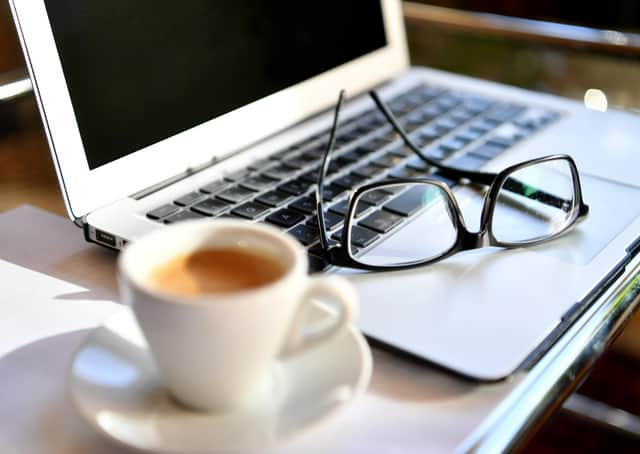 Home working has been forced by the Covid-19 pandemic. Picture: Barbara Gindl/AFP via Getty Images
In short, the office is about to go global, and Scotland can thrive in this new world, providing the right choices are made now.
The pandemic is disrupting the traditional office because it has shown that many office-based jobs can be done remotely. For sure, there are still benefits from the creativity that social contact can spark. But there are high costs from running offices, from commuting, and from travelling between offices for meetings.
Lockdowns have provided a mass experiment in working from home and for many businesses, in a wide range of sectors, it has been overwhelmingly successful.
When the health threat passes, a new balance will be established with only a partial return to the traditional office, more home working, and more innovative ways of working.
This will have other enduring consequences. First, it will break the previously irresistible attraction of mega-cities like London that has long drained talent and resources from Scotland. The draw of those cities will be weaker, with fewer people willing to put up with exorbitant housing costs and cattle-class commuting when the career advantages are lower.
Second, it will change how business is done, not just where. As the need for physical proximity is reduced, the ability to unbundle and outsource services will increase. When you do not need to co-locate your web design team with marketing, you might choose to buy that service from a specialist provider instead.
This is potentially uncomfortable, as it is disruptive. Some good jobs will be lost, while others are created. But it will happen because there is a strong commercial motive, which is sharpened by the pressure on businesses due to the pandemic.
Third, it will create new opportunities for international trade, as a service that can be provided remotely can also be provided across borders.
At a time of rising protectionism and increasing barriers to goods trade, services trade will become the next frontier for globalisation. There will still be regulatory barriers to trade in some services. But in many, particularly business-to-business services, those barriers are small.
These three changes together mean a new global office space is being created, liberated from the constraints of physical proximity, with services provided across borders by the people best able to, and from a wider range of locations. Some of that will be driven within firms, by expanding satellite offices in more competitive locations. Some of it will be outside of firms and inside the home.
The biggest losers from the global office will be megacities with high cost bases. The winners will be countries with the skills and talent that will be in demand and the infrastructure needed to plug into the new global office.
Scotland is in as good position as any country to benefit and in a better position than most.
We have intrinsic advantages from language, time zone, an economy that is already strong in business services, and a workforce with many of the hard and soft skills that are needed.
We have outstanding universities that produce a large crop of excellent graduates each year, many of whom are drawn to Scotland from other countries. We also have a track record of attracting investment of the right sort, as the recent expansion of JP Morgan's technology centre in Glasgow illustrates.
But there are also some advantages that must be created. One is to improve digital infrastructure, so that people and businesses across the country can reliably connect with the global office, wherever they might live.
Another is to ensure that we keep hold of a higher share of our graduates and do an even better job of attracting others to come and live and work here.
A third is to ensure that we invest in the right skills and expertise, particularly in ICT and other STEM fields, but also in business management and professional services.
An immediate priority is to put the opportunity from the global office at the heart of our inward investment strategy, targeting businesses that want to reduce their physical footprint in megacities like London.
The opportunity is not so much in AI-exposed call centres, which are vulnerable to automation, but from the internationalisation and relocation of services which require expertise and communication skills. These are good jobs that will be supported by technology, not displaced by it.
There is no denying that the pandemic disruption will be painful. But if the right choices are made now, Scotland can enjoy a strong recovery and benefit from the structural changes to the economy that will come.
Gregor Irwin is a former chief economist and director of the Foreign Office. He is chief economist of strategic advisory business Global Counsel.
Want to join the conversation? Please or to comment on this article.