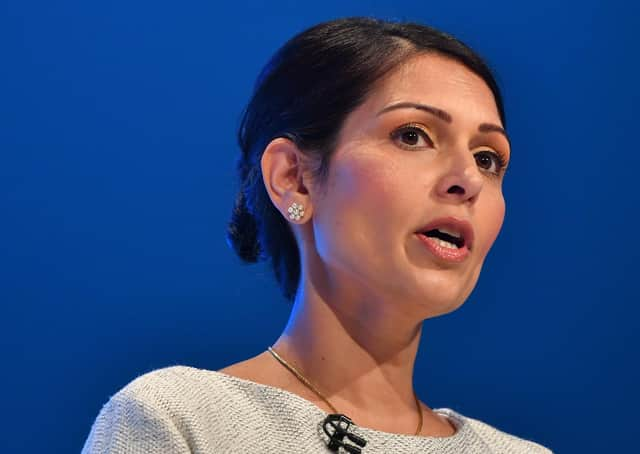 Britain's Home Secretary Priti Patel. Picture: Ben Stansall/AFP via Getty Images
Theresa May though has gone, replaced by Boris Johnson and the takeover of the Tories by the right-wing Europhobe zealots completed. To be fair they've had electoral success in England, though it can be argued that was more through circumstance than support for policies. A weak opponent and an electorate simply wanting an end to an endless Brexit debate handed them a majority that isn't reflected in wider public attitudes. And in Scotland they were rolled back comprehensively.
But there's to be no magnanimity in victory under Johnson. No attempt to reach out to those that didn't support him or even to acknowledge concerns of those who did, but still fear a hard Brexit or worry about a trade deal with the USA. Instead it's full steam ahead for New Britannia as it sails off for Singapore on Thames. Public opinion be damned, as we've seen with the Dominic Cummings debacle, they're in charge and they'll do what they damn well like.
And so, the "Nasty Party" has morphed into the "Nasty Government" but this time where there has been neither shame nor concern, instead there's been almost a pride and relish taken in it. The current nadir being reached with Priti Patel's reaction to a few ships landing on English shores, if ships are what you can call them. They hardly seemed to constitute that, rather being akin to floating life rafts, that most of us would baulk at venturing into a Scottish loch aboard, let alone seeking to cross the English Channel. Did they carry migrants or asylum seekers? What does the Home Secretary care, either who they are or why they come, so long as they can be demonised?
After all, it's hardly the Norman Conquest or even the marauding Angles or Danes from centuries past, let alone the evacuation of Dunkirk so venerated and recently celebrated by ardent Brexiteers. The scale is infinitesimal to the scale of the refugee crises around the world and hardly the prelude to a full-scale invasion. Nor are they the numbers that are faced in the Mediterranean by other European nations and on a daily basis.
They're also significantly less than those who have been and continue to try and cross on vehicles, gathering in camps around French Ports for just that purpose. Instead what was a veritable handful, has been portrayed as a full-scale crisis and used to demonise desperate people. Playing to the gallery of those who are already marginalised and fearful of what might befall them in these troubled times. Fight them on the beaches and on the landing, polarise and demonise, us and them, Patel's mantra. Mobilising the Royal Navy and appointing a former Royal Marine as "clandestine Channel threat commander" are Trumpesque in action and phraseology. These are hardly warships approaching our shores with the intention of invading, let alone raping and pillaging. They're poor desperate people often fleeing situations that the UK has had a hand in creating.
Are our memories so short that the picture painted by Patel can replace that haunting photograph, that went global only a few years back, of the tearful refugee father cradling his infant child? Some will have good cases for asylum and be granted it, but others won't and will be returned to where they originally came from. That though has still to be decided and should be done with dignity and according to our own laws and other international obligations. There are ways of dealing with this and do we still not stand shamed for the rejection of Jews and others fleeing Nazi Germany?
Launching the RNLI would be a more appropriate response than gunboat diplomacy. But the latter all plays to the agenda of creating fear and blaming others. France replacing Mexico from the Trump playbook, yet the French reaction has been perfectly legal in international law post-Brexit. Traducing them hardy encourages them to assist in finding a solution, but it suits the agenda of blaming the EU for all ills.
Neither a wall nor a flotilla will stem the tide. Trump hasn't stopped illegal immigration even if many of his actions including the treatment of migrant children, make Patel seem an angel of mercy. Nor will all the Queen's warships, but sadly there's worse to come under a Government that positively likes to be Nasty.