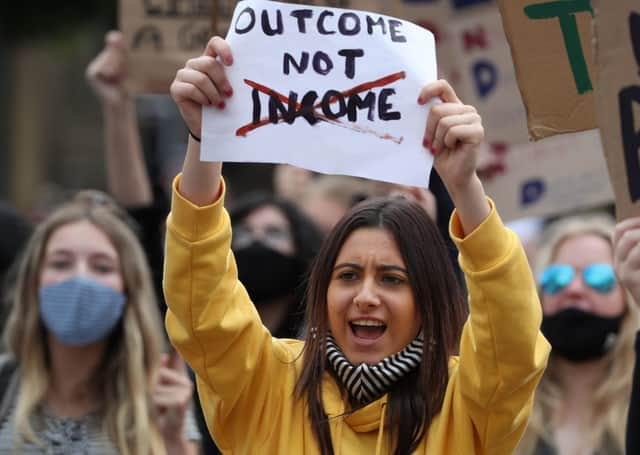 Pupils in Glasgow's George Square protest against the downgrading of exam results by the SQA. Picture: Andrew Milligan/PA Wire
Education is not just a government brief. Schooling is not just a process that young people must endure in advance of going out into the world of work. At its core, education is a liberating process that empowers our young people to strike out and forge the life they want to lead. Knowledge is not just power, it is a key to unlocking the future. At its best our education system allows for the aspirations of pupils to be realised and acts as a dynamo for social mobility. Schooling should allow children from more deprived backgrounds to rise, not out of their class, but with their class.
Politicians of all stripes have long dreamt and striven for an education system that would empower all our children, regardless of their socioeconomic background. As a democratic socialist I firmly believe that the liberating potential of education can allow for the rise of a much more equal society in which people are judged, not by the old divisions of class, privilege and race but by their work ethic and ability.
Yet, this vision of education as a road to emancipation was dealt a hammer blow last week by the SNP Government. Against the warnings of the Scottish Labour Party, and many others with a keen interest in the integrity of our education system, the Deputy First Minister and Education Secretary, John Swinney, allowed the SQA to deploy a marking methodology that openly and quite deliberately directly discriminated against pupils from more deprived areas. In stark terms, youngsters from those communities where schools had previously performed less well (and tend to be in the areas of most deprivation) were more than twice as likely as those from the wealthiest neighbourhoods to be marked down. In the communities I have the privilege to represent in Parliament, including those working-class areas in North Lanarkshire, almost half of all awards have been downgraded. That would be a cause for concern at the best of times, but at a point where school-leavers are entering a tough jobs market, when parental poverty and inequality is increasing, and so access to further and higher education may be narrowing again, this is a potentially life-changing decision.
But it is made even worse by the overwhelming evidence that Scotland has long suffered from an attainment gap in education. And compounded by the stated aim of Nicola Sturgeon as she assumed office, that her government would close this gap and that her record as First Minister was to be judged by how education in Scotland fared. She even called it her "personal defining mission".
However, one week on from the results, the life chances of thousands of working-class pupils are under threat and Scotland's attainment gap has turned into a yawning chasm. Futures are being put at risk, thousands of students have had their plans crushed and the collective voice of pupils, teachers and parents can be heard the length and breadth of the country calling out in righteous anger. John Swinney said yesterday that he had 'heard the anger of students who feel their hard work had been taken away from them'. But it took five days to even acknowledge there was a problem, and it wasn't until Scottish Labour's Education spokesperson, Iain Gray, said he was going to put forward a motion of no confidence in John Swinney's handling of this debacle that he even spoke out at all.
On Friday, Nicola Sturgeon was still defending the methodology employed by the SQA as the only way to maintain integrity in the system calling it 'credible'. Yet yesterday she apologised and admitted they'd got it wrong but failed to acknowledge that concerns had been raised on the planned approach months ago. This all has the air of political representatives who are out of touch.
Little wonder then that the SNP's defence of the position has been widely derided by pupils themselves who have come together to stage protests in Edinburgh and Glasgow. A petition launched by student Sarah McLauchlan which calls for the SQA to re-evaluate the results has already reached over 43,000 signatures and is nearing its target of 50,000 signatures in less than a week.
It is clear that the SNP government has got this badly wrong and their failure to react swiftly has caused outrage.
And so, what is the alternative? In my view we must trust the teachers and return all grades to the original assessments made. John Swinney has ridden roughshod over the professional opinions of teachers. This is unacceptable. We must trust our teachers: they know the pupils better than anyone.
By contrast I am afraid I have no confidence in John Swinney's ability or willingness to meet this challenge and it is for this reason that we will press ahead with the motion of no confidence in him as Cabinet Secretary for Education. We are actively seeking the support of other parties, and indeed from any SNP MSP willing to do the right thing to remove him from office forthwith.
This latest episode is not John Swinney's first disaster as Education Secretary, but it must be his last. He has shown that he has no confidence in the teachers and pupils of Scotland. It is about time that we let him know that we have no confidence in him. Thousands of pupils fear being robbed of their future by the SNP government. It is time to put this right and challenge the SNP's woeful stewardship of education before another generation is failed. This is a task that Scottish Labour will prosecute relentlessly and without fear or favour, our young people deserve nothing less.