Why Douglas Ross has got what it takes to lead Scottish Tories - Murdo Fraser
According to Shakespeare, Malcolm's assessment of the death of the Thane of Cawdor was that "Nothing in his life became him like the leaving it". It might be a useful metaphor for Jackson Carlaw's departure as leader of the Scottish Conservatives.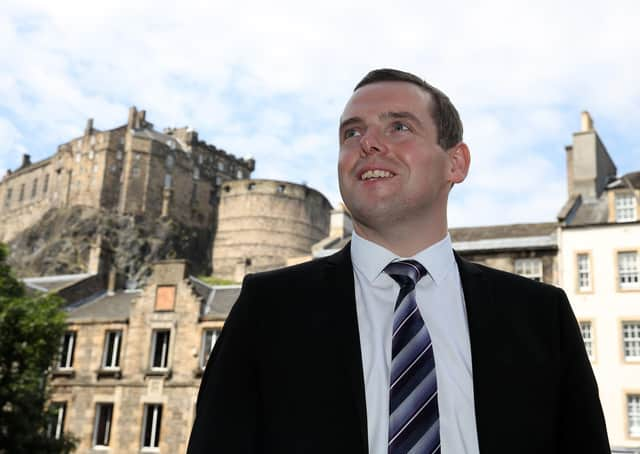 Douglas Ross has defeated the SNP twice in the last three years in a part of Scotland regarded as their heartland territory (Picture: Andrew Milligan/PA Wire)
I was happy to back Jackson for the leadership back at the beginning of this year, on the basis that he had demonstrated his abilities as a capable deputy to Ruth Davidson, but also because of his ideas on how to take the party forward. Sadly, events were to blow his plans off course. The Covid-19 pandemic changed the world in ways no one could have foreseen back in January. Normal political debate was overshadowed by the need to tackle the pandemic, meaning that a new opposition leader was simply unable to get the airtime required to build a public profile.
With the First Minister Nicola Sturgeon appearing on television screens on a daily basis, with little if any opportunity for other voices to be heard, it is unsurprising that her popularity ratings increased (as they have done for incumbent leaders in most parts of the world). Against this background, Jackson found himself, despite all his valiant efforts, struggling to make a political impact, and with Scottish Parliament elections scheduled for May next year, time was short to turn things around.
Leadership is always much harder in practice than it looks from the outside. Few leaders have the self-awareness necessary to be able to recognise that it is simply not working, and most go on for too long in the hope that something will turn up. It is a mark of the measure of Jackson Carlaw that he was prepared to put the interests of the Scottish Conservative and Unionist Party, and of the unionist cause more generally, before his own personal ambition, and take the sacrificial step of stepping down from the leadership. Contrary to the nonsense spouted in some quarters, this was a decision he made himself, and not the consequence of a Westminster plot against him.
With nine months until the next Holyrood election, there is no time to waste in finding a replacement. The Moray MP Douglas Ross has stepped up as a leadership candidate, and I have no doubt that at this particular time he is the right man to take the Scottish Conservatives forward.
I have three essential reasons for holding that view. Firstly, Douglas is a proven winner. He has defeated the SNP twice in the last three years in a part of Scotland that was regarded for decades as their heartland territory. In the 2017 General Election, Douglas snatched the Moray constituency from the SNP's then Westminster leader Angus Robertson, a man deemed so important to the Nationalist cause that the party hierarchy is bending over backwards to gerrymander its selection rules to try and ease his passage back into elected politics, this time at Holyrood. Douglas went on to retain the constituency in the General Election last December, despite an SNP surge right across the country.
Secondly, Douglas is a man of determination and courage. Nobody spends their weekends running the line as an assistant referee at Scottish Premiership matches unless they have a certain strength of character. The leader of the Scottish Conservatives will always be the subject of vitriolic and very personal attacks, but someone who can take decisions in the heated environment of an Old Firm match has the clear sight, and cool head, that will be required in the equally febrile environment of Scottish politics.
My third reason for backing Douglas Ross is that he is an individual with principles: demonstrated when he took the decision to resign his ministerial post in the UK Government as a protest against the Prime Minister's refusal to sack his advisor Dominic Cummings over an apparent breach of lockdown regulations.
It should be remembered in all this that there was a broad expectation that Douglas had the talent and ambition to rise high in the party, and was seen as a shoe-in for a Cabinet position in the very near future. On a point of principle, he was prepared to set that ambition aside, and put the views of his constituents first. That is precisely the sort of integrity that we want to see in our political leaders.
The leader of the Scottish Conservatives should have a close relationship with the UK Prime Minister, but must always be prepared to speak out where there is a distinctive Scottish interest to be defended. That was, of course, precisely the approach taken by Boris Johnson when he was Mayor of London – quite unafraid on occasion to take issue with a UK Conservative Prime Minister whose policies might have an adverse impact on the capital. Douglas Ross has already shown that he is prepared to stand up to Boris Johnson if and when required, and it is that independence of thought and action that a Scottish Conservative leader requires to take on and defeat the SNP.
In launching his leadership campaign just days ago, Douglas and his team have put forward a range of new initiatives and policy ideas, promising an action plan to support Scottish jobs, and pledging to reverse the SNP's centralising agenda by returning power back to Scottish communities. This is exactly the programme that will take the Scottish Conservatives forward and challenge a tired and failing SNP administration which has simply been in power too long, and is now bereft of ideas as to how to improve Scotland's economy or public services.
This is a fresh start for the Scottish Conservatives. I am convinced that Douglas Ross is the right man to take our party forward, and help secure Scotland's place in the United Kingdom for generations to come.
Murdo Fraser is a Scottish Conservative MSP for Mid Scotland and Fife
Want to join the conversation? Please or to comment on this article.