WhatsApp leak achieves the impossible by making me feel sorry for Matt Hancock - Alexander Brown
It wasn't supposed to be like this for Matt Hancock, a man whose career turned from promise to punchline.
His life followed the traditional Tory arc, studying Philosophy, Politics and Economics at Oxford, working at a bank before becoming a Tory MP somewhere lovely, in this case West Suffolk.
He was in David Cameron's cabinet, then Theresa May's, and even ran in the Tory leadership race that saw Boris Johnson get elected. I say ran, he warned about the perils of Brexit, then proceeded to drop out in the first round and endorse Mr Johnson, because of course he did.
Some would say backing Mr Brexit after opposing it showed a lack of integrity, but it also showed a nose for power. Mr Johnson kept him in cabinet, and he ran the health service during the pandemic, an experience which I can only presume was absolutely horrible.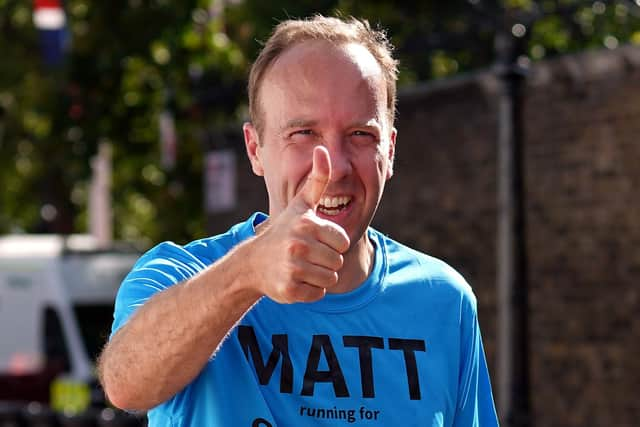 He was, even just two years ago, a senior minister and generally respected part of the Tory party, but then it all came grinding to a halt.
You see, in yet more commitment to following the traditional politician path, the West Suffolk MP got caught cheating, leaving his marriage in tatters, and those of us who saw that picture in need of therapy.
Now there were several ways it could have gone from there. There is the redemption arc, accepting fault, apologising for your mistakes, and taking a period away from the front benches to return one day when your experience as a statesman trumps your status as a shagger.
Instead, however, Mr Hancock embraced the "most divorced man ever" energy, making a series of bad decisions to change his status from disgraced politician to man in need of an intervention.
We're talking wearing turtlenecks, advocating for crypto, getting snapped with his shirt off at the Serpentine lido (where he's not even a member) – by photographers who just happened to be on hand.In short, Mr Hancock turned to celebrity, quite literally going on the show about not being one, using his platform to mention dyslexia maybe twice while sharing his side of the story about cheating on his wife, because he's such a good guy.
This was followed by a book which has sold fewer than 7000 hardback copies but involved giving his Whatsapp messages to Isabel Oakeshott, who at least on Wikipedia is described as a journalist.
And now the scorpion his frog offered to take across the water has stung him in the back, handing over all his messages, shining a light on his decision to throw people into care homes without testing them first.
Now I appreciate this will not be a popular opinion, but I rather feel sorry for him. He's a lost child in a balding adult's body, and he's been done up like a kipper.
His messages don't look great, obviously, but they'd have come out in an inquiry anyway. Ms Oakeshott leaking them now – especially after promising not to do so – breaks a non-disclosure agreement, breaches basic journalistic ethics, and also, crucially, just seems a bit mean.Mr Hancock is a deeply silly man, but his antics have at least given us something to laugh at.
His previous betrayals don't make this OK, clever, or good journalism.
Comments
 0 comments
Want to join the conversation? Please or to comment on this article.