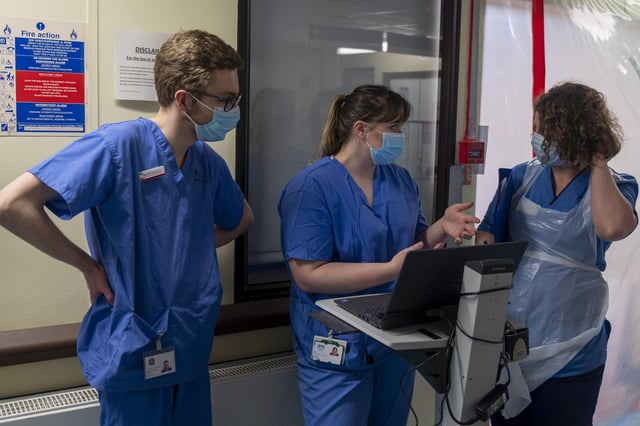 Restoring the NHS and Scotland's health will be key to Scotland's recovery
The Alex Salmond and Nicola Sturgeon feud is all about settling scores. We can't allow nationalist infighting to overshadow this campaign.
Or look at Douglas Ross who is so desperate for relevance that he keeps talking about unionist pacts, rather than offering anything positive in this campaign.
The people of Scotland deserve so much better than old politics that the SNP and Tories are offering.
This is an election unlike any other – it's a pandemic election.
And that's why it must be about our national recovery and the people of Scotland's priorities; not old arguments between personalities who believe their interest matters more than the national interest.
What is at stake is how we respond as a nation to the Covid crisis.
The psychodrama of the last five days has been grotesque.
Imagine if that's what it's like in our Parliament for the next five years.
You'd have Nicola Sturgeon constantly distracted by Alex Salmond, and the Tories egging them on.
We'd be endlessly arguing about process and timings of referenda.
That isn't what most Scots want.
Not when people can't get hospital appointments or their child has fallen behind in their education.
We simply cannot afford to make this election about the binary choices which both the SNP and the Tories want to confront the people of Scotland with.
That's why I've made clear that working to deliver a national recovery plan will be Scottish Labour's only priority.
In fact, we won't just be publishing a manifesto - our manifesto will be a National Recovery Plan.
Because as we come out of this pandemic, we must focus on solutions.
Solutions which ensure that Scotland comes back a better, stronger, fairer nation than the one that went into lockdown last year.
We have already unveiled our education comeback plan.
And yesterday we unveiled our second recovery plan, focusing on the NHS.
Covid has reminded us of the value of our NHS, available to everyone in their time of need.
But the past year has not come without a cost.
Waiting times have soared, there are missing cancer patients, a growing mental health crisis, and an exhausted workforce.
Restoring the NHS and Scotland's health will be key to Scotland's recovery, and we can't go back to the old way of doing things.
Our plan sets out the immediate steps that we believe are necessary to recover health and care services and set them on a stronger and renewed path for the future.
It starts by setting out how we can get cancer treatment back on track.
With 7,000 missing cancer diagnoses we urgently need to get screening programmes back up to speed and identify those who need treatment.
We should implement a catch-up initiative by increasing staff and processing capacity in screening services to clear the backlog of appointments by the end of the year.
We need rapid diagnostic centres, ensuring every patient receives a dedicated cancer support worker, and greater investment in research and clinical trials.
On mental health, we know that services have not managed to keep up with demand.
The pandemic has resulted in many more people across the country experiencing loneliness, isolation, anxiety and worsening ill mental health.
So we propose that every GP practice in Scotland has access to a dedicated mental health worker and the introduction of mental health A&Es where patients can be fast-tracked to the right services.
Only 8.5 per cent of the Scottish NHS budget is spent on mental health, but we will fight to increase spending so that it reaches 11 per cent of the health budget - the same level as in England and Wales.
But the backlog in health services does not only apply to mental health treatment.
The pandemic has exacerbated the waiting times backlog right across our NHS.
We believe there should be designated outpatient and elective centres in each health board to clear the backlog.
And away from hospitals, our health service relies on patients getting good care in the community.
That's why we have long championed a National Care Service.
When it is introduced it must ensure social care support is free at the point of need across the entire country by reversing the recent narrowing of eligibility criteria and removing all non-residential charges.
And finally our recovery plan directly speaks to Scotland's NHS and social care workforce.
Your efforts have saved lives and ensured the most vulnerable in our communities have been cared for.
We applauded you and now it's time to reward you fairly.
The four per cent pay offer from the government is very welcome, but there must now be a sustainable and long-term pay deal for the entire workforce.
The current deal fails to consider our social care workers who have been offered pennies in comparison.
That is why Scottish Labour is determined to value proper pay and respect for the social care workforce, with a wage rise to £15 an hour.
And this is also about more than just wages - there needs to be protected training time and a skills catch up plan, a working time review for every staff member considering retirement, and a workforce plan that builds capacity to meet future demand.
Our plan offers solutions to ensure we can restore our NHS, which is what this election must be about.
Solutions for the future; not the arguments of the past.
After the last few days, it's clear that only Scottish Labour is focused on what unites us so that together we can build a stronger recovery for a fairer Scotland.