We are at a critical juncture in Scottish politics - Miles Briggs MSP
My colleague and friend Jackson Carlaw has taken the brave decision to step down as leader of the Scottish Conservatives. I know this will have been a tough decision and Jackson deserves a huge amount of respect for putting country and the party first. I wish him well.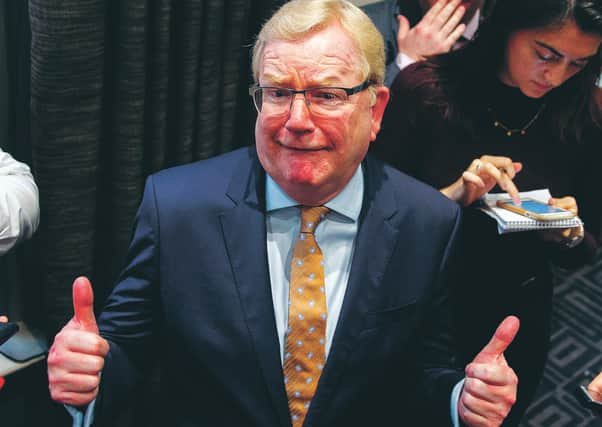 Politics and people's lives have been dominated by Covid-19 since March and tackling the virus has rightly been the number one priority for all political parties throughout Britain.
Thanks to the diligence of people across Scotland and Britain, following social distancing guidelines, we have managed to suppress the virus. We are now in a position where we have to look to the future, and minimise the impact of Covid-19 on our economy and ensure young people get back on track with their education.
We are currently at a critical juncture in Scottish politics and the next leader of the Scottish Conservative and Unionist Party must have a vision to recover from Covid-19, as well as building for the future now that the UK has left the European Union.
That's why I'm supporting Douglas Ross. I've worked alongside and considered Douglas a great friend for more than 10 years. He's a passionate campaigner for Scotland and has the passion, intellect and vision to be a great leader. I believe he is the right person to unite Unionists voters in May and move Scotland forward.
As we emerge from the coronavirus public health emergency, so many things will never be the same again. People are worried about their jobs and their family's futures. Our high streets have faced an unprecedented crisis and loss of confidence, the education and opportunities for our young people have never been more uncertain.
The priority for all MSPs from every party must be protecting jobs, securing the economic recovery, and restoring our public services.
But there is so much more at stake. Before the coronavirus public health emergency, the 14-year record of this SNP government was finally being questioned, from failing to meet hospital waiting times targets to declining school standards, from SNP cuts to local councils to the centralisation of Police Scotland and the centralisation of powers in SNP ministers' hands.
From the Named Person policy to the Hate Crime Bill and the SNP's threat to freedom of speech, it is little wonder that more and more people feel the SNP have become out of touch with the real priorities of Scots.
As Scotland faces the challenges of a potential looming recession a focus on securing the economic recovery is critical.
Under the SNP, our Scottish economy has been going nowhere during their time in office. We've seen a lost decade with low growth levels and a lack of support to attract investment to Scotland.
Many businesses and employers see the SNP Scottish Government as anti-business and so do not invest.
The SNP have been in power in Scotland since 2007 and having strong voices who will focus on the day job, as well defending Scotland's place in the Union, is vital for democracy in Scotland.
It's also important that we see an all-Scotland approach in a post-Covid world. Central to that is the empowerment of the Scottish regions and towns that have been forgotten by the SNP.
Douglas Ross is a Moray MP and knows the needs of rural Scotland.
As leader I'm confident Douglas will work to make sure no part of Scotland is forgotten or left behind.
There are less than 300 days until the next Holyrood election. The election will present an opportunity to elect a Parliament that will once again focus on protecting jobs, investing in schools, restoring our NHS and hospitals, and helping our High Streets – not another divisive separation vote.
Douglas Ross and Ruth Davidson and the Scottish Conservative and Unionist team will work every day to focus on what really matters to Scotland.
It's time for all of us who believe in Scotland's place in Britain to stand up and be counted. If you don't, then no-one else will.
That's why I'm asking you today to make the difference, to get involved and to join the Scottish Conservatives, Scotland is depending on you.
Miles Briggs is the Scottish Conservative health spokesman
Comments
 0 comments
Want to join the conversation? Please or to comment on this article.