The scourge of 'institutional racism' remains a stubborn blight on Britain – Martyn McLaughlin
If it is easy to forget the hostility with which sections of British society greeted the Macpherson Report two decades ago, it is no less dangerous to assume that the progress we have made since is sufficient to absolve us from the criticism of future generations.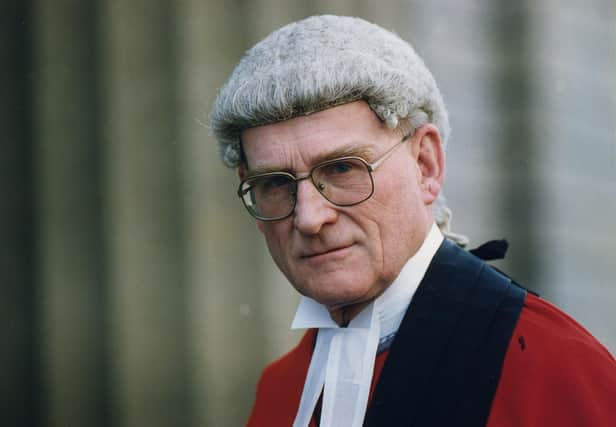 The death of Sir William Macpherson of Cluny, the author of that landmark 1999 publication, seems an opportune time to debunk any such lingering presuppositions. In cataloguing the myriad failings of its investigation into the heinous murder of Stephen Lawrence, he threw light on the endemic cancer of racism in the UK's largest police force, and prompted a national conversation around race relations which continues to this day.
In declaring the Metropolitan Police "institutionally racist", Sir William gave urgency and legitimacy to a phrase first popularised by the US civil rights activist, Stokely Carmichael, and which had until that point only been used in earnest by anti-racism campaigners. Overnight, dialogues around racism matured, focusing not on individual instances, but how it was a structural component embedded across various strata of society.
His report prompted sweeping change, and not just in terms of how it reshaped the criminal justice system; the entire public sector was shaken from its complacency, and began putting in place recruitment, retention, and progression policies so as to ensure black and minority ethnic staff were better represented.
Such achievements are even sweeter when you consider the suspicion which met Sir Williams's appointment as the chair of the Lawrence inquiry. He was perceived as the quintessential establishment man, a not unreasonable charge to level against an Oxford-educated former High Court judge who became the Queen's ceremonial guard in Scotland.
His reputation as a hardline conservative concerned the Lawrence family and their lawyers. In time, they came to prize the Scot's fierce independence and burning desire for justice. It was evident in the days before the inquiry began, when he visited the scene where the teenager was stabbed to death to encourage potential witnesses to come forward.
Indeed, it was perhaps because Sir William was such a firm believer in the institutions of British society that he shook them to their core. Many turned on him as a result. The right-wing press waged nothing short of a personal vendetta as part of concerted efforts to stifle debate and discredit his findings.
Sir William bore such criticism - and a slew of vile hate mail - on broad shoulders, aware that he had put in place the foundations for lasting change. The process of building on them is ongoing, informed around the concept of white privilege, and hindered by the culture wars waged by Boris Johnson's government.
Before his death, at the age of 94, Sir William expressed satisfaction at having given "a strong push to people in the right direction." Yet he must also have privately bemoaned those who persist in digging their heels in.
In the 22 years since his report's publication, there has been premature congratulation as well as soul searching. Its tenth anniversary saw Sir Paul Stephenson, the then commissioner of the Metropolitan Police, declare the label of "institutional racism" levelled against his force was no longer "appropriate or useful." Last summer, his successor, Cressida Dick, said much the same, describing the central accusation as not "helpful."
Tell that to the black, Asian and minority ethnic staff in her force who are twice as likely to find themselves subject to a misconduct process. Tell it to the black members of the community who are twice as likely to die in its custody as white people. Tell it to Nusrit Mehtab, the most senior female ethnic minority officer in the Met until she resigned last year and sued the force for constructive dismissal, race, sex and religious discrimination, harassment and victimisation.
Neither should we in Scotland cleave to stubborn myths of exceptionalism and presume that all is well in our national force. A mere three months have passed since Dame Elish Angiolini, the former Lord Advocate, published an excoriating report detailing the experience of black and minority ethnic officers in Police Scotland.
It highlighted the fact that no one from a minority ethic background occupied a senior role in the force, and heard how when BAME officers complained of internal racism, the finding was always the same: 'not found'. It also heard that in serious misconduct cases, any racial element was 'dropped' by Police Scotland's Professional Standards Department on the basis that "it's just part of how we talk."
Indeed, Dame Elish made extensive reference to Sir William's report, with damning conclusions. "Much of the evidence presented to me was a chastening reminder that in the police service and in the wider community attitudes have not changed as much as they should have since those words were written, or as much as we may like to believe that they have," she observed.
It befalls individual institutions to redouble their efforts towards best policy and practise, but the duty of honouring Sir William's achievements looks more onerous than ever. Our understanding of what he meant by "institutional racism" is forever advancing, given fresh impetus by the likes of the Black Lives Matter protests. As our perspectives broaden, so too does the scale of the challenge. The collateral damage of racism remains our national shame. It goes beyond policing. It ensures ethnic minorities remain disproportionately impacted by deprivation, and that they are among those most at risk during the Covid-19 pandemic.
All the while, it is hard to shake the belief that the national conversation sparked by Sir William is not sharply regressing. Those who raged against his truths two decades ago have been given free rein and voice by a political climate which persecutes the marginalised, and by a Conservative government which has codified systemic inequality through its callous immigration policies. That same government will laud Sir William's legacy, but what will it do to further it?
A message from the editor:
Thank you for reading this article. We're more reliant on your support than ever as the shift in consumer habits brought about by coronavirus impacts our advertisers. If you haven't already, please consider supporting our trusted, fact-checked journalism by taking out a digital subscription.
Comments
Want to join the conversation? Please or to comment on this article.