The Scottish Conservatives gained an additional 100,000 votes to deliver our best ever result. We returned 31 MSPs and reaffirmed that we are Scotland's second largest party and main opposition. We proved that the 2016 election was no fluke.
I am incredibly grateful to all those people across the country who gave their vote to us. I know that many of them would not describe themselves as natural Conservatives, but they shared our belief that a referendum is the wrong priority for our country when we need to focus 100 per cent on our recovery from the coronavirus pandemic. This is as much their achievement as it is ours.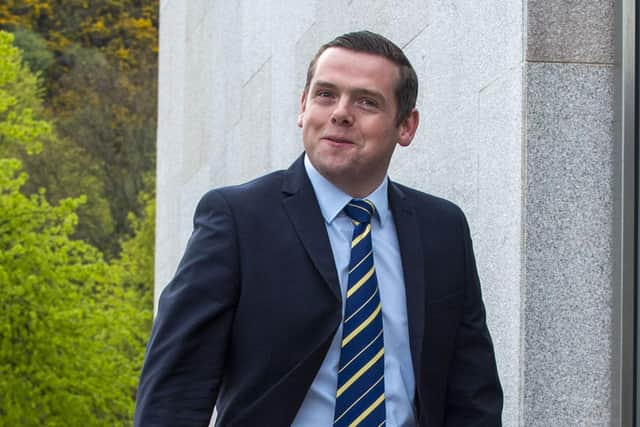 The Scottish Conservative MSP team is now stronger and more diverse than ever before. We have elected our first BAME MSPs and Scotland's first Sikh MSP Pam Gosal. We have fresh real-world talent in oil and gas industry expert Tess White, journalists Craig Hoy and Russell Findlay and GP Sandesh Gulhane. And we have strong local representatives in councillors Megan Gallacher and Douglas Lumsden.
We will continue to be a strong opposition over the next five years, but we will also be a constructive player in our national politics. We will look to work with other parties, to ensure that laws brought forward by the government are the best they can be, while also looking to take forward our own programme of transformative bills.
We will work tirelessly to represent the priorities of every part of Scotland and of all its people.
It is now time for the SNP to listen to Scottish voters and the result of the election. The electorate chose not to give SNP a majority and that matters.
By not giving any one-party overall control of the Scottish Parliament, they showed us that they want the focus to be on the national interest rather than on political priorities. They want their parliamentarians to prioritise getting Scotland through the remainder of the pandemic but then onto the task of rebuilding our country from its damaging effects afterwards.
Instead, the response so far from the SNP has been totally tin eared. Before the vote counting was even finished and the final result declared, Nicola Sturgeon was again pushing for a second independence referendum.
Not only is this ignoring the election result, but it is also a betrayal of all those people who voted for her party out of a desire for leadership through the pandemic and our recovery.
Nicola Sturgeon said during the campaign that Scots who supported her pandemic leadership but did not want a referendum should vote SNP. However, as soon as the votes were cast, she immediately claimed their support as a mandate for a second independence referendum.
The SNP even changed their ballot description away from seeking a mandate for a second referendum. The party registered both "Vote SNP for IndyRef2" and "Both Votes SNP for IndyRef2" with the Electoral Commission but instead used "Nicola Sturgeon for SNP First Minister". They literally removed IndyRef2 from the ballot paper.
Yet despite all of this, the party did not win the majority that they were expecting. They were unable to repeat the conditions that led to the 2014 Referendum. As such, the SNP have no moral authority to hold another independence referendum.
The Scottish Conservatives will continue to fight any plans to take forward a damaging referendum that would wreck our recovery every step of the way.
Yet we do not have to spend the next five years arguing over the constitution. Nicola Sturgeon can use this opportunity to draw a line under the last five years and take her referendum threat off the table.
There are so many issues in Scotland that need our attention, that deserve a Scottish Parliament laser focused on working to resolve them.
Pupils across the country have had a whole year of schooling disrupted by the pandemic, they need to be supported to catch up, so that we do not leave a generation scarred by coronavirus. Yet we also need to address the failings that have led to Scottish education falling down the international rankings over the past decade and more.
Our NHS needs to be supported to get through a backlog of delayed operations and treatments. Yet we also need to address Scotland's drug deaths crisis, with deaths having more than doubled since 2014.
We need to do all we can to protect jobs in sectors affected by the pandemic, with the Scottish Fiscal Commission forecasting a rise in unemployment to over 200,000 later this year. Yet we also need to increase growth in the Scottish economy, which was lagging behind the rest of the UK well before coronavirus.
We can tackle all these issues and more if we end the battle over independence. We can get our Scottish Parliament working together in the national interest, not just to get us through the pandemic and our recovery but also to tackle the deep problems in our public services, economy and society, if the constitutional arguments are not dominating parliamentary debate.
So my message to the SNP is to accept the outcome of the election, end the division over a referendum and let's focus the Scottish Parliament on solving, not creating problems, over the next five years.
Douglas Ross is leader of the Scottish Conservatives