The performance of the Scottish Government is shrouded in mystery - Brian Monteith
There should be no doubt now the direction of travel for the UK's coronavirus lockdown is for it to loosen. The question is no longer when the unlocking should start – it is happening to some degree in every part of the British Isles – but through what measures and at what pace lockdown should proceed.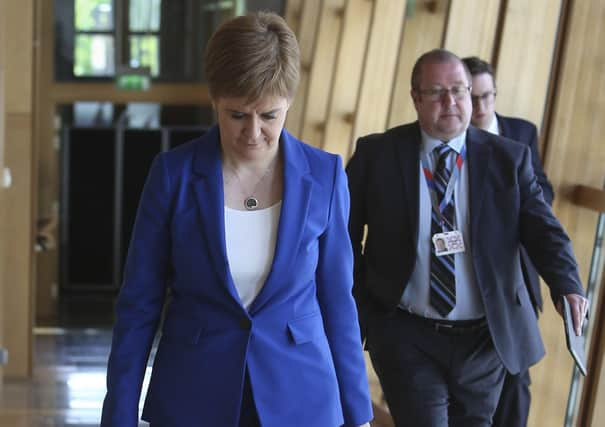 As might be expected from a pandemic, there are various centres of our communities that are displaying greater numbers of infections and hospitalisations than others. Areas where housing is heavily built up; centres with large numbers of international travellers; cities that rely on the mass transit of people; and concentrations of certain vulnerable demographic groups provide greater numbers of Covid-19 cases than for areas without such factors. These concentrations of infection also vary in their timeline. The fulcrum of coronavirus cases – Greater London, which happens to have many of these factors – is now seeing a significant fall in new cases to below 30 a day. This is highly encouraging. While some towns and cities are not yet over the worst, the general trend confirms we are past the peak and provides the opportunity for many people to get back to work and for more general restrictions to be relaxed.
It has always seemed absurd to me that golf, tennis or other such pursuits that offer exercise with in-built or easily applied social distancing are restricted. The restriction on golf was lifted in England last Wednesday, that it is still closed in Scotland, the land of its birth and where it is more easily accessible and classless – on the grounds it would be unfair to women who play it less – tells us everything we should fear about the management of the Scottish Government's coronavirus response. Another absurdity peculiar to Nicola Sturgeon's government is the appalling treatment of our care homes, where the number of deaths for people designated as Covid-19 positive is 43 per cent – compared with only a quarter of such deaths in England.
I have written before of contributory reasons for this; what can only be described as the shunting of elderly patients from NHS hospitals into care homes without testing for Covid-19 for a longer period than happened in England; the failure of the Scottish Government to pass on financial relief to the independent sector via local authorities (who use 70 per cent of the independent sector's capacity) compared with generous schemes in England; and the wholly inadequate provision of PPE and testing for care homes – which were relying on the vital distribution the Scottish Government had taken on the responsibility for.
As if this litany of fatal errors was not enough, the Scottish Health Secretary, Jeane Freeman, is now seeking powers for the Scottish Government to take ownership of care homes it deems are a threat to public safety. Whether or not such a power would be used, the motive of Ms Sturgeon's Government is clear and that is to portray the independent sector as the scapegoat for the large share of Covid-19 deaths in care homes rather than accept culpability following its past poor judgments.
The independent sector, made up of privately owned and charitable care homes, provides some 80 per cent of residential beds to 20 per cent by local authorities and is already highly regulated. Indeed the Care Inspectorate and NHS boards have the power to take over the management of independent care homes that are deemed to be performing below standard. So why is taking ownership necessary?
Is there nothing in the mindset of the Sturgeon government other than nationalising something it cannot resolve how to fix? Prestwick Airport, Ferguson's shipbuilding – how have they fared?
And why nationalise independent care homes when we know nothing about the comparative performance of the state sector's homes? When it comes to establishing the details of how local authority care homes are performing in the crisis, the Scottish Government will not release any figures. How can we know the state could run any failing homes better when we don't know their own performance?
One fact not offered at the Scottish Government press briefings is the good work being done in the independent care home sector. Renaissance Care, for instance, has reported it has had 47 residents in its 15 homes who have recovered from coronavirus – far more than the deaths of those who have tested positive for it. If that is typical then there are hundreds – possibly more than 1000 – care home residents across Scotland's independent sector who have recovered from the virus rather than died. These are not hospitals, there are no intensive care wards – such a performance would actually make our care homes and their staff Scotland's unsung heroes. Unfortunately that does not appear to fit the narrative of a Scottish Government that is intent on prolonging the lockdown and blaming the independent care home sector.
Thanks (yet again) to Barnett consequentials, the Scottish Government will receive an extra £58 million following the announcement of measures in England to tackle infection control in care homes. Will this be passed on in full? Or will it, like so much of the £3.5 billion additional funding sent north by the Chancellor, be redeployed to fit the SNP's own priorities?
I continue to hear the First Minister say that decisions such as those above are not political but she comes over as protesting too much. How else is it the Covid-19 testing available in the five testing centres and the 13 mobile units (provided by the British armed forces) are running below capacity? Why is the publicity of the Scottish Government in driving people to attend them so poor? Why is it that when a mobile unit turns up in the area of SNP politicians they don't tweet about its presence?
For those people diagnosed as Covid-19 positive, the next scandal will be the tracking and tracing of those they have been in contact with. Why is the recruitment of people to do this vital work – without which coming out of lockdown is so difficult – been such a failure in Scotland compared with England?
Establishing how the Scottish Government is performing continues to be shrouded in mystery – if it can push a review of our failing education system to beyond next May's Holyrood elections, have no doubts that any truth about its handling of the Covid-19 pandemic will take years to materialise.
Comments
 0 comments
Want to join the conversation? Please or to comment on this article.