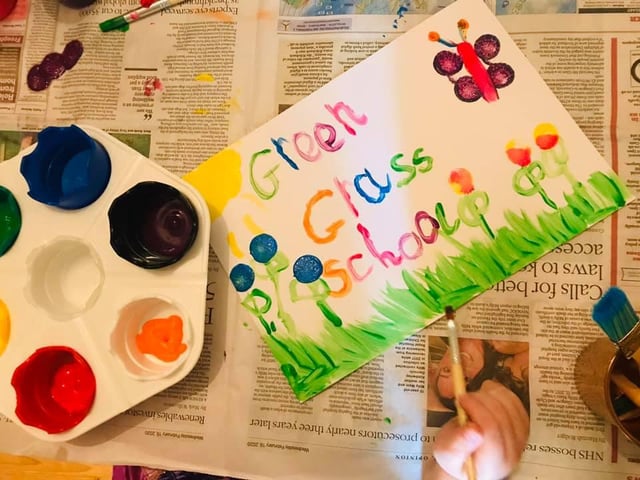 "I lasted mere hours before I morphed into a combination of Kindergarten Cop and The Nutty Professor". Picture: Kirsty Strickland
My six-year-old painted a sign that we stuck on the door. Ten minutes into my new teaching placement and I'd already steered my charge through an art lesson. I snapped a photo and put it on Facebook, full of the sort of misplaced confidence that naivety brings.
Naming our 'school' was a positive way to mark the new adventure we were embarking on together. Doing so invited good luck. This was our version of smashing a bottle of champagne against the bow of a shiny new ship. While there wasn't any champagne on that first day of home learning I'm pretty sure that wine had been poured by the time night fell.
I look back on those first few days of lockdown with bemusement. Who did I think I was with my ambitiously titled ''class plan'' and back-to-back scheduled activities?
I know what kind of stand-in teacher I wanted to be. Matilda's Miss Honey is every child's favourite and I saw no reason why her style of gentle, encouraging classroom management couldn't become my own.
Unfortunately, I lasted mere hours in that role before I morphed into a combination of Kindergarten Cop and The Nutty Professor.
Children have an uncanny ability to spot weakness. It didn't matter that I bought wee stickers to put in her workbook or that I had a very authoritative folder with labels and suchlike. She knew I was vastly underqualified for the task at hand and – fair play to the kid – she wasn't prepared to accept a lesser standard of teaching.
Despite all that, the first round of home-schooling was a doddle compared to this most recent one.
Last year, we had beautiful sunshine to help chase the blues away. There was a tacit agreement that getting the kids outside: playing, gardening or splashing in a paddling pool was as valid a reason as any for taking the day off lessons.
Now when we feel like we cannot face another day of Google Classroom, the miserable weather doesn't allow for anything as worthy to replace it with.
"'Sorry we didn't log-on, my daughter wanted to watch YouTube videos of a chirpy American unboxing a toy and I didn't have the energy to argue with her about it'' is as lame an excuse as ''the dog ate my homework''.
I know from speaking to other parents that I'm not the only one that experienced a feeling of pure elation this week when Nicola Sturgeon announced the phased return of schools.
From tomorrow, all P1-P3 pupils, as well as pre-school children will return to the classroom full-time.
We will have to wait until March to hear plans for the second phase of re-opening but the First Minister has said it is unlikely that there will be any further return of pupils before March 15.
This is welcome news for parents of younger children as it is for the children themselves. Considering all that they have endured over these last 11 months, the resilience and good humour that children continue to show is incredible. They are tough wee things and we have seen the best of them during the pandemic.
We have also gotten a glimpse of what their teachers have to contend with on a daily basis.
It's not a totally accurate representation, right enough. I'm certain my daughter doesn't launch into her full-blown intransigent backbench MP routine with her teacher when HE asks her to practice her spelling.
But if there was ever a time to truly appreciate our teachers for all they have done – and continue to do – it is now.
Teachers have been on the frontline throughout the pandemic but they haven't been shown the same gratitude that other key workers have.
Too many teachers have felt the brunt of parents' bad moods as they try and juggle the competing needs of pupils and create engaging online lessons.
We have asked the world of them and at times done so in a way that suggested it should be their great privilege to teach our little darlings and their own fears about coronavirus aren't as valid or important.
They have been in classrooms teaching children of key workers while also – somehow - organising online learning.
I've never felt such admiration for my daughter's teacher than on the day he organised an online scavenger hunt for the class. It was utter chaos: the mute button was completely disregarded as a bunch of six-year-olds with cabin fever shouted his name over and over again while thrusting various objects at the screen for him to see.
While teachers have been doing their utmost to ensure continuity of education for pupils in the most uncertain of times, many have also been home-schooling their own children – albeit with far more aptitude than us newbies.
During her statement to parliament on Tuesday, Nicola Sturgeon announced that when schools return more fully, the Scottish Government will make at-home lateral flow tests available to teachers, older pupils and school staff twice a week.
This is a welcome move that will hopefully give Scotland's hard working teachers greater peace of mind.
They are the unsung heroes of the pandemic and it is high time we recognised them as such. They need more than our grateful thanks but that would be a good place to start.
As those of us with younger children wave them off tomorrow, relieved that their formal education is safely back in the hands of experts, we might feel compelled to do a spontaneous clap for our teachers - straight after we've enjoyed a piping hot cup of tea in blissful silence.