Shameful lack of compassion leaves migrants nowhere to go – Dani Garavelli
Today in tone deaf news coverage: those boats sent out to the Channel to scout for dinghies full of scared migrants. Journalists giving running commentaries like they were Eddie Waring on It's a Knock-Out, and the White Cliffs of Dover, the finish line in some hilarious game. See how much fun you can have with an inflatable! "They're using a plastic container to try to bail out the boat," yelled Simon Jones, before pulling up alongside for some perky conversation with the contestants...sorry, refugees. "Tell the audience where you're from, now. Syria? How lovely. A big BBC shout-out for Syria." Jeux avec trop de Frontières.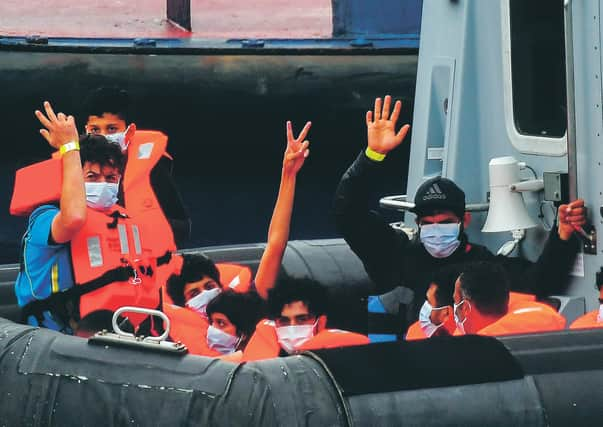 Sky's faux concern wasn't any better. "It's unsettling," said Ali Fortescue. I'll tell you what's unsettling: this exercise in voyeurism; human misery marketed as entertainment.
It's shoddy behaviour. But then so too is the government's. While the broadcasters have opted for the game-show format, politicians are adopting the language of war. Nigel Farage has posted himself, a lonely sentinel, ever-alert, on the Kent coast, his eyes scanning the horizon for signs of imminent incursion. Home Secretary Priti Patel embedded herself with Border Force in Dover and issued orders like a fantasy general. Scramble the RAF jets; call in the warships; appoint an ex-marine as Clandestine Channel Threat Commander (I kid you not). Toy soldiers waging a pretendy war against an imaginary enemy. Farage's tweet about "an invasion". Seven bedraggled voyagers. It's pathetic; it's embarrassing; and it's incredibly dangerous.
The UK government gives us figures. It's good with figures. Apparently, 4,000 migrants have made their way into Britain by boat this summer. It keeps a running total. This week there have been 650, on Thursday alone, 235. Wow, 235 – that's a lot. The government keeps (contested) running totals of Covid-19 deaths too. 46,000+ – that's the total since March. One hundred and two, the number on Tuesday. There were 1,148 new infections the same day. Wow - that's a lot. These figures Boris Johnson is not so keen on trumpeting. I wonder why.
There is no connection between the two sets of statistics, of course. The poor souls risking their lives to sail 20 miles from Calais to Dover in choppy waters are not being used to deflect from the government's terrible handling of the pandemic or our tanking economy. I mean migrants used as scapegoats? Whoever's heard of such a thing?
So; the government has identified a crisis. Now: who to blame; who to blame? The human traffickers obviously. They are the ones making money out of this. Johnson aims to make them see that what they are doing is "bad and stupid and dangerous and criminal."
That sounds pretty straightforward. Although, from the migrants' point of view, making an unauthorised trip across the channel to claim asylum is not illegal. And it's not so much stupid as an act of desperation.
Johnson also wants to change all those asylum-seeker-friendly laws that make a migrant's sojourn in our country such a treat. "We need to look at the legal framework that means when people do get here it is very, very difficult to send them away again even though blatantly they have come here illegally," he said.
It would help if the west didn't keep fighting the proxy wars on foreign soil that drive one refugee crisis after another and create demand for such services. Or if the UK created safe routes for asylum seekers so they didn't have to travel on upturned milk crates.
But let's not dwell on that. Or on the fact that we have fewer asylum seekers than most of Europe – five applications for every 10,000 people, while the overall figure for Europe is 14. No, let's talk about the French. If only they would move their 300 miles of adjacent coastline a little further south this wouldn't happen. At the very least, they should be patrolling it more assiduously.
In an against-the-Brexit-grain gesture of international cooperation Patel and French counterpart Gerald Darmanin last month signed an agreement creating a joint police intelligence unit to combat traffickers.
But with the boats still coming, Patel changed tack, threatening instead to bring in the Royal Navy. This was marginally less provocative than Tory Edward Leigh's suggestion – which was that we should take back Calais – but still: sending military boats towards and possibly into French waters does seem a trifle hostile. The Mayor of Calais, Natacha Bouchart called it a "declaration of maritime war".
In a Zoom call with hardline backbenchers, the ever-measured Patel said the system was being exploited by "leftie Labour-supporting lawyers" and that there would be NO more money for Channel patrols unless Emmanuel Macron promised to take back some of the migrants who have landed here. There was no reference to the likelihood that it was UK-funded increases in surveillance at French ports that prevented them from stowing away in lorries and pushed them to the Channel.
Once upon a time, a journalist might have been able to put this point to a home secretary. But Patel appears to have dispensed with outdated press scrutiny – which used to involve engagement with actual reporters – in favour of issuing her own propaganda videos where the narrative is stripped of context and facts go unchallenged.
The figures, she said, were "appalling and shameful" and her objective was to make the route "unviable". Her targets were once again the traffickers who exploit "vulnerable" migrants and trade on human misery.
But is exploiting them so much worse than abandoning them? Because no attention is given to what will happen to these people if Patel's mission proves successful.
Despite politicians such as Bouchart and Nicola Sturgeon urging the Home Secretary to start taking some responsibility, there is never any attempt to answer the questions: if not here, then where? If not us, then who?
Whether or not Patel makes the Channel route unviable, the refugee crisis will not go away. Five years after the photograph of toddler Alan Kurdi lying dead on a Turkish beach was supposed to change the way we viewed migrants – reminding us they are human beings swept along by global forces – temporary camps on the Aegean islands are still overflowing. Some of them hold six times their intended capacity in terrible, unsanitary conditions.
In Calais, too, there are tales of trauma. Guardian journalist Harriet Grant spoke to Claire Mosely, who runs the Care4Calais food distribution charity.
"Look at where people are from – Sudan, Afghanistan, Iran. These are the worst places to live in the world. Every day I talk to people who have been tortured," she said.
When Mosely asks her why they don't claim asylum in the first country they arrive in, she replies: "They do! France has four times as many asylum seekers as the UK, and Germany even more. The question shouldn't be 'Why are people trying to reach the UK?', it should be 'Why shouldn't they try to reach the UK?' For some, that is where they have family; others can't get protection anywhere else."
This is the kind of self-reflection the UK government could be engaging in; if only it wasn't so busy tilting at windmills.
Comments
 0 comments
Want to join the conversation? Please or to comment on this article.