Scotsman Letters: Domestic air passengers faster, greener journeys via train
Richard Allison (Letters, September 8) correctly describes Edinburgh Airport as reaching capacity. I also used it recently for the first time for four years and despite yet another extension it was still very claustrophobic especially at security.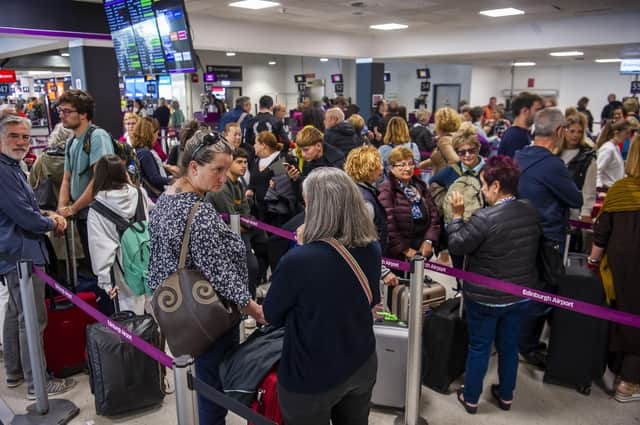 Like Mr Allison I am acutely aware of the 30 or so departures between 6 and 7am, living close to the airport, and would avoid departing at that time at all cost.
​A renewed increase in flight traffic post-Covid means 2.2 million aircraft movements each year in UK airspace, over 100,000 at Edinburgh Airport alone, and it is down to the skill of controllers and pilots that there are so few incidents.
​Airports like Edinburgh have been running close to capacity for years, and it is time that domestic passengers are given an alternative through faster, greener and more reliable train journeys.
If half the London to Edinburgh route can be covered in a little over 100 minutes to York, by investing in the northern section close to three hours for the whole journey should be achievable, significantly reducing the often half-empty 60 or so flights a day plying up and down this route currently.
What a difference that would make to CO2 emissions. Why are the SNP/Green Government not pushing for this rather than seemingly supporting the UK halving of domestic air passenger duty in April by not bringing in their own departure tax as previously planned?
​Neil Anderson, Edinburgh
The leaders of Brazil, India, China and South Africa should hang their heads in shame since they have put their commercial needs above all moral principles. Putin has the blood of thousands of innocent Ukrainians on his hands, but the leaders of those countries are turning a blind eye to his crimes so that their trade is not disrupted.
But we must condemn with equal force the cosying-up demonstrated by our neighbours in Europe.
Germany was so keen to have Russian oil and gas that it ignored Putin's annexation of Crimea in 2014 and carried on with the construction of the Nord 2 pipeline as if nothing had happened.
The fact that other countries like the UK and the US were determined to punish Putin for that first attack on Ukraine did not deter Germany.
Likewise, President Macron of France failed to maintain solidarity with other Western countries in the aftermath of the 2022 invasion of Ukraine.
Putin relies heavily on his oil and gas wealth to fund his war. The West must maintain its embargo on Russian oil and gas in order to avoid providing him with the funds for his murderous attacks.
The UK is therefore justified in taking more oil and gas from the North Sea, even despite the climate crisis, because creating our own supplies helps to support the embargo and reduces the overall demand across Europe.
Your report on the controversies around the proposed regulation of legal services (August 28) raised concerns that the independence of Scotland's legal professions is encroached upon by the current draft Bill, made worse by a parallel politicisation of the role of Scotland's most senior judge. These are serious points.
While there is a case for a strengthened independent element to oversight of both the Law Society and the Faculty of Advocates and generally increased transparency, there is absolutely no place for ministerial intervention in a fair jurisdiction. Instead, important details – all too often left to ministerial discretion – like automatically inflation-adjusted penalty tariffs and prescribed timeframes for resolution and adjudication should be thought through, set out in the Bill and approved by the Scottish Parliament.
Proper separation of powers is the litmus test of a democracy and a widely-established principle. Disappointingly, the documentation submitted with the draft Bill does not discuss other jurisdictions and European norms.
There is time to scrutinise and amend the Bill. It is the job of our MSPs to do so.
Harald Tobermann, Edinburgh
Have the separatists considered the future if they ever succeeded? There would be no Royal Air Force, no Royal Navy, no royal Army, no HM Coastguard, no Royal Mail.
A national currency would have to be listed on the international exchange. Considering the difficulties trying to use Scottish banknotes south of the Border at present, what if they became foreign? New driver licences would have to be issued, new car registrations, and a department formed to control these and other items presently handled by British offices.
Where would the funds come from to create all that and more? Passports? Visas to visit Europe? Hard enough now, a nightmare to consider if everyone became non-British overnight.
Wake up Scots, you have it good, don't throw away your future – from an ex-pat who left in 1968 and looks with dismay at the short-sightedness of my countrymen.
Stewart Hunter, Bognor Regis
I can see where Fraser Grant is coming from (Letters, September 9) but property owners should be able to use their property as they see fit. I imagine that in the main owners of Airbnbs see that as a way of supplementing their income, which in the current financial climate seems sensible to me.
Home-owners should not be held responsible for a lack of affordable housing. Maybe the Scottish Government should focus attention on the ever increasing level of building of student accommodation?
John McCutcheon, Edinburgh
We welcome your thoughts – NO letters submitted elsewhere, please. Write to [email protected] including name, address and phone number – we won't print full details. Keep letters under 300 words, with no attachments, and avoid 'Letters to the Editor/Readers' Letters' or similar in your subject line – be specific. If referring to an article, include date, page number and heading.
Comments
 0 comments
Want to join the conversation? Please or to comment on this article.