Scotsman Comment: Breaking the law must not be condoned despite what Patrick Harvie says
Is breaking the law justifiable if doing so might effect desirable change in society? It is a question environmentalist and TV presenter Chris Packham grappled with in a recent Channel 4 documentary.
Asked his view yesterday, Scottish Government minister Patrick Harvie said: "Many people have found themselves effectively feeling disempowered and feeling the only way they can take some power into their hands is to take part in direct action. I will never condemn that."
Mr Harvie, co-leader of the Scottish Greens, stressed that the "direct action" should be peaceful.
But if we are talking about breaking the law to raise public awareness, there are major differences between today's environmental campaigners and, for example, the suffragettes. Mr Packham cited suffragette leader Emmeline Pankhurst, who was imprisoned during the campaign for women's right to vote but now has a statue in her honour outside Westminster.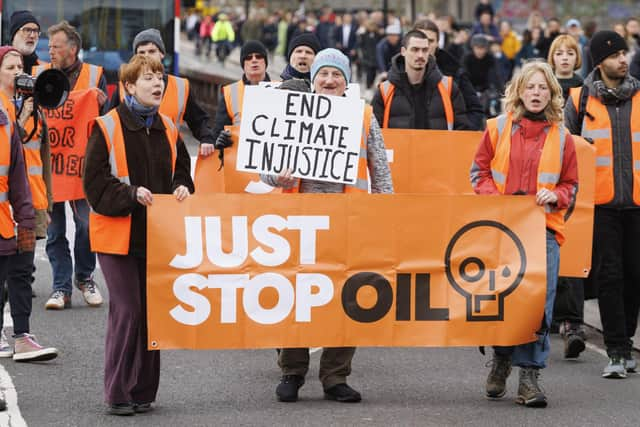 It was far more difficult for protesters to make their voices heard in the early part of the 20th century than it is in the internet age of today. Few, if any, people are unaware of the campaigns by the likes of Just Stop Oil and Extinction Rebellion.
The suffragettes broke the law and the law changed, but can we say with any certainty that the law would not have changed anyway? By the end of the First World War society had reached the overwhelming view that it was morally unacceptable that women should not be allowed to vote, and democracy did its job. Has society reached a similar overwhelming conclusion about the rate of progress towards net zero carbon emissions?
The enfranchisement of women was a clear goal that, once achieved, obviated the need for further law-breaking. Is there a similar point in the journey to net zero? And who gets to decide where that is? And why?
The principle that no one is above the law is central to society. Those who do not like Mr Sunak's policies should vote against him. If they feel strongly enough they should feel free to protest. But they must not feel free to break the law.
Comments
 0 comments
Want to join the conversation? Please or to comment on this article.