Scots who value Britishness won't find that in the government - John McLellan
The renewed row over which flags fly over Scottish Government buildings illustrates how much symbols matter, even if the effect is to entrench established views amongst those who care about such things.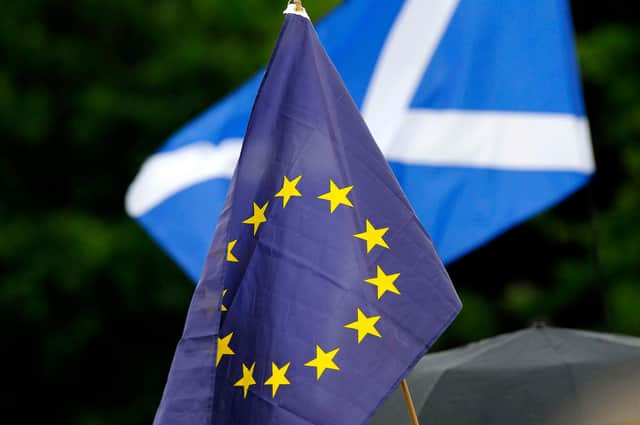 I don't know how many buildings are affected by instructions from First Minister Nicola Sturgeon to always fly the EU flag, and the Union Flag only on Remembrance Day, but I do know that the Red, White and Blue will still flutter above Edinburgh Castle, so if anything it represents an outlook that those Scottish people who value their Britishness won't find that reflected in the actions of the government which is supposed to act in their interests too.
Whatever. What Unionists have failed to do, however, is to remind people that the circle of yellow stars is the flag of the Council of Europe, the creation of which Britain and Sir Winston Churchill played a central role, and is therefore a symbol of British determination to rebuild a better Europe after the war.
Britons created the European Court of Human Rights, an institution whose principles transcend national government, but there is no greater symbol of continuity which transcends passing politicians than the monarchy, but it's a living and breathing symbol which requires it to be conscious of, and sensitive to, changing times and the signals it sends.
How the members of the Royal Family conduct themselves therefore matters a lot, as Prince Andrew has found to his cost, and to an extent as did Prince Harry yesterday.
Whether the Queen's decision to end the Duke and Duchess of Sussex's official royal responsibilities and their recent legal actions is open to conjecture – their decision to live in the USA is likely to have featured large – but it cannot be dismissed.
Public opinion about their privacy case against the Mail on Sunday might favour the decision, which is understandable if it involves a poor girl thousands of miles from home sending the tear-stained sheets of lilac Basildon Bond to beg her daddy for his unquestioning love and support. Except the Duchess of Sussex, as she remains, isn't some pitiful ingenue trapped in a gilded cage, as her husband's late mother felt in the early years of her marriage, but a media-savvy Hollywood actor who had experienced Royal public relations professionals behind her.
It is alleged the letter wasn't very private at all because it was drafted with the help of a PR team, and much of the substance leaked with consent to the American People magazine by "friends". It's also legitimate to ask why she was shocked her father went public with the letter when its focus is on her unhappiness with his constant dealings with American "tabloids".
Given what she knew of her father's behaviour, why would someone so street-wise pour out her innermost thoughts to a person from whom she is estranged, whose motivation she questions, and who has a habit of blabbing to papers?
"The claimant had a reasonable expectation that the contents of the letter would remain private," said Mr Justice Warby. "Taken as a whole the disclosures were manifestly excessive and hence unlawful. There is no prospect that a different judgment would be reached after a trial. The interference with freedom of expression which those conclusions represent is a necessary and proportionate means of pursuing the legitimate aim of protecting the claimant's privacy."
The counter-claim, that this was as good a media manipulation exercise as the late Princess of Wales could have mustered, and supported by testimonies from the PR people involved, makes it all the more extraordinary that the case was dismissed without the newspaper having a chance to mount a proper defence
Three days later, to make a mockery of the Sussex's defence of their privacy, or at least demonstrate that publicity was something they would only countenance on their own terms, they chose Valentine's Day to announce to the world they were expecting another child, illustrated by an artfully shot black-and-white picture of the barefoot Prince Harry enjoying a sun-kissed moment with his wife in their California garden when the rest of us were still kicking the slush from our boots.
Not quite Senator Ted Cruz jetting off to Cancun (revealed when "friends" published his emails) while Texas ran out of food and water, but close. "Publicity shy woman tells 7.67m people I'm pregnant", lampooned the Daily Star the next day.
Although the Mail's publishers have still to confirm whether they will appeal, but unchallenged, it increases the chances of British publishers being sued for revealing information freely available on social media fed by news stories from foreign jurisdictions, or seeking protective injunctions like the performer known only as PJS here, but by name everywhere else in the world.
The ruling is full of references to successful privacy actions by wealthy people to protect their interests, most notably actor Michael Douglas's victory over Hello magazine after it published pictures of his wedding to Catherine Zeta-Jones, the rights to which the couple had sold to Hello's rival OK.
Freedom appears to be what the Sussexes crave the most, but that appears to be the freedom to enjoy the privileges accorded to full members of the Royal Family while living the life and acting in the same way as its Tinseltown equivalent. Cakeism, as Boris Johnston might put it.
But the price the Royal Family pays for its extraordinary privileges is accepting there are limits and national duty sets it apart from Hollywood royalty where the ultimate duty is only to themselves. The incompatibility of using the "Crown" to settle Royal disputes is at the heart of the Queen's "never explain, never complain" principle, and in rejecting that, as the Sussexes have done, means trappings of royalty must be set aside too.
"In stepping away from the work of the Royal Family it is not possible to continue with the responsibilities and duties that come with a life of public service."
The Queen couldn't have put it better; symbols, like words, matter.
Comments
 0 comments
Want to join the conversation? Please or to comment on this article.