Scotland's Covid recovery plan needs to factor in domestic abuse victims - Laura Waddell
I was reading an interview with author Isabel Allende in the Guardian last weekend, conducted by Fiona Sturges, when something she said jumped right out.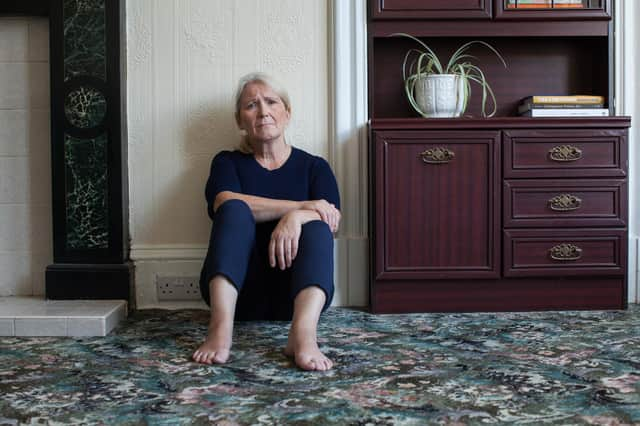 Speaking about women's job insecurity and being stuck at home during the pandemic, Allende commented: "Sometimes they are in a situation in which their abuser is in the house, and there are no resources because everything is locked down, and they will be the last ones to recover. Women have to be very alert, vigilant, because we can lose everything."
What a stark statement. "The last ones to recover". Beyond immediate plans for getting society up and running again, the lingering psychological impact of this time is something we need to think about in the coming years, and devote resources to now.
Picture "domestic violence" and it's likely a violent situation comes to mind. That's fair - me too. But I worry we neglect to think about the aftermath. The long tail. Healing from a traumatic event can take years, and for many, is just as much a part of their ongoing story.
There are still too many news stories about the subject which overtly sympathise with the perpetrator, frontloading excuses for them, sometimes even in the headline. These tawdry, reductive pieces rehash the old myth the victim is to blame for what is done to them, with no real interest in the underlying factors of violence.
Rather, these are presented as neat little stories with an easy beginning, excusable middle, and ending with what the perpetrator has lost. The harm and suffering they have caused rarely gets a look in. These pieces minimise and exonerate; as though violent actions can all be explained away with a wave of the hand.
In comparison, rarely is the question asked how abuse has impacted a victim's life, work, relationships, confidence, happiness and health, in the months and years after the event. What about two years later? Three? Five?
A spokeswoman for Scottish Women's Aid told me: "Domestic abuse did not arrive with COVID-19 and it will not leave once we come out the other side of this pandemic. For women and children experiencing domestic abuse, they were already uncomfortably familiar with feelings of isolation, uncertainty and fear and the knock on effects of the pandemic on those experiencing domestic abuse will likely take years to recover from.
"While Covid-19 has not been causing domestic abuse – abuse is an abuser's choice, always – lockdown and other restrictions have given abusers more tools to isolate and control women and children. Opportunities to reach out for help and support have been more difficult to come by due to increased surveillance from abusers. Chances to gain financial independence or move onto new accommodation away from the perpetrator if that's what the woman wants to do have been hard because of furlough, job losses and restrictions on housing allocations.
"The closure of courts and limiting of court business has also had a profound impact on the already fragile access to justice that survivors have. The knock on effects of all of this are huge, and compound the trauma already caused by domestic abuse."
I've been reading about the long road of recovery after the point of departure; how, after the immediate abuse stops, it can keep affecting the victim, sometimes for many years. And, although generally aware of trauma, the diagnosis of Post Traumatic Stress Disorder was something I had only really associated with war veterans before now, no doubt due to media depictions.
But recently the lightbulb went on. Domestic violence and sexual abuse, like any other traumatic event or events, can also cause PTSD.
The NHS website says sometimes symptoms worsen, and sometimes recede. They can include flashbacks, nightmares, feeling on edge and constantly aware of threats, having trouble sleeping, self destructive behaviour, physical symptoms such as headaches, and involuntary seeing distressing images.
"Some people have constant negative thoughts about their experience, repeatedly asking themselves questions that prevent them coming to terms with the event."
Think about how that must impact quality of life but how seldom we talk about it. In his book The Body Keeps the Score, Bessel Van Der Kolk wrote "It takes tremendous energy to keep functioning while carrying the memory of terror, and the shame of utter weakness and vulnerability."
For some, "Long Covid" won't be their medical diagnosis, but words which describe the lasting trauma from this time. I wrote about last week about the growing mental health crisis, and strain on existing services. But we need greater widespread awareness of the aftermath of abuse and how it can linger. How, as Covid calms down, like those coming to terms with grief, many who have suffered traumatic events in these months will need help recovering.
The good news is that PTSD is treatable. According to the NHS it can be helped with therapy and, sometimes, medication to soothe symptoms of anxiety, such as hypervigilence and fight or flight sensations. But I wonder, how many people are out there, still suffering from abusive incidents in the past, but who don't realise they might have PTSD? How many have felt lingering pain in their minds and bodies, and tried to push it out of their mind, rather than seeking treatment?
Scotland make sure that treating trauma is part of our long-term Covid recovery plan.
Scottish Women's Aid is keen to remind anyone experiencing domestic abuse that lockdown and other restrictions do not mean you are not allowed to leave home to seek support or help. All its 36 local Women's Aid services are still operating, and its national helpline is available 24/7 for anyone – of any gender or sexuality - affected by domestic abuse. Call on 0800 027 1234 or email and web chat at www.sdafmh.org.uk.
Comments
 0 comments
Want to join the conversation? Please or to comment on this article.