Scotland's art is opening up - Moira Jeffrey
As Scotland begins to open up after a long, tough winter, I'm thrilled to be sharing the good news that contemporary art is safe, family-friendly and opening soon in your neighbourhood.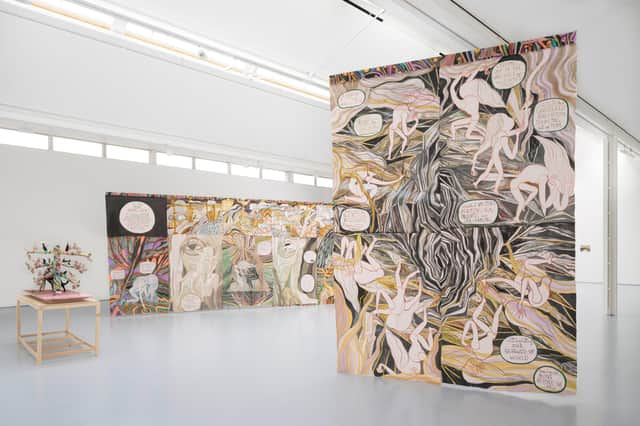 Emma Talbot Ghost Calls at Dundee Contemporary Arts
Starting today, Scotland's art unlocks. From the Pier Arts Centre in Stromness, Orkney to CAMPLE LINE in rural Dumfriesshire, from the gorgeous modern galleries of Dundee Contemporary Arts to David Dale, an artist-founded gallery and studio building, wedged in a row of warehouses in Glasgow's East End, you will be able to visit art venues across Scotland this spring and summer.
I'm director of the Scottish Contemporary Art Network and my job is to support and champion the work of Scotland's amazing contemporary artists, art galleries and production facilities. Our members live, work and create opportunities in your communities. That might be Burra Isle in Shetland where young artists Amy Gear and Daniel Clark run an ambitious slew of artistic projects and creative learning from their workshop in a former Methodist chapel. Or Hospitalfield, the glorious arts and crafts house on the edge of Arbroath that serves as a place to meet and learn and as a cultural catalyst for artists from Scotland and far beyond.
This week there's a sense of celebration. Edinburgh's Dovecot Gallery, will open a show telling the extraordinary story of Edinburgh-born tapestry artist Archie Brennan, a pioneering weaver, inspiring teacher and near-forgotten pop artist (as well as a former Mr Scotland).
SCAN Director Moira Jeffrey. Picture: Alan Dimmick
On Wednesday the pristine galleries at Dundee Contemporary Art unlock their stunning exhibition Ghost Calls by Emma Talbot, an artist whose work uses hands on skills like painting, papier-mâché and hand stitching and deals with the similarly analogue trials and tribulations of real life.
For those not yet in a position to venture indoors, art unlocks our outdoor life too. Hospitalfield will open a new glass house café in May and launch a new garden landscape designed by Nigel Dunnett who created the planting programme for London's Olympic Park. On your daily exercise you can be accompanied by art and ideas thanks to a suite of sound works from international artists to download from Glasgow's contemporary art powerhouse The Common Guild.
It won't surprise you that I'm shouting about this. You know that it's my job. But I know there is a widespread appetite for a return to culture. During the darkest days of lockdown, creativity gave shape to the endless days from children's art packs to online life drawing classes, and eight out of ten Scots in a nationwide survey said they wanted to attend cultural events when the country eased restrictions.
As art unlocks its doors across the country, we know it also unlocks potential, new ideas, health and wellbeing and investment in our communities. Art can make you feel good, or help you approach what makes you feel bad. It provides neighbourhoods with shared public space, and public debate when often the alternative is often privatisation and profit.
In Edinburgh, for example, five key visual art organisations, Collective, Edinburgh Printmakers, Edinburgh Sculpture Workshop, Fruitmarket, and Stills have unlocked more than £30 million of investment in their buildings in the city in the last 15 years. These capital projects have resulted in some of Scotland's most beautiful places to make and see art. They throw their doors open for free exhibitions, offer their skills and production expertise to artists, and work with everyone from young carers to local schools.
This summer on 7 July the Fruitmarket, sitting on the shoulder of Edinburgh's Waverley Station, will re-open in more than the post-pandemic sense. The gallery has undergone a major redevelopment. In 2019, before the pandemic, The Fruitmarket Gallery saw 200,000 visits a year.
We should be unashamed about the role that Scotland's galleries can serve, they can be our new civic squares or our homes from home. We can be proud that recent figures show that, even in the year of the pandemic, Scotland's international cultural ratings are heading upwards.
Half of visitors come to Scotland for culture and history. And the culture bit of that equation does not just mean heritage. It's our living artists who tell our stories, and the energy, beauty and problem-solving they provide that provide an experimental fuel and independent laboratory for the larger engine of the Creative Industries sector, an economic force which now brings in £4.6 billion to the Scottish economy a year and employs more people than the energy sector.
Why don't we hear more about the visual arts? In 2019 more than 2.5 million people visited the Edinburgh venues of the Scottish National Galleries, that's five times the number who went through the gates of Easter Road and Tynecastle combined. But I'm still waiting for the breathless daily TV coverage from silk-tied pundits.
It will be quieter this year. Social distancing means that this summer there will be space to think. Booking systems, where needed, and increased cleaning regimes will ensure that your visits can be planned and safe. Our cultural organisations will continue to need support as they adjust to lower visitor numbers and new business models. But we're here for you.
If you're visiting a gallery, workshop or art event this summer, why not share an image, using the #artunlocks hashtag. Ask your Scottish election candidate what they will do to support the cultural sector, whose inspiration and outreach has supported many during the last year.
If the pandemic has made your life that bit harder, and money is tight, remember that most galleries are free to visit, and will provide opportunities for real world learning especially for young people whose education has been screen-shaped in recent months.
And if you can, take the chance to step away from your own screen and into another world. Scotland's art is opening up and we're waiting to welcome you.
Moira Jeffrey is the director of Scottish Contemporary Art Network (SCAN). For more information about what's happening in your neighbourhood check out www.sca-net.org/artunlocks and follow #ArtUnlocks on social media