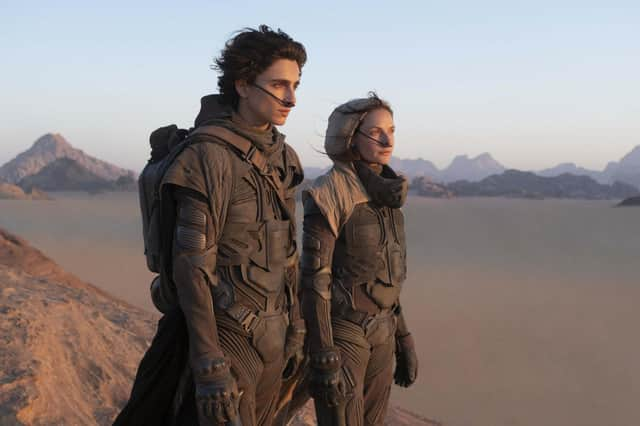 Dune. I've always loved the book. I bought it in a charity shop back in the day because I liked the cover. It was by Frank Herbert and had desert and pink sky on the front.
The desert planet's proper name was Arrakis. It was beautiful and harsh but that made its people strong. Strangely the fact they lived in rubber suits which recycled their own sweat into drinking water didn't put me off. Nor did the fact there was a distinct lack of readily available snacks. I wouldn't have lasted long.
It sounds mad but I loved it because of how real it seemed. Arrakis had two moons, sandstorms and sandworms. There was the daily fight for survival: the rituals; the traditions; the hopes for a better future in which the deserts retreated - with a bit of help from a superbeing.
Yet Dune is a story of power and politics amid a battle for control of the universe. It's also a rites of passage tale and one of revenge. A big book with a lot of layers, not something that would translate easily to the big screen. David Lynch tried in the eighties but that was before CGI which surely must have been invented for Dune.
In 2021 director Denis Villeneuve delivered. The film was epic. Everything about it was right – the vision, the set, the script, the actors and the soundtrack. Kudos to Villeneuve for doing it in two parts And for working on the first part without knowing if he'd get funding to make the second. A leap of faith, just like Dune.
Two things I learnt from the book - power corrupts and superhuman gifts aren't all they're cracked up to be. Just because you can see the future, doesn't mean you can change it so maybe winging it through life blind is actually ok.
And I don't need the gift of prophecy to know where I'll be in November when Dune: Part 2 comes to a cinema near me. I will be there.