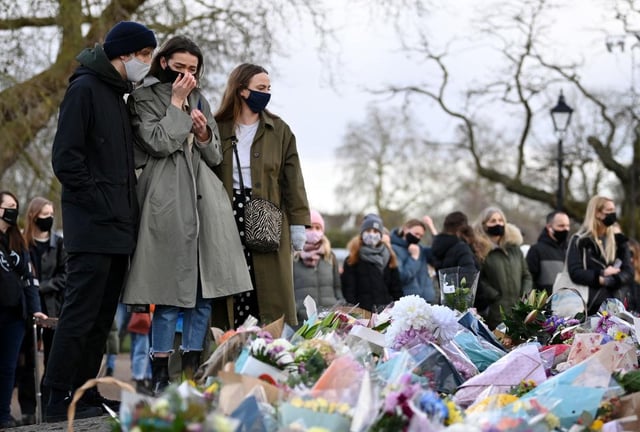 Tributes for Sarah Everard at the bandstand on Clapham Common on Saturday
Talk to the attendees and ask them politely to move on? And when they don't, then what? Arrest? And when they resist? It was bad enough recently in Glasgow, when Rangers supporters in very large numbers flowed into the streets, unstoppable by anything less than military intervention.
We criticise the police, yet those attending were in flagrant breach of the law and knowingly so. Large numbers were not wearing even a mask, and social distancing was ignored. There were other ways in which their anger and sorrow might have been expressed and standing at the door with a lit candle was a perfectly acceptable alternative.
I am as angry as anyone else at the senseless murder of Sarah Everard but I do not condone the breaking of the law, nor reckless behaviour in the middle of a pandemic, which, we should remind ourselves, is still not over.
Were those attending the same who have applauded the NHS over the last year? In which case, how do they reconcile their exposure to infection with protecting the NHS?
Trevor Rigg, Greenbank Gardens, Edinburgh
It is truly amazing how politicians start to believe their own rhetoric! It seems that if you speak loud and long enough you can make things sound believable and wonderful!
Take Liz Truss for example. As Secretary of State for International Trade, she has travelled to the North East of Scotland to visit a distillery and a high-class clothing manufacturer to acclaim the fact that she has helped to remove the trade-distorting taxes which were imposed on these industries' products by the USA. President Donald Trump imposed the taxes to counteract the "unfair" bolstering of European aircraft manufacture.
Now the USA, in the shape of President Joe Biden, has removed these taxes, temporarily so far, but Ms Truss seems to want to claim credit for supporting the whisky and clothing industries, whereas in fact, the "new" situation is only what was there before Trump petulantly imposed the tariffs. Trade with the USA can resume as previously, no great thanks to Ms Truss.
On the other hand, Westminster has opened the doors to European food to come tumbling into UK with no blocks or tariffs (presumably to prevent empty supermarket shelves) whereas the EU is putting huge difficulties on foodstuffs from UK entering Europe. How fair is that? What is Westminster going to do about it? Not a lot, I suspect!
And, is this really what people voted for in 2016?
Europe is also stopping the export of high-quality disease-free seed potatoes from Scotland in particular, yet European seed potatoes which may be infected with diseases which we do not have in Scotland are free to come to our farms. What is the Secretary of State for International Trade doing about that? Again, not a lot, I suspect! She is too busy congratulating herself on doing something over which she had little control in the first place!
Gill Lawrie, Broomhill, Newton of Arbirlot, Arbroath
Martin Foreman, (Letters, March 13) suggests that communities objecting to wind farm applications should commit to generating their own sustainable sources of power, writing: "To say that we want clean energy but only if other communities are affected is the height of nimbyism and hypocrisy."Why place this reponsibility on rural communites when it is people in the cities who use the majority of the power?
Sitting safely in Edinburgh, Mr Foreman, it seems to me, should be extremely grateful to all those across the country who have seen their homes blighted with no compensation.
Mr Foreman dislikes the appearance of turbines. Imagine what it is like seeing your beloved view scarred with turbines every day of your life, all day, every day. No wonder there are objections. People not only object for themselves but because a beautiful view is valued by visitors from home and abroad. We don't own a view. No doubt Edinburgh folk will have been grateful for their visits to the Pentland HIlls during the Covid pandemic, never seeing an industrial view, a situation entirely due to the 2,000 men and woman who objected to Auchecorth wind farm.Already the rural areas of Scotland have provided enough power twice over for Scotland, when the wind blows. What is now planned is for export, when the wind blows. This is not about clean energy, it is about profit. That should be the discussion; whether we want to become the Saudi Arabia of renewables and completely destroy this beautiful country, harming even more rural communities in the process.
Celia Hobbs, Peebles Road, Penicuik
I refer to an article headlined, "New Antigua Covid-19 strain declared as Variant Under Investigation' – what we know so far" (Scotsman Online, March 12) and the unintended consequential damage it could do to my small country's economy that is highly dependent on tourism.
It is important to emphasise that the virus was discovered by Public Health England (PHE) in early February only in two persons who were on a brief visit to Antigua. Three other family members are designated as "probable". Further, PHE is not saying that the variant was contracted in Antigua. Indeed, the infected persons might have contracted the virus in England before travelling to Antigua. My government has instituted strict protocols for managing Covid-19 which are applied to both tourists and the local population. The family from England would have been isolated where they were being accommodated with little interaction with others.
PHE has been clear that "contact tracing teams have completed thorough investigations to identify and follow up any close contacts and no additional cases have been found to date". Further, PHE also states that the "variant identified in the UK has been designated a Variant Under Investigation" and not as a "Variant of Concern". At the time of writing, more than 32 days have elapsed since the discovery and the negative results of contact tracing in the UK. Clearly any variant of concern would have emerged by now. Additionally, daily tests conducted on material from Antigua by reputable external agencies have found no variant arising from Antigua.
My country remains one of the safest places globally for holidays in the sun with comparatively low rates of infection and a high rate of recovery.
Gaston Browne MP, Prime Minister of Antigua and Barbuda
Jane Drysdale (Letters, March 15) says the vacci nation rate in Scotland is "woefully low". And yet the vaccination programmes in England and Scotland are comparable and both going really well, with England having vaccinated 34 per cent of its entire population and Scotland 35 per cent.
Gill Turner, Derby Street, Edinburgh
In her article on violence against women, (Perspective, March 15) Christine Jardine writes of her support of Stella Creasy's amendment to the Domestic Abuse Bill, which she hopes will see misogyny included in the final Act. "Surely", she states, "it is time misogyny was treated as a hate crime?"
Ms Jardine must have been disappointed, then, to learn that every single Lib Dem MSP voted against the amendment in the Hate Crime Bill that would have given women the same protection in law that is now afforded to men who enjoy cross dressing.
The women of Scotland now have to wait until Baroness Kennedy's working group reports on whether sex should be included in the bill as an aggravator and whether misogyny should be treated as a standalone offence. Surely your front page of last Friday is all the evidence they need?
Jayne Courtney, Hathaway Lane, Glasgow
Mary Thomas's letter (March 15) doesn't quite tell the full story about last week's by-elections. Strictly speaking, although the SNP won the Livingston South poll inWest Lothian, it was a hold rather than a gain.As for the other two, the Leaderdale & Melrose seat in the Borders was a win for the Conservatives from the SNP, while the Highland seat of Aird & Loch Ness was an Independent gain from the Conservatives. In addition, the previous week's by-elections in Lanarkshire saw the SNP lose two seats to Labour.So, out of the five by-elections so far this month, the SNP have held one andlost three.
Jane Ann Liston, Largo Road, St Andrews
In his post-declaration speech at last week's Leaderdale & Melrose by-election, won by Jenny Linehan for the Scottish Conservatives and Unionists, the SNP's John Paton Day, the runner-up, pronounced himself "amazed that people can possibly vote for Tories", adding, quite extraordinarily, that "it's like voting for the Mafia".
It might be possible to pass over this as the remarks of a poor loser, but surely it must be called out as a worrying instance of transatlantic-style disrespect, not only in regards to the fair-minded electorate of the central Borders but to our democratic processes in general. It demonstrates, moreover, an arrogance and sense of entitlement on the part of the SNP that voters in the coming May elections would be well advised to note.
As his parting shot Mr Paton Day expressed confidence that "the SNP will come out on top in the May election" and, revealing the centralist underbelly of his party, discounted his own defeat as "just a local election".
John Wood, The Croft, St Boswells